[ad_1]

Tips and Trends | April 16, 2021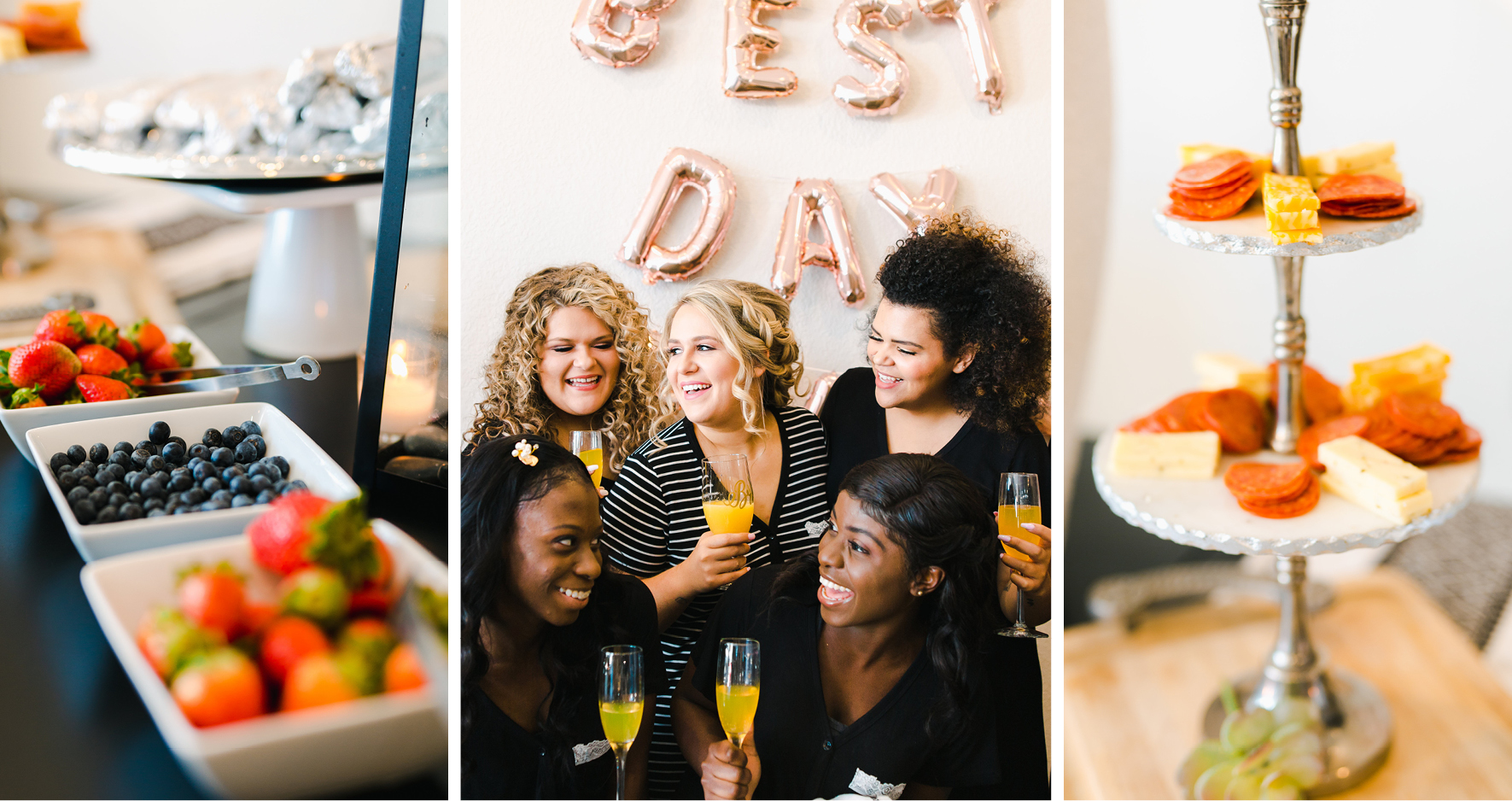 So, you've been asked to be the Maid of Honor. Congrats! Whether it's your sister or dear friend who will soon be tying the knot, being the Maid of Honor is a special position. Beyond supporting the bride through the excitement and challenges of wedding planning, there are other duties that will fall on your shoulders. One of the most important of these duties is planning the bridal shower! Usually a time to celebrate the bride, enjoy a light lunch, and shower her with gifts, the bridal shower can be quite an undertaking. But, with the proper plan in place, coordinating the shower can actually be quite easy, and fun too! Which is why we've broken down how to plan a bridal shower into these tips to help every MOH nail their wedding duties!
Choose a Bridal Shower Theme
Coming up with a theme that mirrors the bride's vision for her wedding is the first step in bridal shower planning. The theme can be as vague as mirroring the bride's color scheme or as specific as having a tea party. The ultimate goal is to mimic the bride's taste in style. And as the Maid of Honor, no one should be more familiar with this than you!
Since the bridal shower itself is not a surprise to the bride, you can always lean on her opinion and ideas if you're unsure of where to start. Some brides will have a clear vision for their shower, while others might want you to take the reins. If your bride is more on the relaxed side, here are a few theme ideas that are sure to impress:
Pajama Party: As the Maid of Honor, you're sure to have had your fair share of sleepover parties with the bride, so why not celebrate this? Ask guests to show up in their favorite pair of pajamas, serve breakfast foods, and enjoy mimosas as you celebrate the upcoming nuptials!
Chill BBQ: For any bride who wants to have a co-ed shower, a chill barbeque theme is the perfect solution. Find a friend with a big enough backyard, set up some twinkle lights and lawn games, and you're good to go!
Elegant Garden Party: While a barbeque and PJ party might work for some brides, they aren't the right vibe for the bride who prefers things a bit more upscale. An elegant garden party is your best bet if you know your bride likes to keep things classy.
Intimate Wine Tasting: If the number of attendees will be on the smaller side, or if your bride simply prefers to keep things more intimate, hosting your own wine tasting is another unique shower option. You can always swap out wine for beer as well, as long as you all get a buzz on while celebrating the bride!
Don't be afraid to run your theme ideas by the bride before you officially settle on one. That way, you'll be able to plan a bridal shower that is certain to impress your most important guest!
Find a Venue
Now that you've locked in a theme, the next step in bridal shower planning is to nail down the venue. First things first, don't overthink it. Most restaurants offer a banquet room you can rent out depending on the size of your party. Or, when all else fails, throwing a backyard bridal shower is always a possibility too!
Be sure to take your bride's opinion into account before officially settling on a place. And if you do end up booking a venue, consider the budget of the other bridesmaids as well. You can always keep things super low key and host a bridal shower right from the living room of a bride's loved one, saving everyone some extra time and money!
Send Out Bridal Shower Invitations
Once you have your venue, you're ready to start putting together the invitations! While it's tempting to jump right into the decorations, getting the invitations together should be at the top of your priority list of bridal shower planning.
Here are a few things you'll need to take note of:
The date and time: finding a date the works best for the entire bridal party can be difficult, so make sure to take a group poll!
Will you need a virtual option for the shower?
Do you plan to limit the number of in-person guests?
How long will the shower be?
These questions have become a given when drafting any invitation. And the good news is, once you've answered them, you're ready to start designing! In today's digital world, there are plenty of affordable bridal shower invitation templates available to choose from.
Most even offer a QR code on the back as an easy way for guests to RSVP! Find a template that fits your theme, and get those cards in the mail at least two months in advance.
Figure Out Food and Beverages
If your venue happens to be at a local restaurant, chances are your food options have already been decided upon. However, if you're hosting the shower at a family/friend's home, or pretty much anywhere else, determining what food to serve is crucial. Since you probably already know what food the bride likes and dislikes, be sure to take her preferences into consideration.
Bridal showers traditionally feature light finger foods that are easy to eat and even easier to prepare. This list from allrecipes is a great place to start if you aren't familiar with making appetizers. Enlist the help of the mother of the bride or even the bride's future mother-in-law as they will likely be eager to assist you.
Whether you decide to cater some finger foods or make them yourself, just remember to avoid heavy appetizers, and you'll be fine!
Decide on the Dress Code
Another big part of how to plan a bridal shower is deciding on a dress code. As the Maid of Honor, the other bridesmaids, the guests, and even the bride will turn to you to set the standard of attire for the event. Let's start by taking the season into account.
As the planner of the shower, the last thing you want is for you and your guests to end up being too hot or too cold. Make sure the venue is clearly stated on the invitation so that guests know what to expect should it be held outside.
If the shower is in the winter, get creative with deeper colors and classic turtle necks. Layering your look with a long trench coat is a classy solution that works for any occasion, including a bridal shower.
In the summer, you'll want to avoid feeling sweaty due to the hot weather. Try bringing a paper fan along as an accessory for the event. Or better yet, consider buying a pack in bulk to offer to guests!
Another unique way to avoid any unwanted stickiness is to wear cotton underwear and breathable undergarments, along with any dress made of light fabric.
Consider options like a stylish sundress as your first choice as dresses like these offer the right balance between too casual or overly formal. Keeping these tricks in mind will save you some extra time as you develop an established dress code fit for any season!
In case anyone does approach you asking what to wear to the event, remind them of these rules:
Stick to the theme.
Don't wear white.
Keep things conservative, not sexy.
Don't Forget the Finishing Touches
Finally, you're ready to start preparing the fun parts of the shower: the decorations and the games! This is where you can involve the other bridesmaids heavily, and delegate who will be contributing what. With your theme in mind, here is a brief list of everything extra you'll need for the day of:
Tables and chairs (depending on your venue)
Place settings (plates, cups, etc., also depending on your venue!)
Small centerpieces
One or two games (this list offers some fun/unique ideas!)
Prizes for the game winners (here are some bridal shower prize ideas)
A throne for the bride (this can be any unique chair that matches your theme, usually for present time!)
A table for the gifts
Any other decorations to set the scene (balloons, flowers, music, etc.)
While bridal shower planning as the Maid of Honor is no simple task, we hope the guide above has given you some clarity as to how to navigate this process!
Don't shy away from asking your bride what she would like to get out of her shower, and lean on your other bridesmaids for help as well! If you stick to the lists we've curated, you're sure to throw a successful bridal shower celebration for the bride to be!
For more Maid of Honor tips and resources, check out our blog: Maid of Honor Duties: The Ultimate Survival Guide. Cheers!
[ad_2]

Source link