[ad_1]

Gosh I love a full, romantic wedding gown. I have to admit that I fall in love with pretty much every gown, bridal separates or jumpsuit that each bride we see on Love My Dress wears, but today's gown is the epitome of everything I love; an off-white hue, a fitted bodice and a full-on satin skirt – just divine. So, without further ado, let's meet today's couple.
This is the wedding of architects Hannah and James whose pre-covid church ceremony was held at St John the Evangelist Church in Swindon, Dudley with an industrial chic reception afterwards at The Cowshed at Woodhall Farm, Codsall, Staffordshire. The stark industrial interior was the perfect blank canvas for the couple to put their own stamp on, blossoming from a minimal colour palette of navy and grey with light, romantic touches of champagne yellow.
Ground Films
+ Follow
Neither Hannah nor James were keen on having a particular wedding style, but chose some key colours to tie the different elements of their day. The overall feel is modern, romantic and understated.
"We just knew we wanted a simple venue we could style ourselves. However, when it came to looking at details such as bridesmaids dresses, suits, stationery and ribbons for the bouquet, it became clear that we would need to at least pick a couple of colours to tie the whole wedding together."
Fulton Photography
+ Follow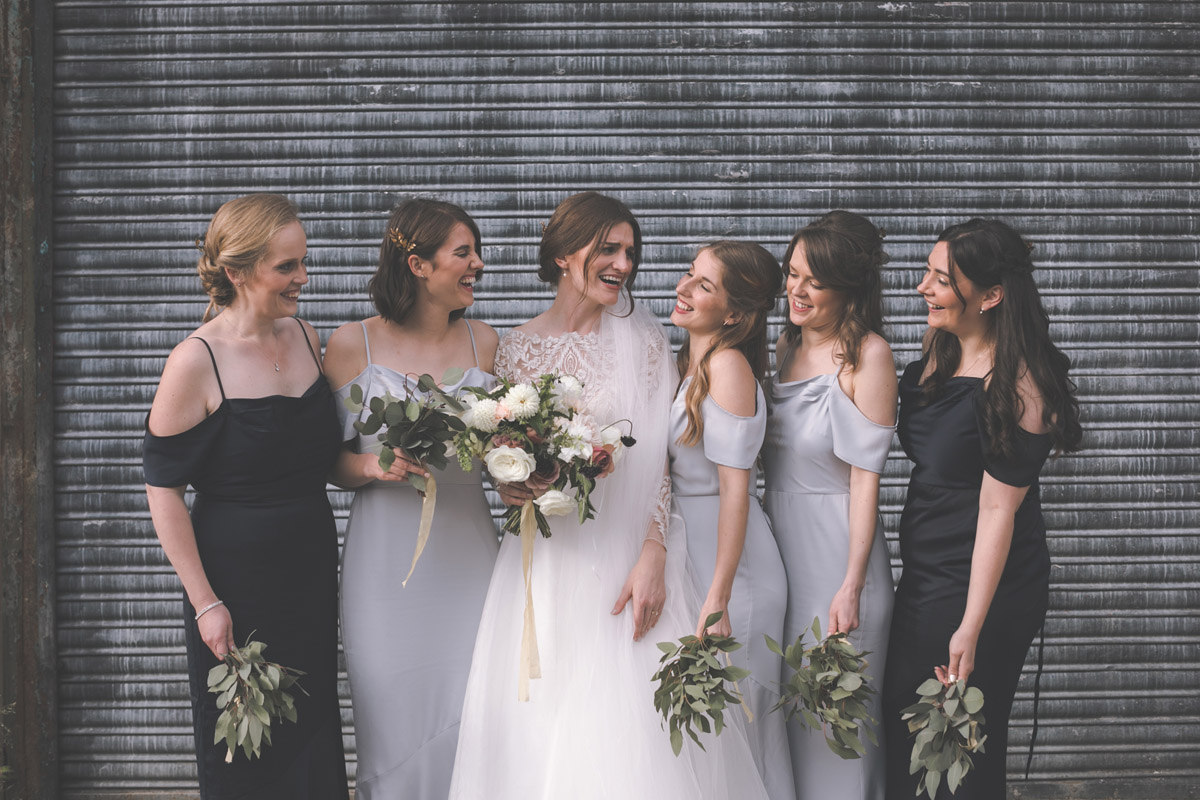 "We had read that looking to colours you would normally wear or have used in your home could be a good starting point. This advice really resonated with us and therefore we chose navy and grey as two key colours for our big day."
"My engagement ring, chosen by my husband, is yellow gold and therefore the idea of gold headpieces for myself and the bridesmaids become an accent colour, which we then used throughout the wedding, including my champagne gold wedding shoes and the ribbons on the bridal bouquets."
"I wore a yellow gold bracelet that James bought me as a surprise wedding gift and a yellow gold ring that was given to me by my mom, originally a gift to her from my dad."
The flowers chosen were simple, full and romantic, just wonderful for a summer wedding. They were by Kay at Bloom Collective.
"We opted for simple white and green florals with a pop of a dark coloured florals in my bouquet to contrast, like the grey and navy theme."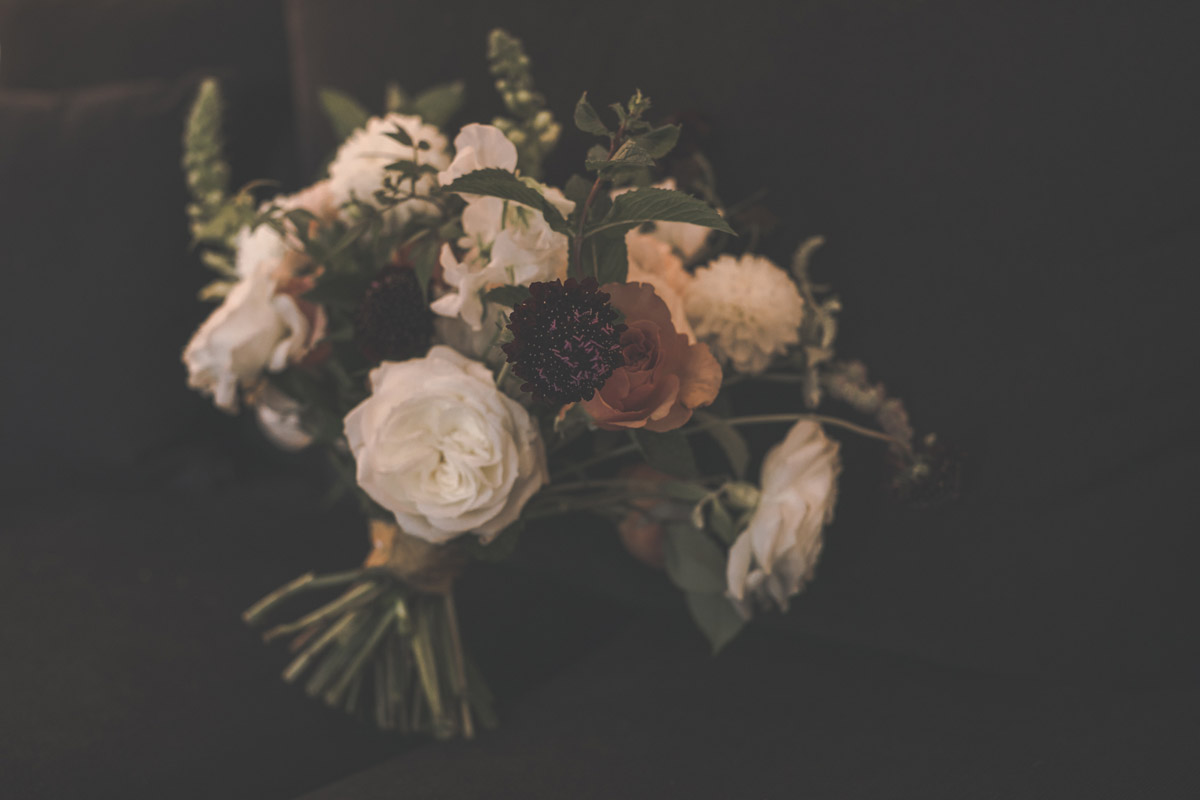 You can also see a touch of champagne gold in the intricate, illusion bodice of Hannah's Charlotte Bridal gown; what a divine, luxe look which is brought right into the 21st century by the über-simple yet dramatic satin skirt.
"I wanted to be comfortable but relaxed and wear a dress that felt similar in style and shape to clothes I wear normally. The Klara was not at all what I imagined I would get married in but in the end I loved the shape and everything about it. I loved the modern simplicity; long sleeved and elegant but with a contemporary gold laced bodice that I loved from the minute I saw it."
"Prior to visiting and meeting Jen from La Couture Bridal I had spent a full day searching for wedding dresses in much larger boutiques. When we visited Jen, I took all five of my bridesmaids and my mom along, thinking I would have a fun day trying on few dresses with my bridesmaids, I did not expect to find 'the one' so quickly. La Couture Bridal is an independent bridal shop and Jen was so warm and friendly, putting me at ease straight away."
"Browsing through the rails, I spotted the Klara dress by Charlotte Balbier (now Charlotte Bridal) straight away. It was the first dress I tried on that day and I instantly loved it. I tried on another ten or so dresses and quickly came to realise the Klara was the one for me and after trying it on for a second time, I had that cliché bridal moment (which I never thought would happen to me). It was really nice to have all my girls with me and my mom during this special moment. Jen gave us all a glass of bubbly to celebrate, not rushing us and letting us enjoy the moment, taking photos of us all together."
"La Couture Bridal was such a great support that day and throughout all my fittings. During the final fitting, I felt uncomfortable with the lace itching my neck and their seamstress did a great job at adjusting the neckline to ensure this didn't occur on our big day and made the dress perfect."
James and Hannah have a long history together, meeting on their first day at Oxford Brookes University back in 2007, where they were both studying Architecture.
"We quickly became really good friends and eventually got together a few months later. Ten years later, on his 29th birthday, we went back to Oxford for the weekend. James got down on one knee and asked me to marry him on a beautiful sunny autumn morning in the grounds of Oxford University."
"He proposed with an incredibly sweet and thoughtful poem he had written of our journey together to that date; referencing our move to London, qualifying together as architects and even including our DIY disasters and our lovely cat Ralph. It was a day we will never forget."
"We were engaged for almost two years before we tied the knot; relocating to the Midlands from London, starting new jobs and buying a full house renovation project, as well as plan the wedding during that time."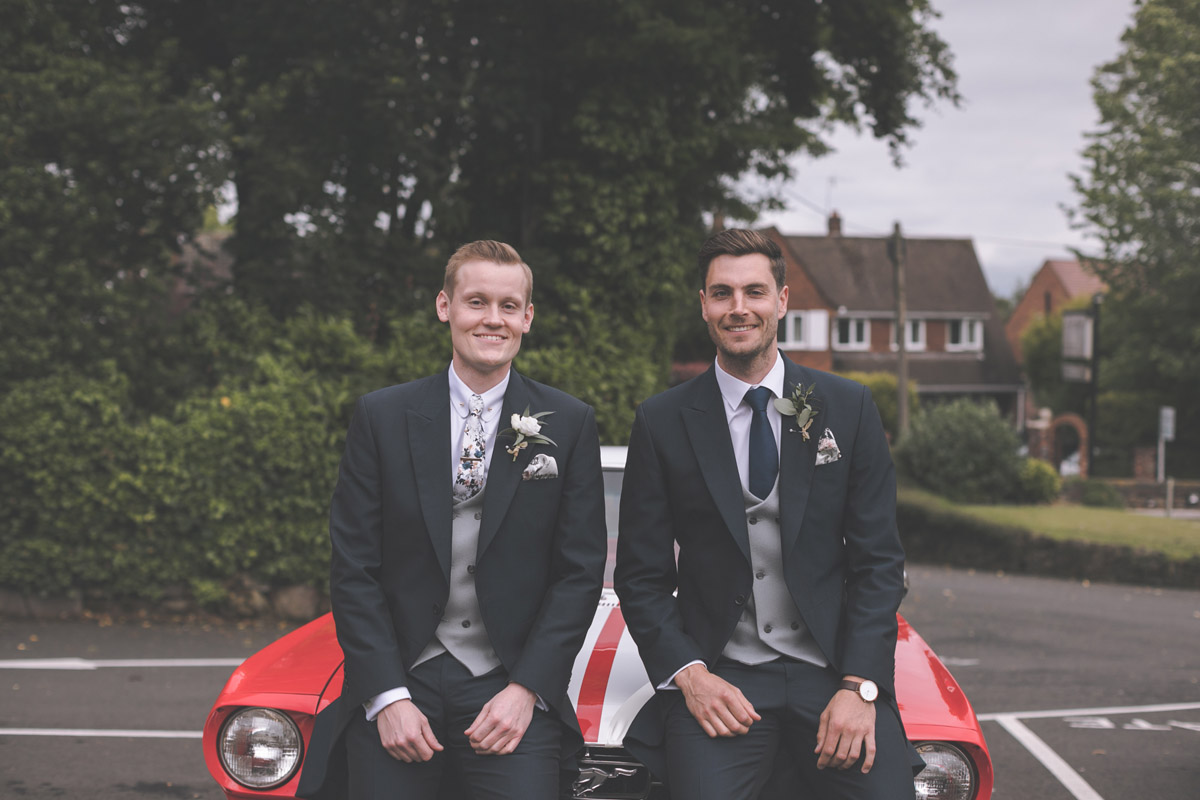 "Some would say we were a little crazy, but we still had plenty of time to organise and plan our wedding and I'm really glad now that we took our time to enjoy that lovely engaged bubble. I wish we could do it all over again!"
The bride entered the church on the arm of her father, walking down the aisle to some beautiful string music.
"My lovely dad walked me down the aisle to 'Canon in D' played by a string duo, The Rosebourne Duo, who also continued to play at our reception. It was such a beautiful moment that we will cherish forever. It was such a magical and overwhelmingly emotional moment that I had dreamt of ever since we got engaged."
"We wanted to personalise our wedding ceremony readings and asked one of our very good and talented friends if they could help us writing a poem for our big day. We hadn't heard the poem before the wedding and were blown away when James Trevelyan read it out in the church. The poem was titled 'Buildings'. For a pair of architects, it was a fairly fitting title and a wonderful personal poem – a highlight of our day."
"James' sister, Lisa, chose a less-known Biblical reading, 'Colossians 3:12-14'. It's a lovely piece that focuses on the importance of kindness, compassion and patience."
The couple exchanged wedding bands from 77 Diamonds in London where James had chosen Hannah's engagement ring.
"We made a lovely Christmas weekend break out of it."
After being declared husband and wife, the couple emerged both into a shower of rain and a shower of confetti.
"The confetti throw in the pouring rain outside the church is possibly our favourite and happiest memory of our wedding day."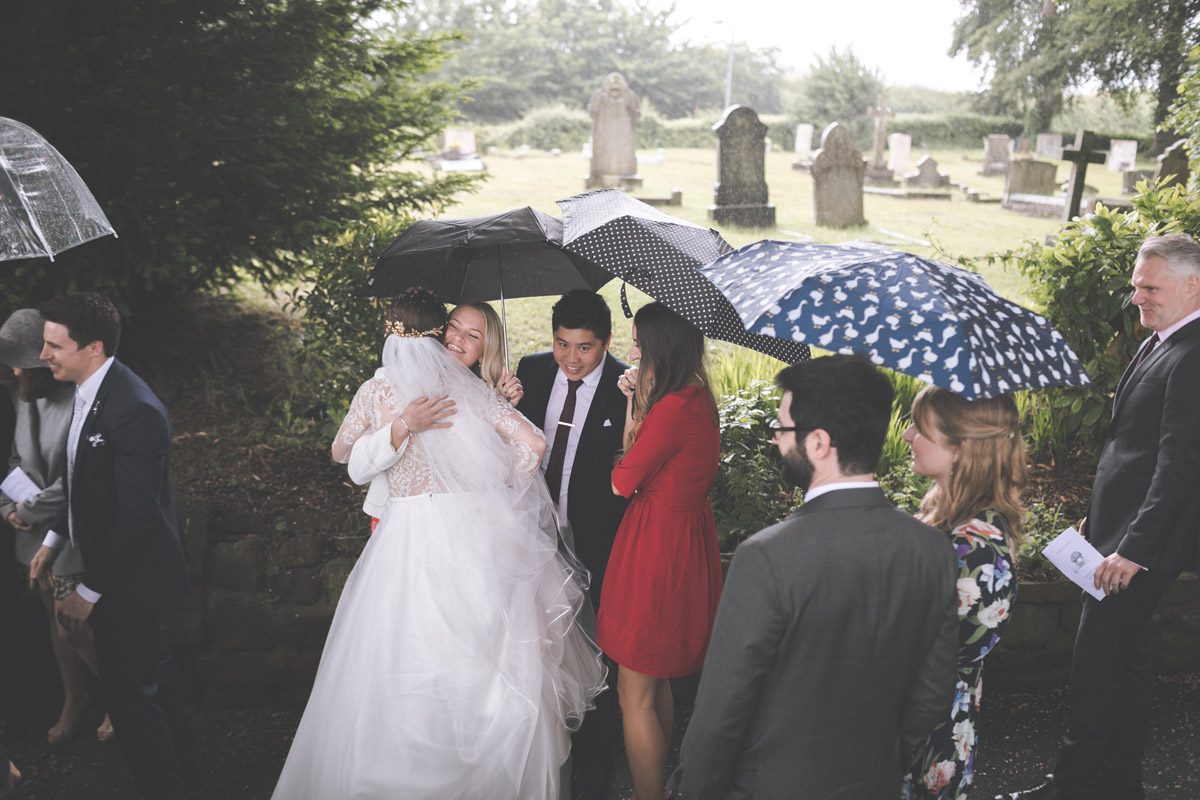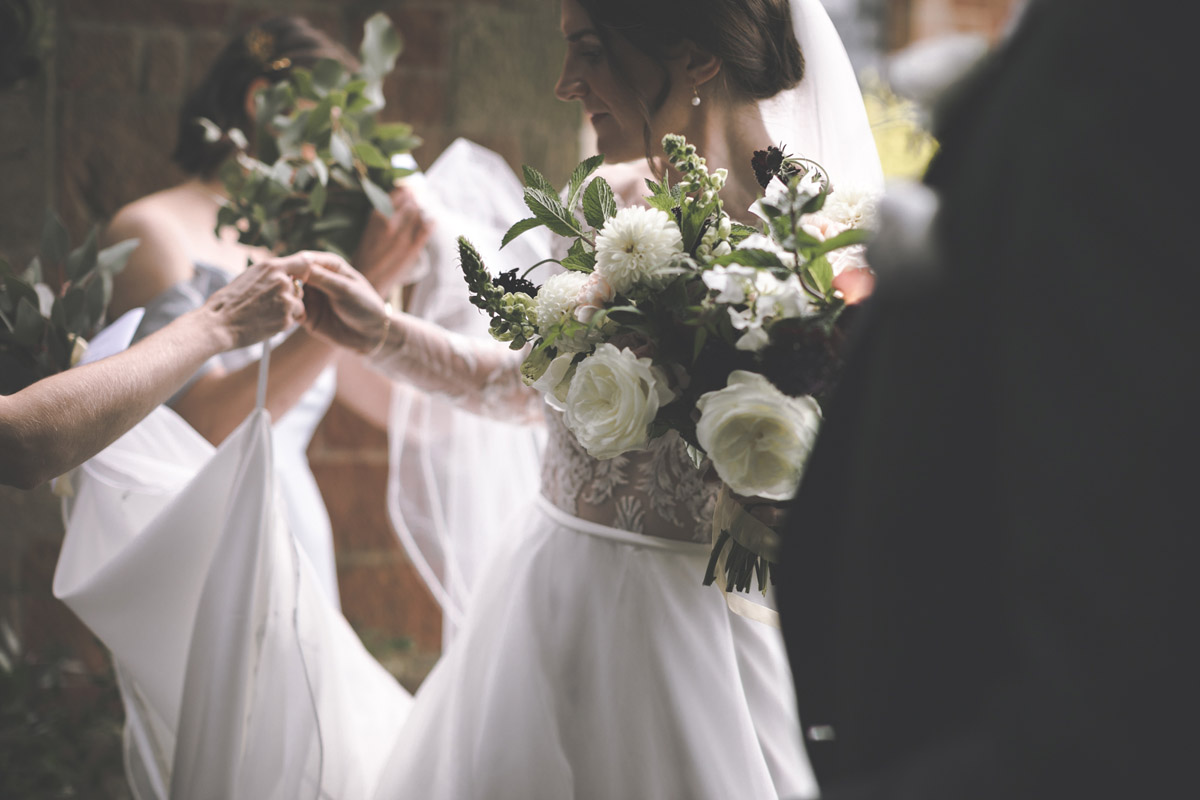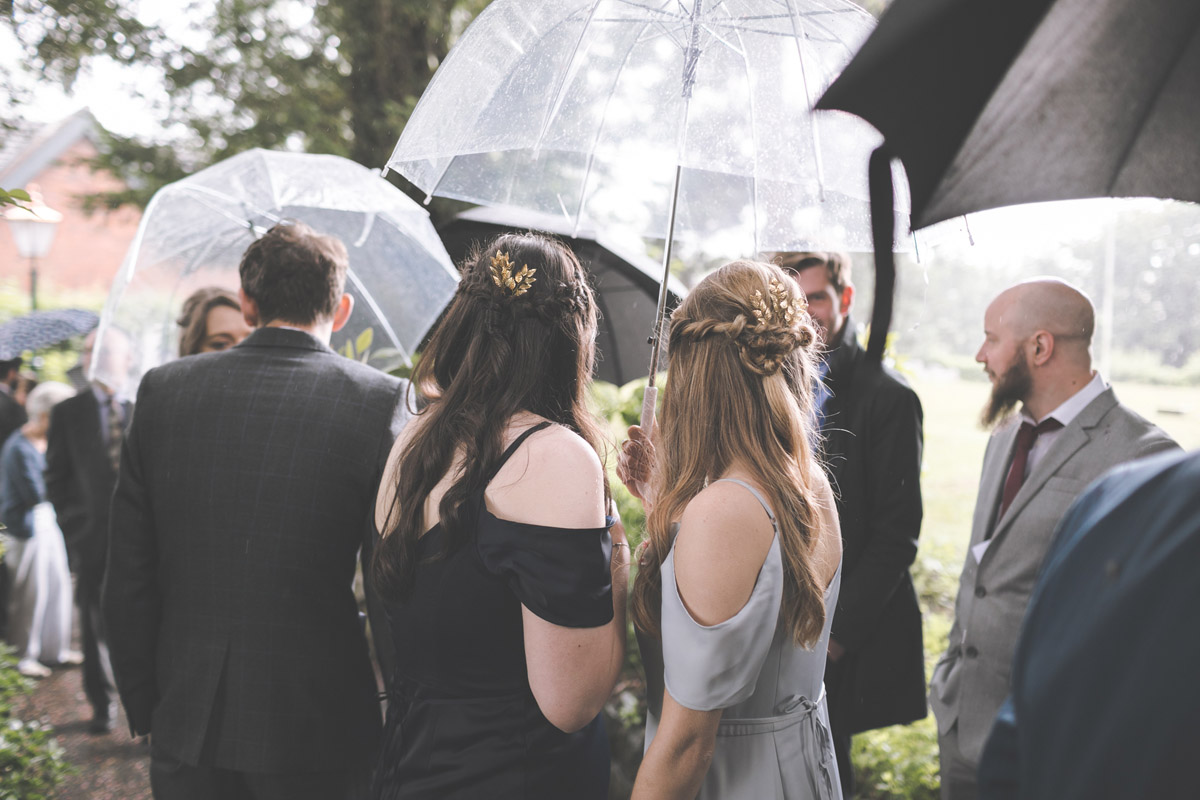 "When I first found my dress, I didn't initially feel the need for a veil. However, as the wedding day drew closer, I changed my mind."
"About four weeks before the wedding I purchased a simple satin-edged cathedral length veil by Helen Martin Veils from La Couture Bridal. Looking back on our wedding day, it was a last minute purchase that I was so glad I made."
For another touch of gold, Hannah added a delicate Floraljewellery Bridal gold and pearl hair clip to her chic up-do and also donned a pair of pale gold leather 'Elena' shoes from Faber Novella.
"They were custom-made to my requirements. We visited the designer in her London showroom where I was measured and fitted before the shoes were made."
The couple reconnected with a university friend who captured these timeless, fine-art inspired photography. I'm a big fan of Fulton Photography's soft focus style and eye for romantic moments.
"We went to university with Becky and followed her journey through social media to becoming a successful wedding photographer. We both had always wanted to use Becky if we got married and we made sure she was available before booking the date. We love her natural and honest style of photography and were blown away by the results of our big day. She captured it so perfectly."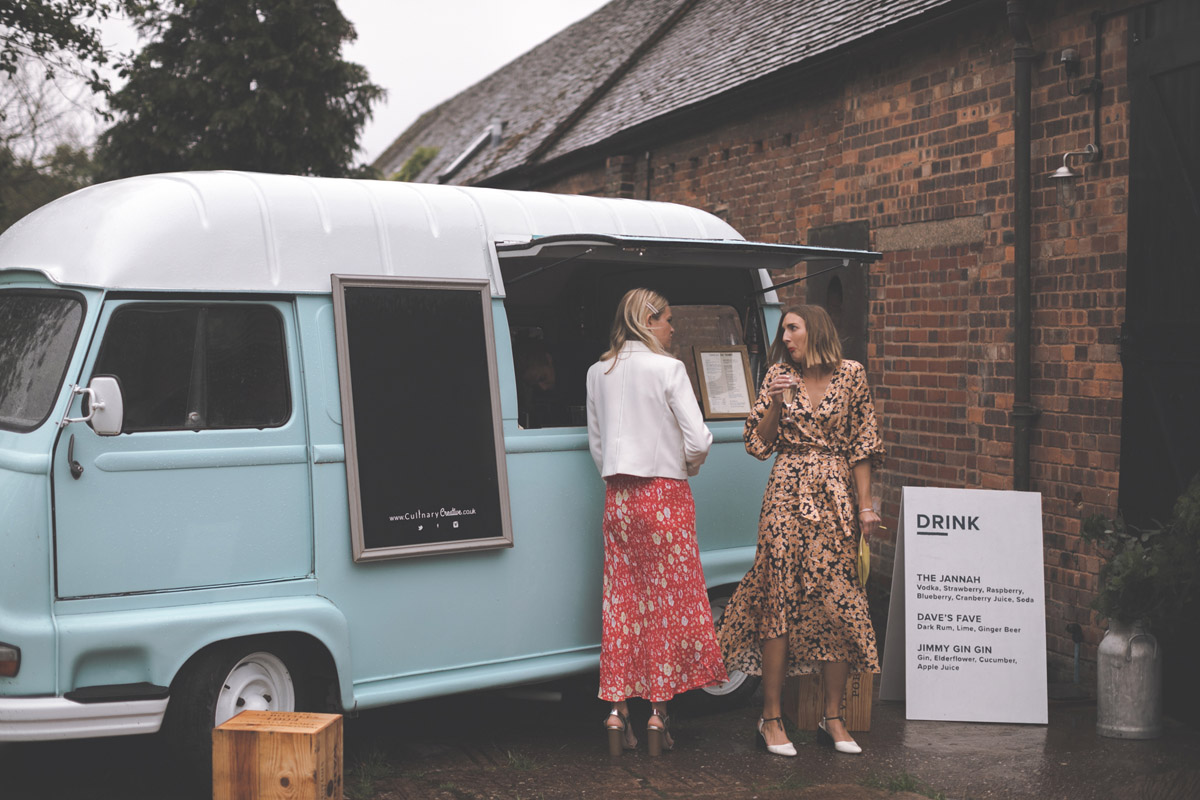 Despite the rain, these photographs of the gathering outside the church are absolutely exquisite; full of happiness and joy.
"We hired three vintage cars from Penkridge Classic Wedding Cars to transport the bridal party between the venues – a 1965 red Ford Mustang for the groom and best man and a 1937 Daimler Pillarless Saloon and Limousine for myself (the bride) and the remaining bridal party. Some of our favourite photos are with the cars, particularly the red Mustang that we travelled in to our reception venue, drinking champagne along the way. The drivers were all very friendly and dressed so smartly. Their part in our big day was really important and helped make it very special."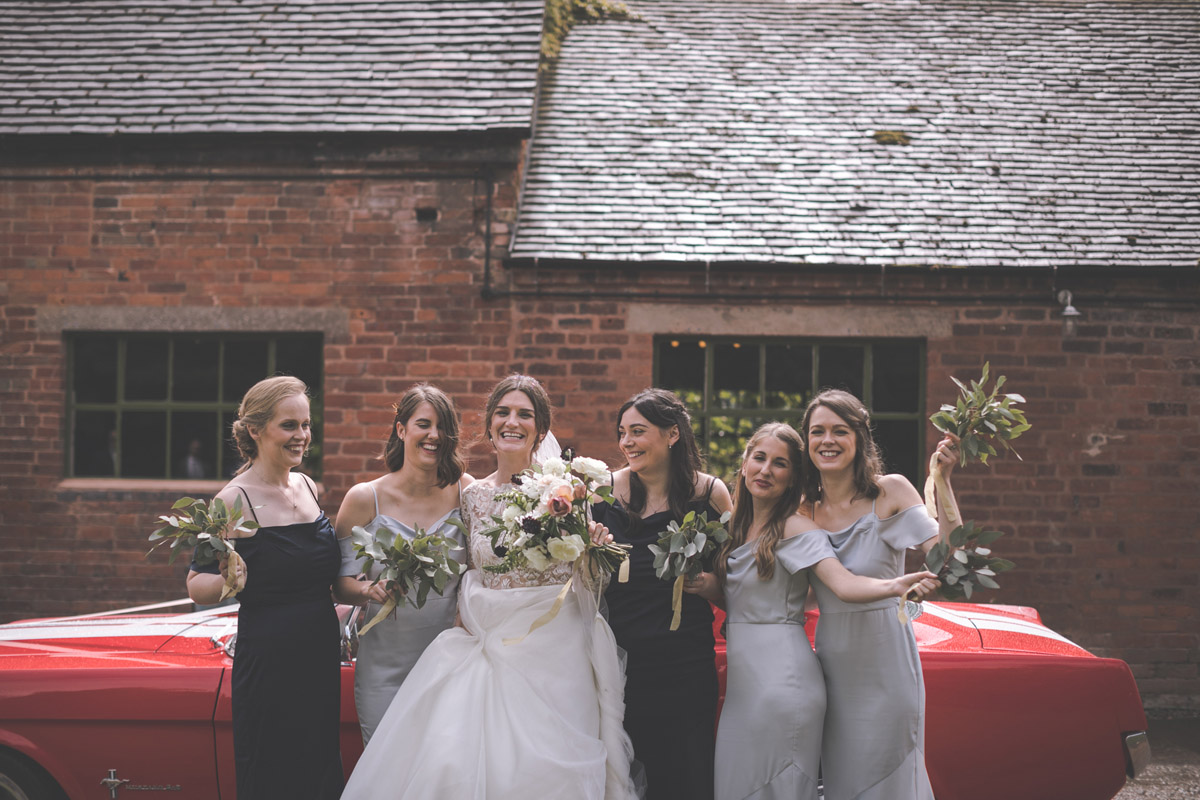 The also asked Ground Films to capture their day in video format, a decision they are both so happy they took.
"We didn't have the budget for a videographer at the outset but after watching almost all of the videos on James and Ellie's website, we knew it was an investment we wouldn't regret! We absolutely love watching our wedding film back and reliving our special day."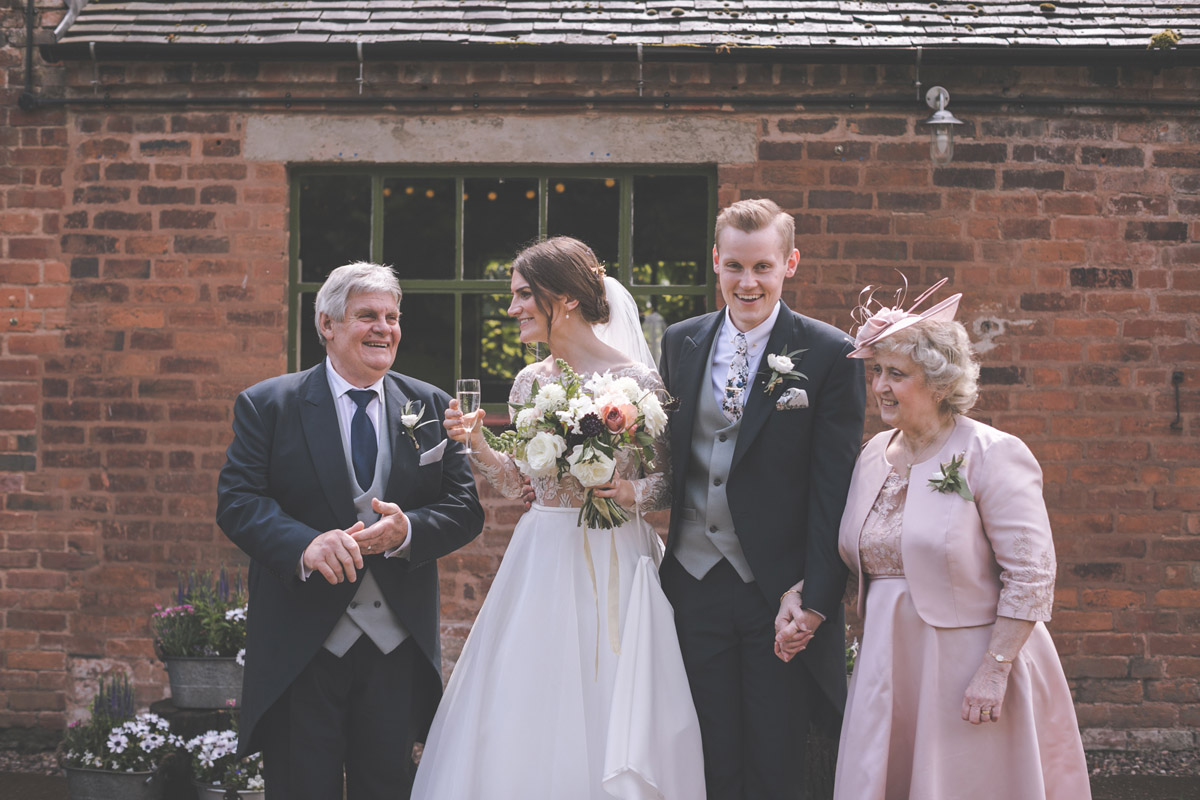 "We have already enjoyed watching our wedding film with all our family and friends and can't wait to relive our big day on our wedding anniversary each year."
"Ground Films were able to capture those tiny moments you'd otherwise forget and are now so beautifully recorded for us and future generations to enjoy."
Each of the five bridesmaids wore their choice of long and elegant grey or navy cold-shoulder dress from Oasis with their own choice of gold shoes.
"An old school friend Alex, who runs her own beauty business Beauty by Alex, did the makeup for my bridesmaids, my mom and myself, everyone looked beautiful."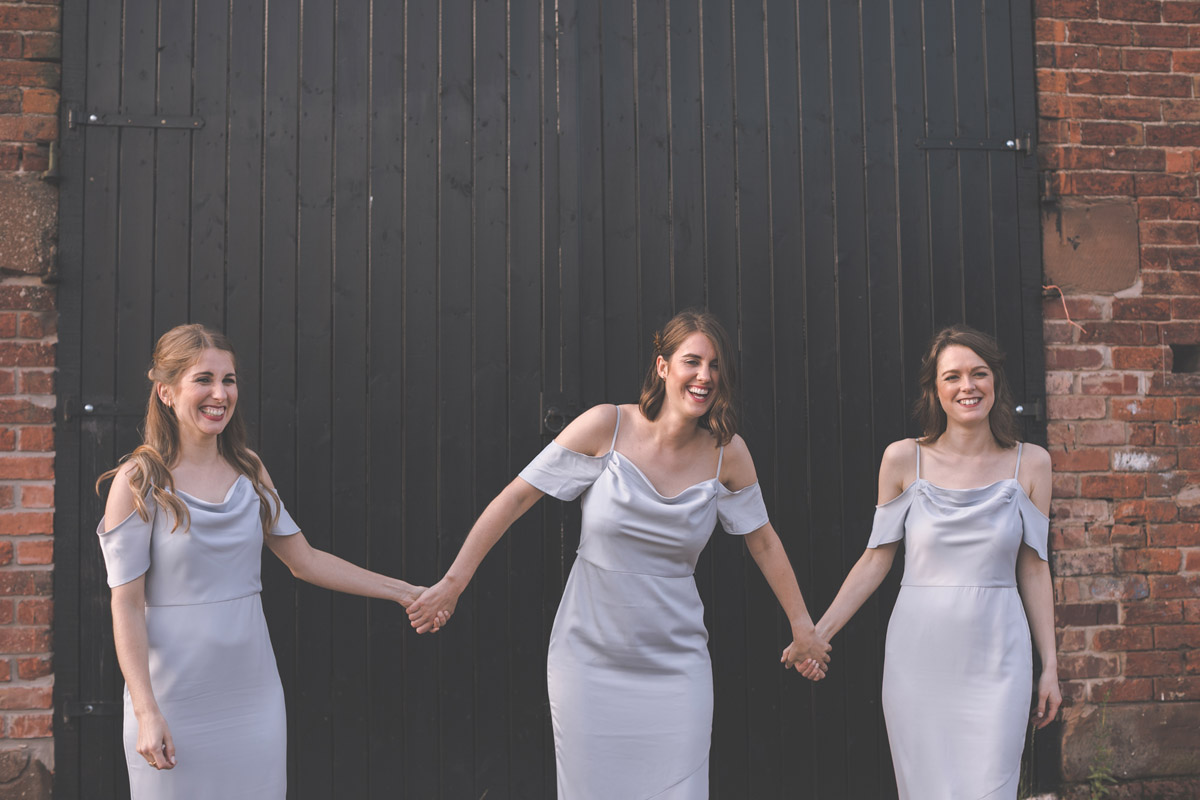 "We came across the venue when looking to relocate from London. It was the first and only venue we saw and we both loved the relaxed and rustic vibe straight away."
"Lucy, who runs The Cowshed, was amazing. She was available to provide guidance and advice on local suppliers should we want to use them but also left us to plan our wedding the way we wanted it, which was the perfect balance."
"Her and her husband own and live on the farm and renovated The Cowshed for their own wedding a few years before."
"The venue was a complete DIY job, but that was what we wanted. We hired our own chairs, selected all our own suppliers and really took ownership of how the venue was styled and set up."
The reception wasn't far from the church of St John the Evangelist which sits in the village where her parents were wed.
"The church was where I was christened and my parents were married, within the village where my dad was born and where my nan still lives. It meant so much to me for my dad to walk me down the same aisle where my mom had walked with my grandad 37 years ago."
"We designed all of the stationery (invitations, signs, menus, place cards) ourselves, which was a lot of work but we really enjoyed creating it together and everything being so uniformed graphically on the day."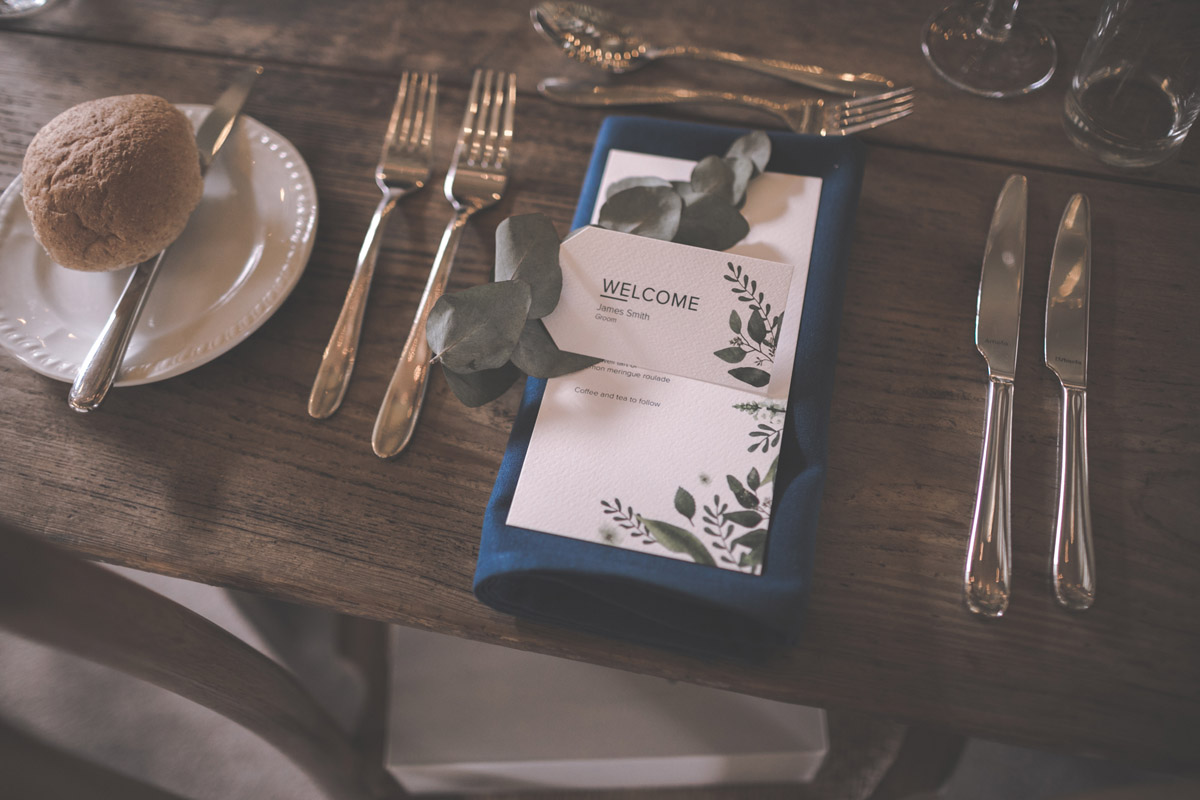 "Stencilling and hand-painting six A-frame signs for the venue took us hours but we were really pleased with the effect and saved us a lot of money in printing costs. It's amazing what you can do with a tin of old house paint!"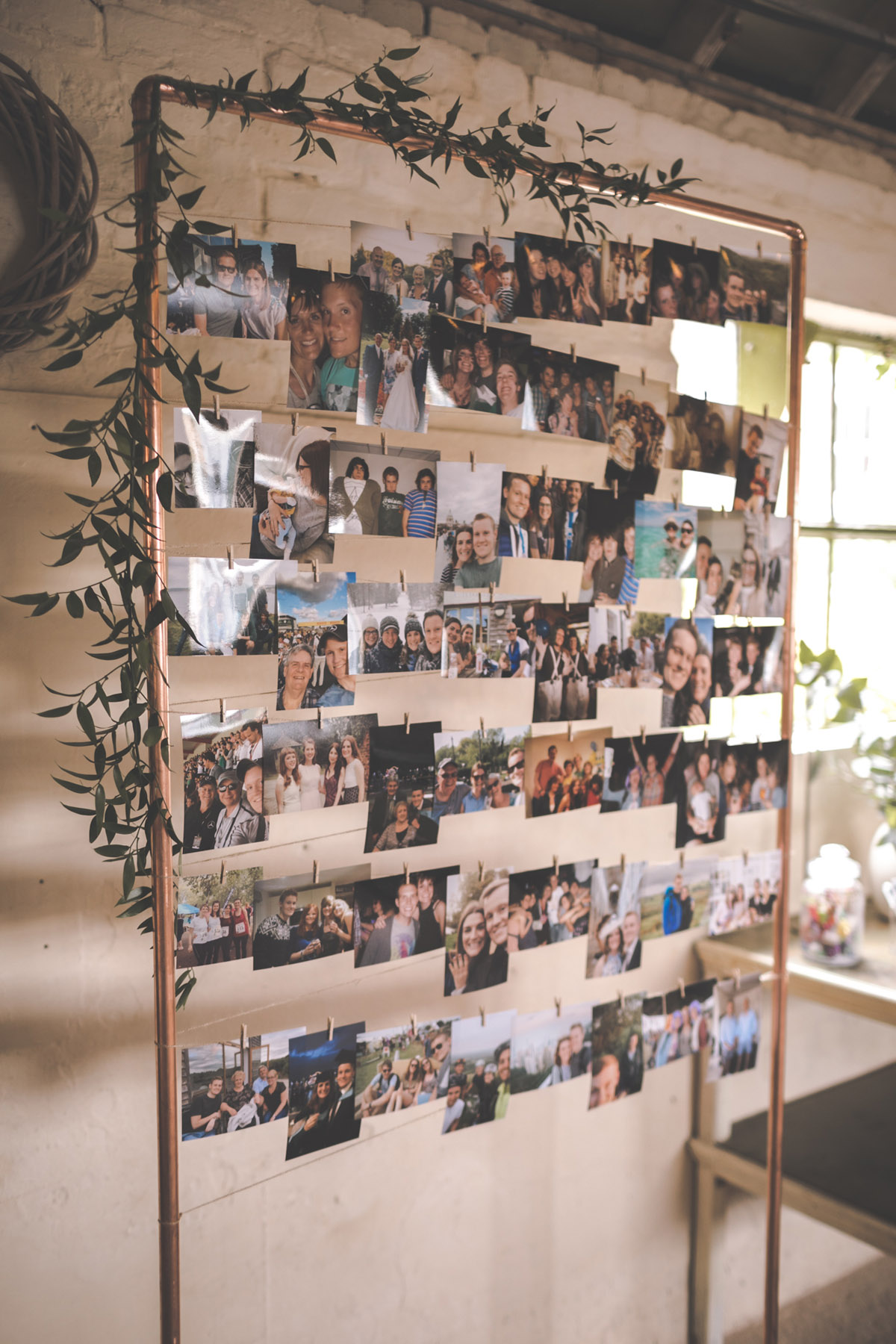 As the newly-weds and their guests drew up to The Cowshed, the weather dried up meaning the guests could really appreciate the care and attention the couple had put into the decor and the stationery.
"We kept the décor simple with the green foliage provided by our florist and hundreds of white pillar candles providing most of the decorations. James' dad, a plumber by trade, made three copper frames that were used to frame the top table, hang the table plan and photos of 12 years of memories made together."
"Each frame was adorned with green foliage which looked stunning. Outside we had some potted plants that my mom had grown ahead of the wedding day and looked lovely."
"The decision to have a cake was made fairly last minute. Our sister-in-law pulled out all the stops to create our navy and grey two tiered cake of dreams, with gold leaf edging to match the rest of the wedding theme. We loved it!"
The couple chose a handful of local suppliers to provide delicious food and drinks, including Julie Rees Creative Catering and kegs of ale from local brewery Enville Brewery.
"Julie lives locally to The Cowshed and had worked there before. We had an ice cream van for evening guests from Dotty About Ice Cream and a pop-up bar from The Cotswold Bar Company provided by 'Gumpy'."
"A favourite memory was the wedding breakfast, surrounded by all our lovely guests and laughing until it hurt at all three of the speeches. My dad, James and George, the best man, really pulled it out the bag. I am so glad we had the speeches filmed so we have them to look back on in years to come."
James and Hannah have such warm memories of their day.
"Yes, it rained and changed some of our plans but if anything, the rain really made our day, creating some of our favourite and most memorable photos!"
"Our advice would be to plan as best you can before the day, schedule out timings and how you want things to run and then hand over the responsibility of worrying about this on the day to someone you trust."
"It might be the wedding planner at your venue but in our case it was our incredible bridal party. I woke up on the morning of our wedding day and honestly did not worry one bit for the rest of the day."
"From that point onwards you've done the hard work and now is the time to enjoy it."
"The key is to trust the people you have hired to play their role in your big day and trust your friends/family/wedding planner to ensure things run smoothly."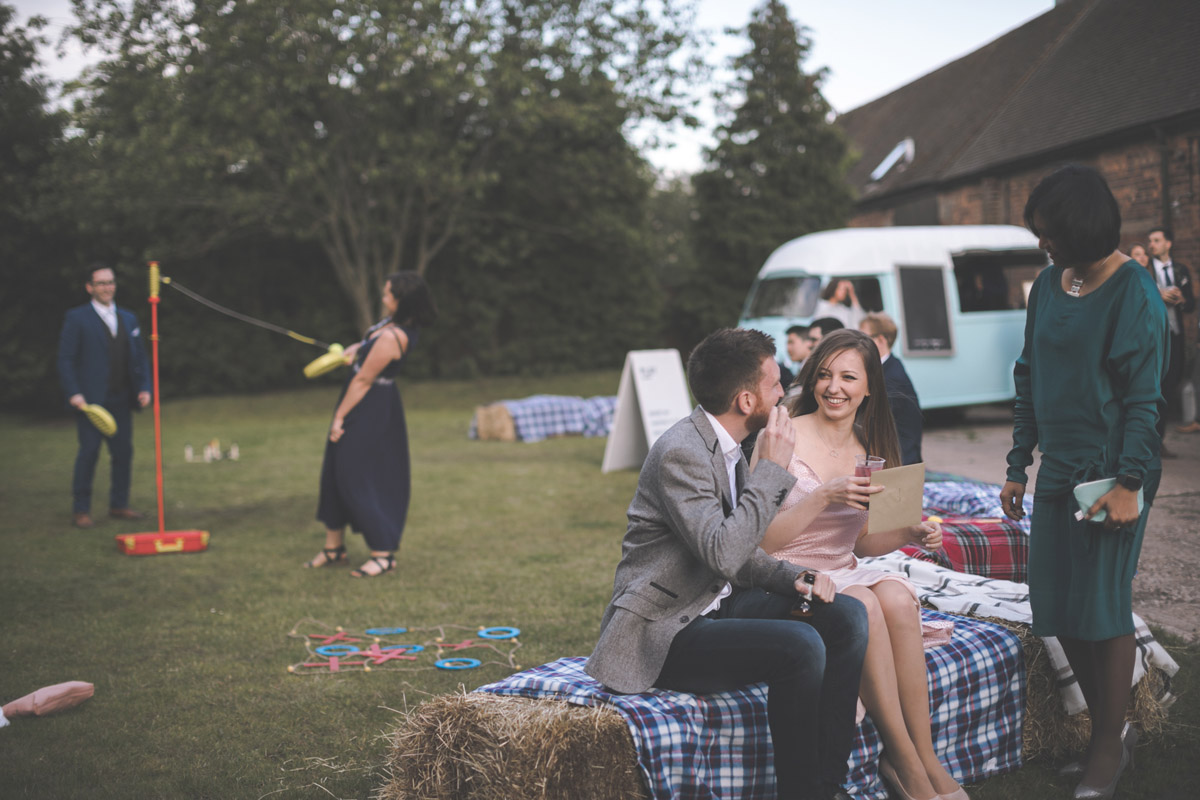 "In our experience, we found that family and friends really are genuinely happy to help you and enjoy being asked to take on even just a small element of responsibility for your big day."
"That leaves you free to soak up the atmosphere and enjoy every minute of the day you have planned; it goes so quickly."
"Your wedding day will be no doubt be one of the best days of your life, so try not to overthink things on the actual day, make the most of it, take it all in and make memories with your favourite people that you will savour forever."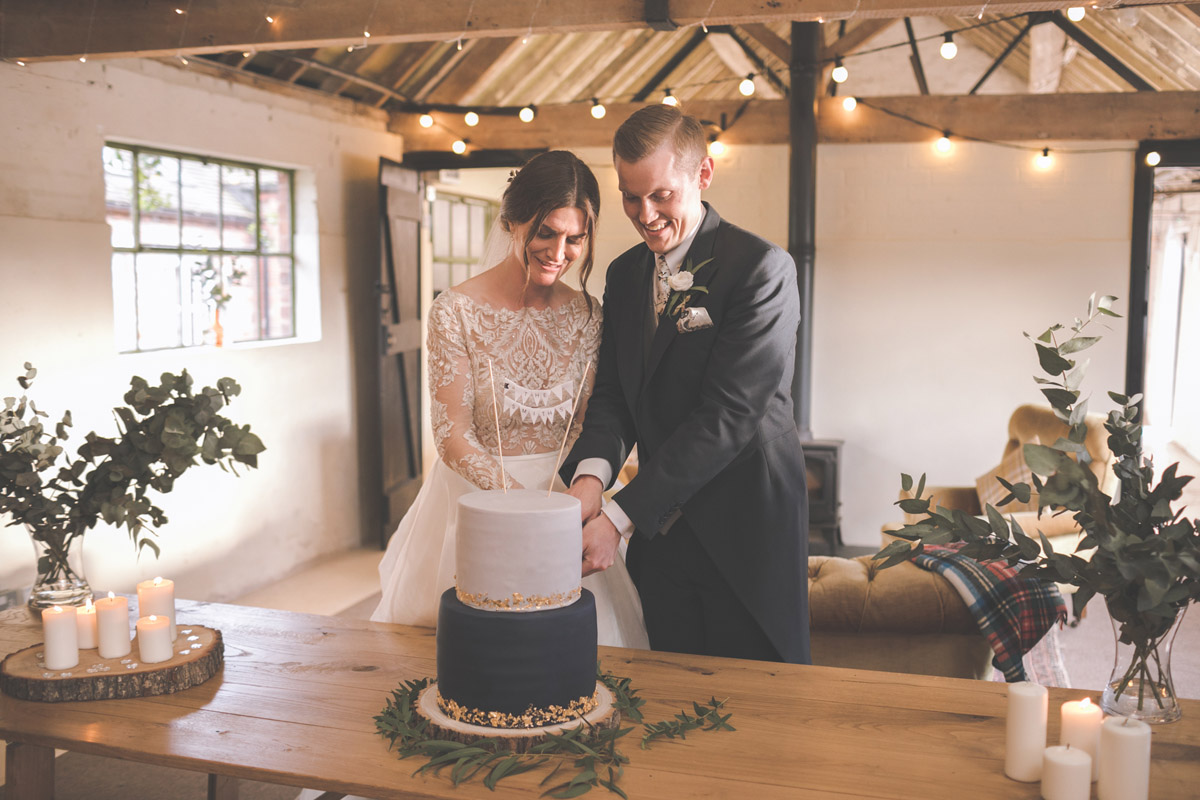 Paul McGuire of Wedding Jam was in charge of the music for the wedding party in the evening, and definitely delivered!
"We had met Paul before the wedding in Birmingham over a pint to talk about our love of music and what we wanted for our reception party. Our first dance was to 'Stand By Me' by Ben E.King, a song we have both always loved."
"Prior to our wedding day our DJ, Paul from Wedding Jam, asked us to select a 'spin list' of our favourite songs ahead of our big day which he played throughout the night, a great idea to incorporate your other favourite songs into the party. It was a lovely moment when our DJ Paul surprised us by playing 'You Make My Dreams' by Darryl Hall and John Oates, one of our absolute favourite songs."
Words of Wedded Wisdom
The couple have so much valuable advice to share with you.
"Our biggest piece of advice would be to trust your instinct and go with what you both want. You will never please everyone with your choices so make your own decisions and don't be afraid to do things a little differently."
"Book the best photographer you can afford and if you can stretch to it, book a videographer as well. We didn't originally plan to have a videographer but realise now that this really was one of the best decisions we made when planning our big day. It is true what they say, the day really will fly by so quickly, and by having the film and photos to look back on really is the best investment, memories that will last a lifetime."
"When planning your big day only work with suppliers you get on with, trust and that you both feel really understand what you want from your big day. We felt this was so important. You need to be able to fully trust and rely on the people you have hired to help bring your day to life. They won't let you down and you can then concentrate on enjoying your wedding."
"We made sure we said hi to all of our guests, using the reception drinks and in between courses at our wedding breakfast to do this. No one expects you to talk to them for ages but it was so important to us to acknowledge how much effort people had made to be with us. This freed up time after the first dance to let our hair down and dance the night away, which is equally as important!"
"Take time out of the day to take it all in. So many of our married friends advised us this and it is so true. In between photos, meals, cake cutting and the first dance, it is easy to forget to take a step back and soak up the atmosphere. I remember going for a little walk around the venue with James before the evening guests arrived. I was so overwhelmed after the speeches and taking that moment of calm away from everyone really helped me to then get ready to dance the night away with all our guests."
"At the end of the evening James and I were dancing with our friends and family and we both stood back and looked around us. I remember then feeling pure joy at what an incredible day we had had and how lucky we were to be surrounded by so much love. If I could have bottled up that feeling to take with us into day to day life, I really would have; it's infectious."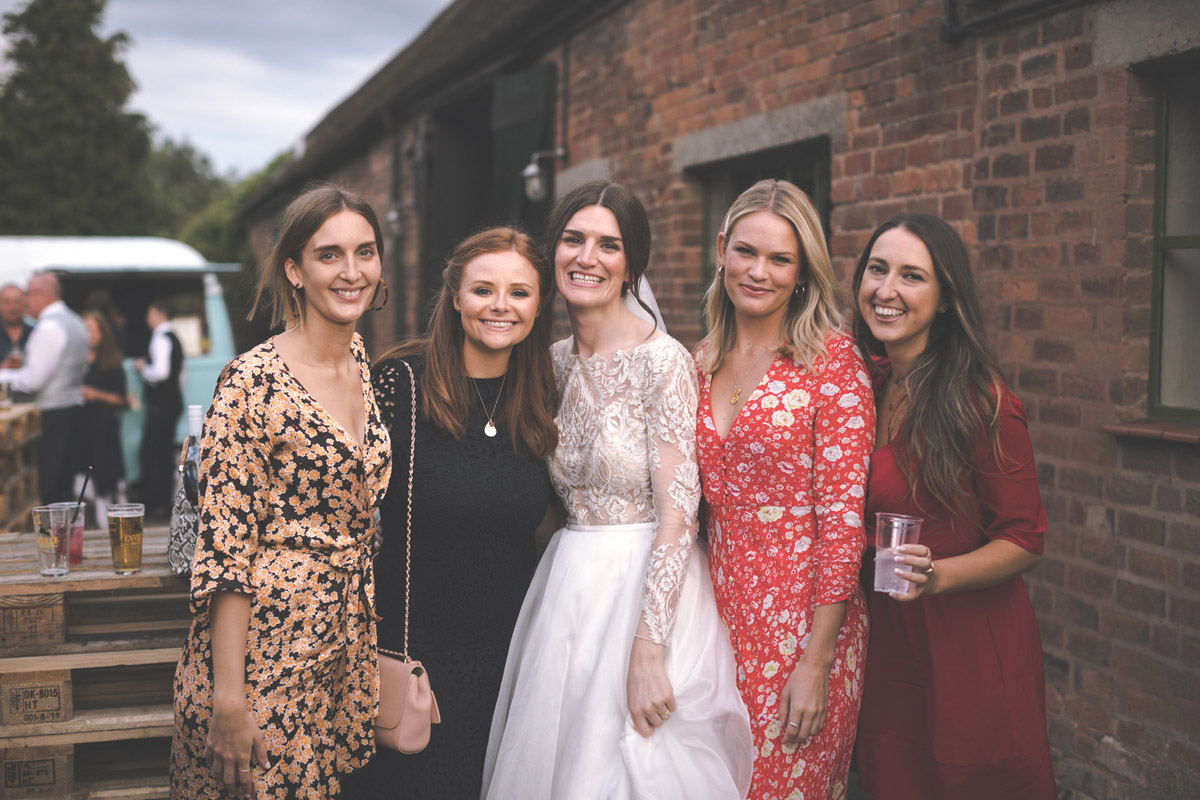 Lovelies, I hope that you've enjoyed each and every one of these images as much as I have. It's been really wonderful hearing about the inspiration behind your wedding day, Hannah and James, so thank you so very much.
For more rainy day weddings to give you faith that rain can be a blessing on your wedding day, do take a look at these beautiful celebrations.
Ele xx


[ad_2]

Source link