[ad_1]

What flowers signify summer for you? For me, the dazzling yellow of sunflowers and the striking red of poppies are reminiscent of long, warm summer days.
Let's greet Johanna, a writer and translator and Matt, a video game tester, who are originally from Austria but have lived together in London since 2018. They wed in an intimate ceremony with 20 guests on 2 September 2019 in the beautiful, countryside venue of Langar Hall, near Nottingham, Nottinghamshire. With a loose theme of poppies, they wove in elements of their favourite things; karaoke, travel and relaxed times.
Anna Rose Heaton
+ Follow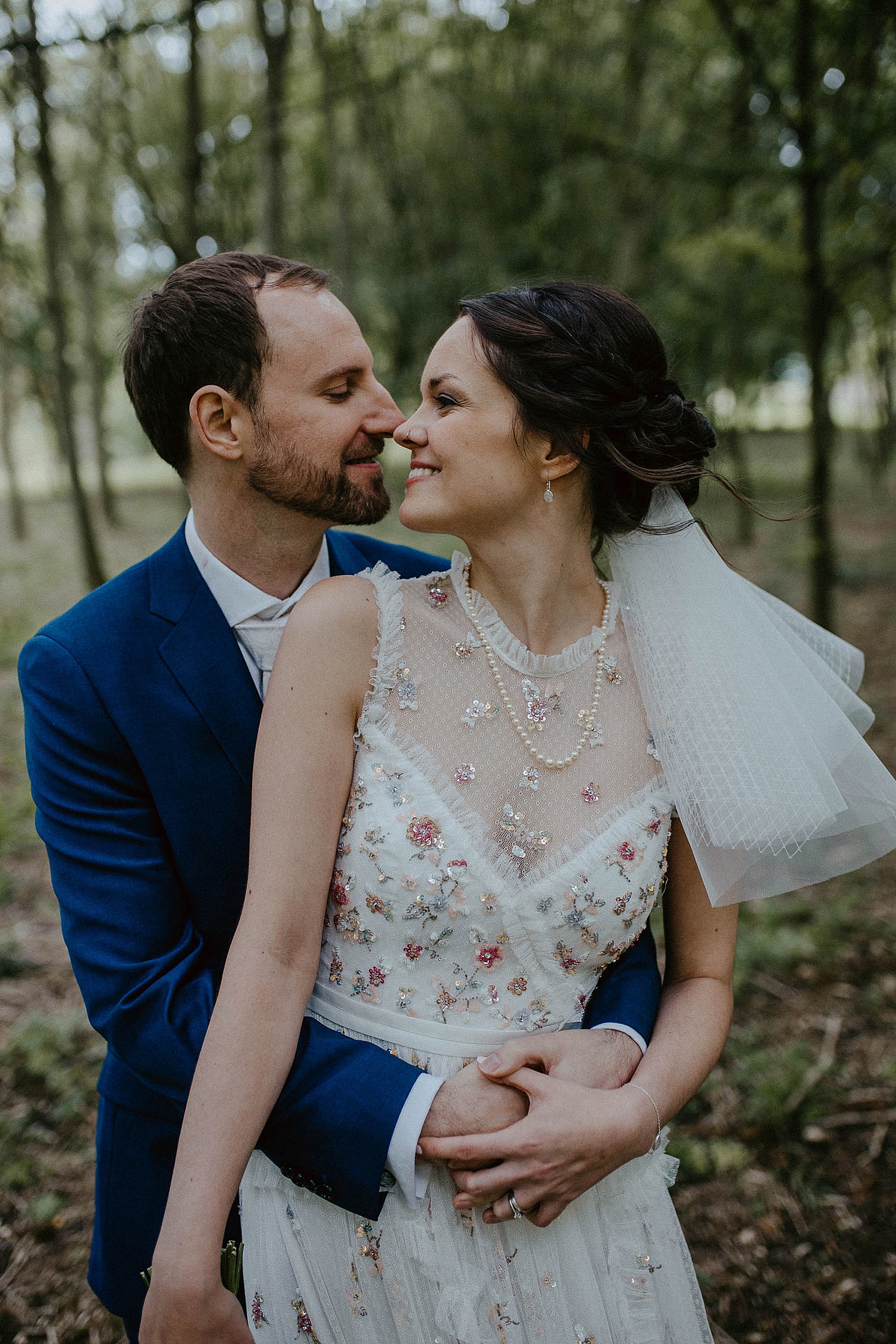 "We met at work in a marketing agency back home in Austria, where Matt was the CTO and Johanna was working as a copywriter. We were just co-workers and friends for two years before we became a couple in 2015. We got engaged in February 2018 shortly after Valentine's Day (Matt already had the ring with him on Valentine's but couldn't find the right moment) at home in our comfy clothes, followed by a bowl of cereal."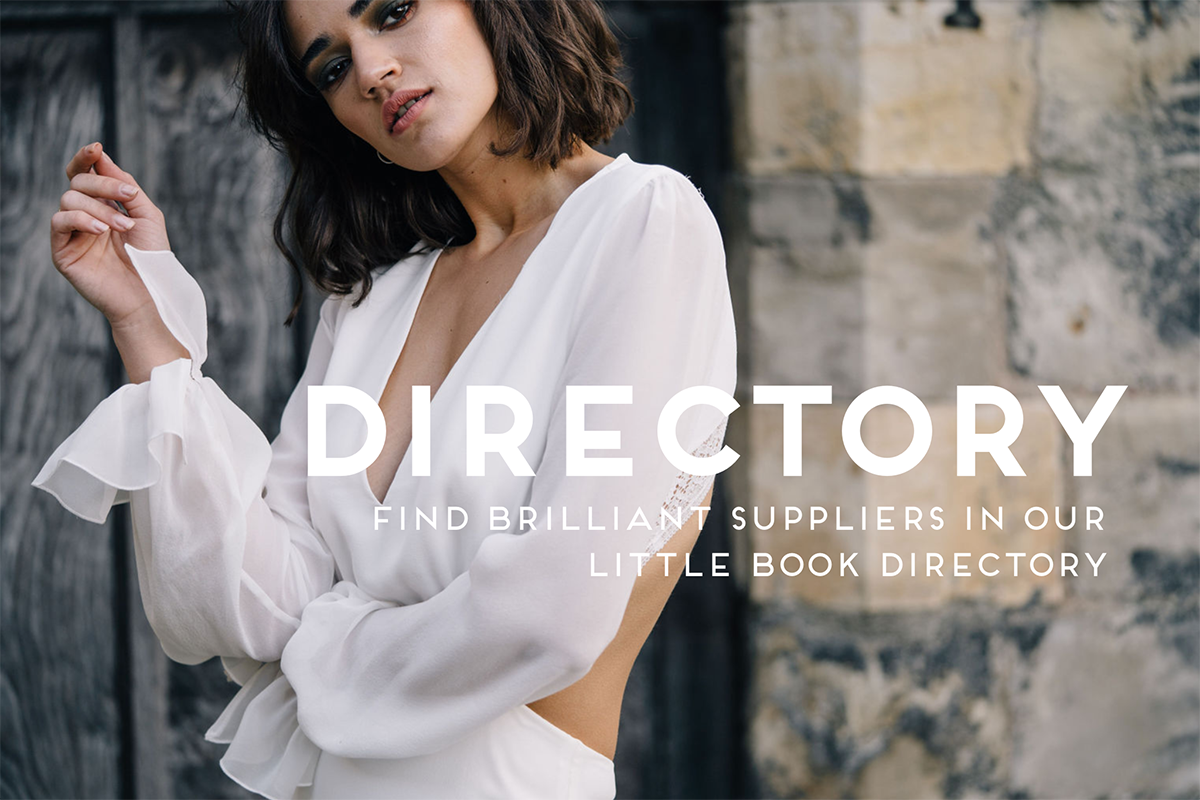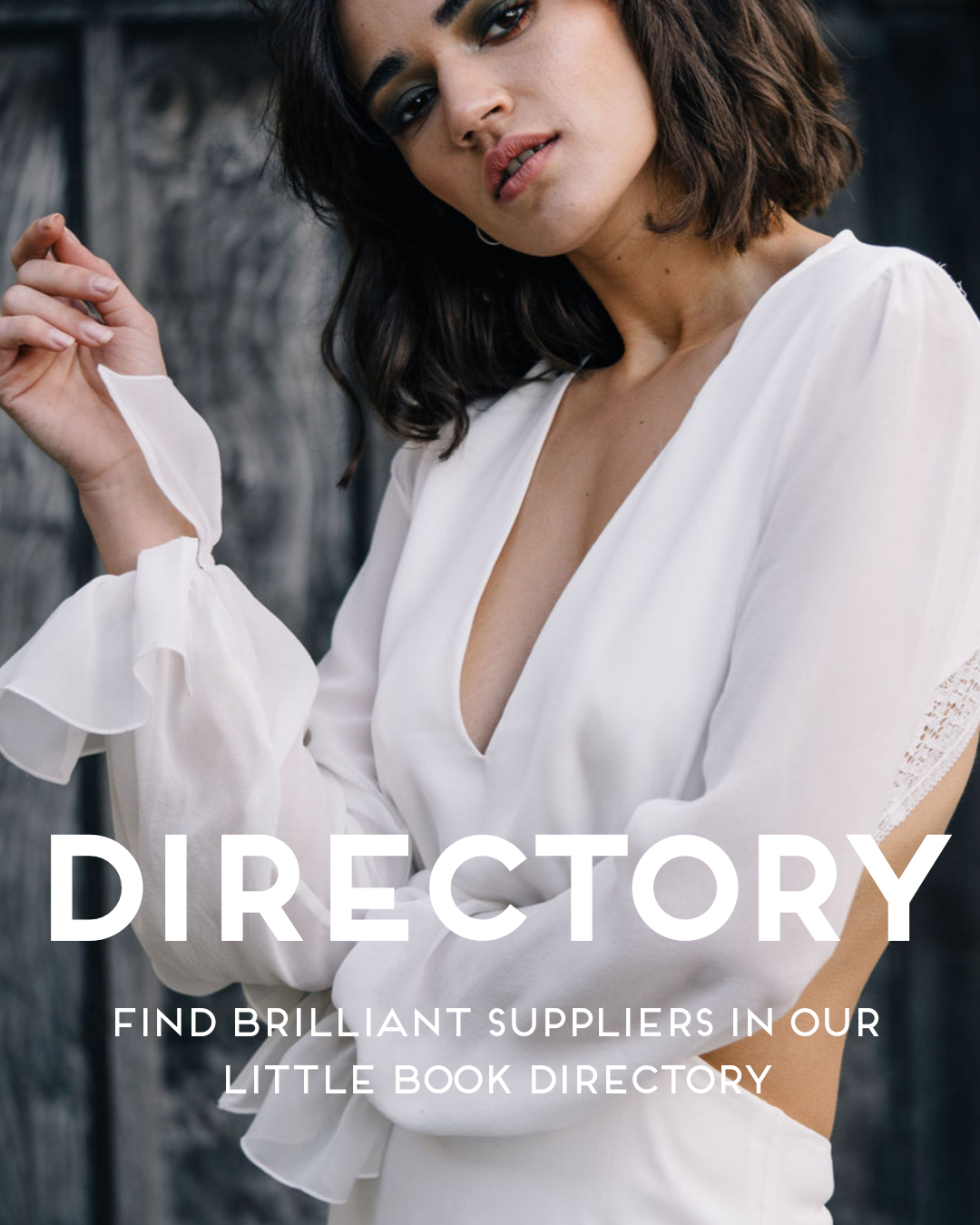 Langar Hall is a real family home, filled with unique objects and a relaxed, homey feel. As such, it needed little styling, just fresh poppies and a few personal touches. I love the warm orange hue of the house, too.
"Lots of polaroid prints from all our adventures and travels together were hung up around the venue."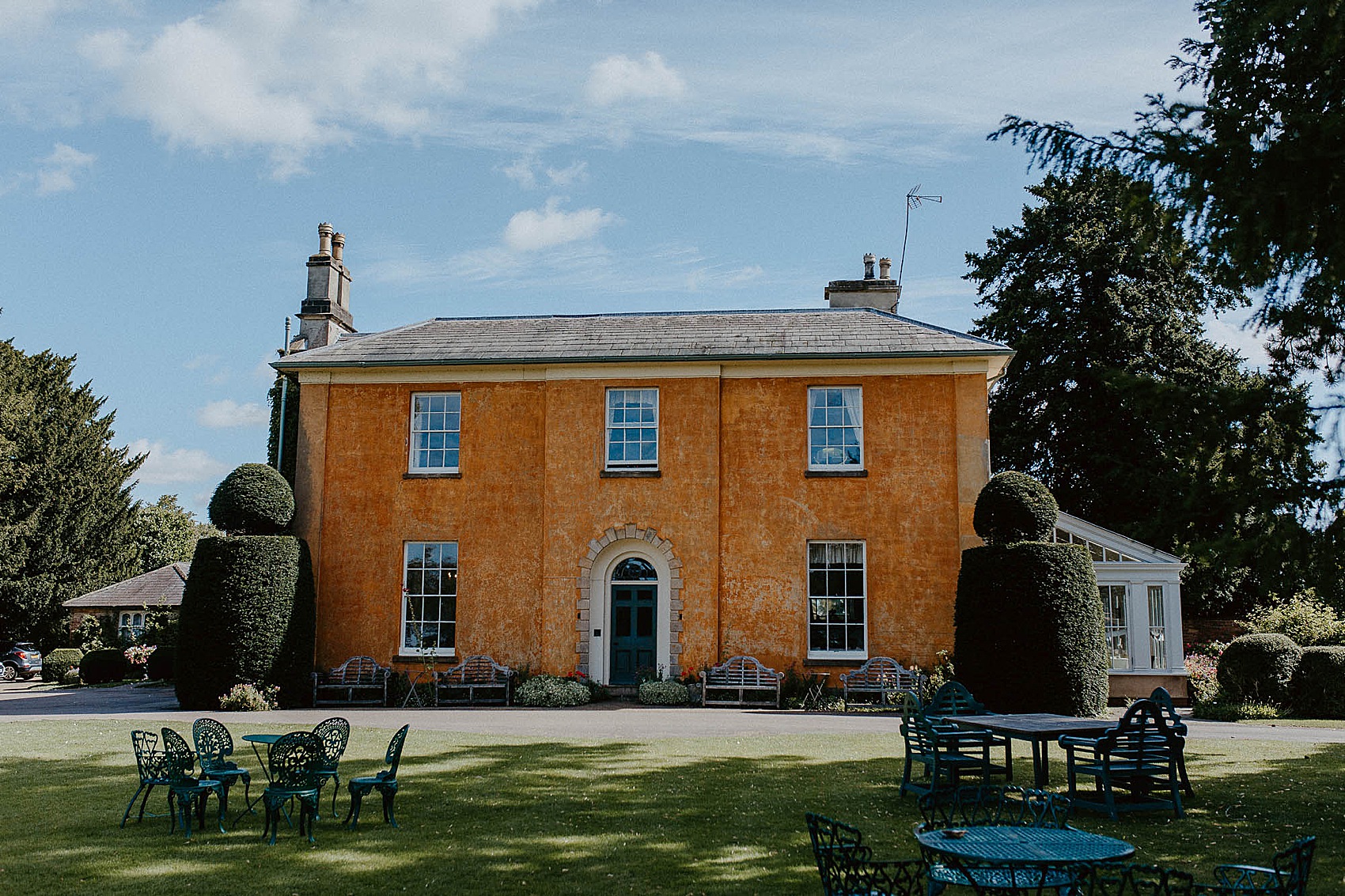 "We used a lot of different elements that we both liked. We wanted it to be unique and personal. For instance, we hired a karaoke DJ because we both love karaoke. We used a theme of poppies on invitations and in the bouquet since it's our favourite flower."
Rather than go for a traditional wedding dress, Johanna fell in love with a delicately-embroidered, high-necked gown from Needle & Thread, paired with a quirky short veil from JJ's House. I love the ruffled lace that edges that arm holes and neckline.
"I didn't want to wear a traditional wedding dress and was looking for something whimsical and unique."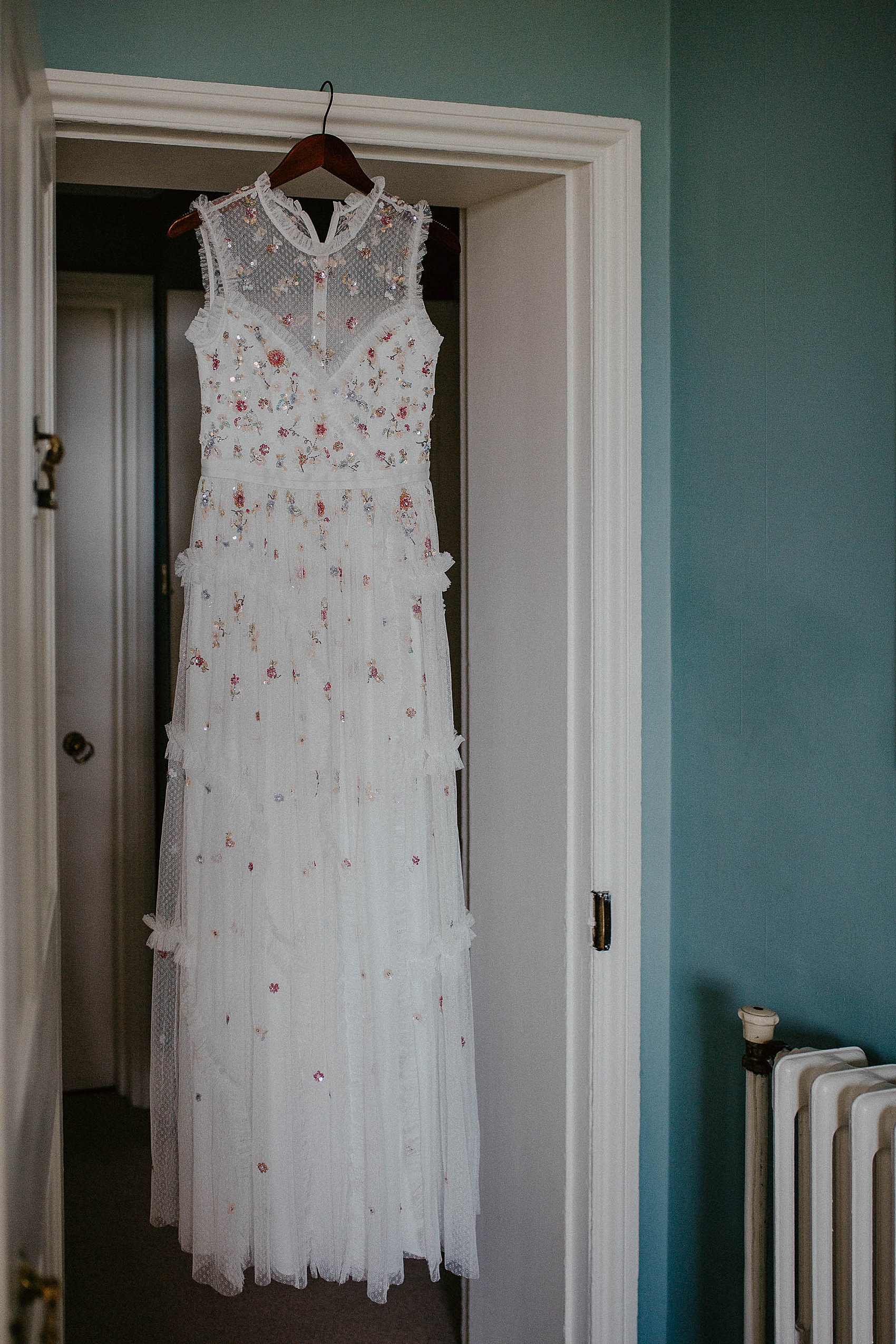 "After going to some boutiques, I found this brand – Needle & Thread – whose dresses I loved and ended up ordering a dress that wasn't specifically a wedding dress which had some colourful elements. What I loved most is that I felt beautiful but still like myself and not over-the-top."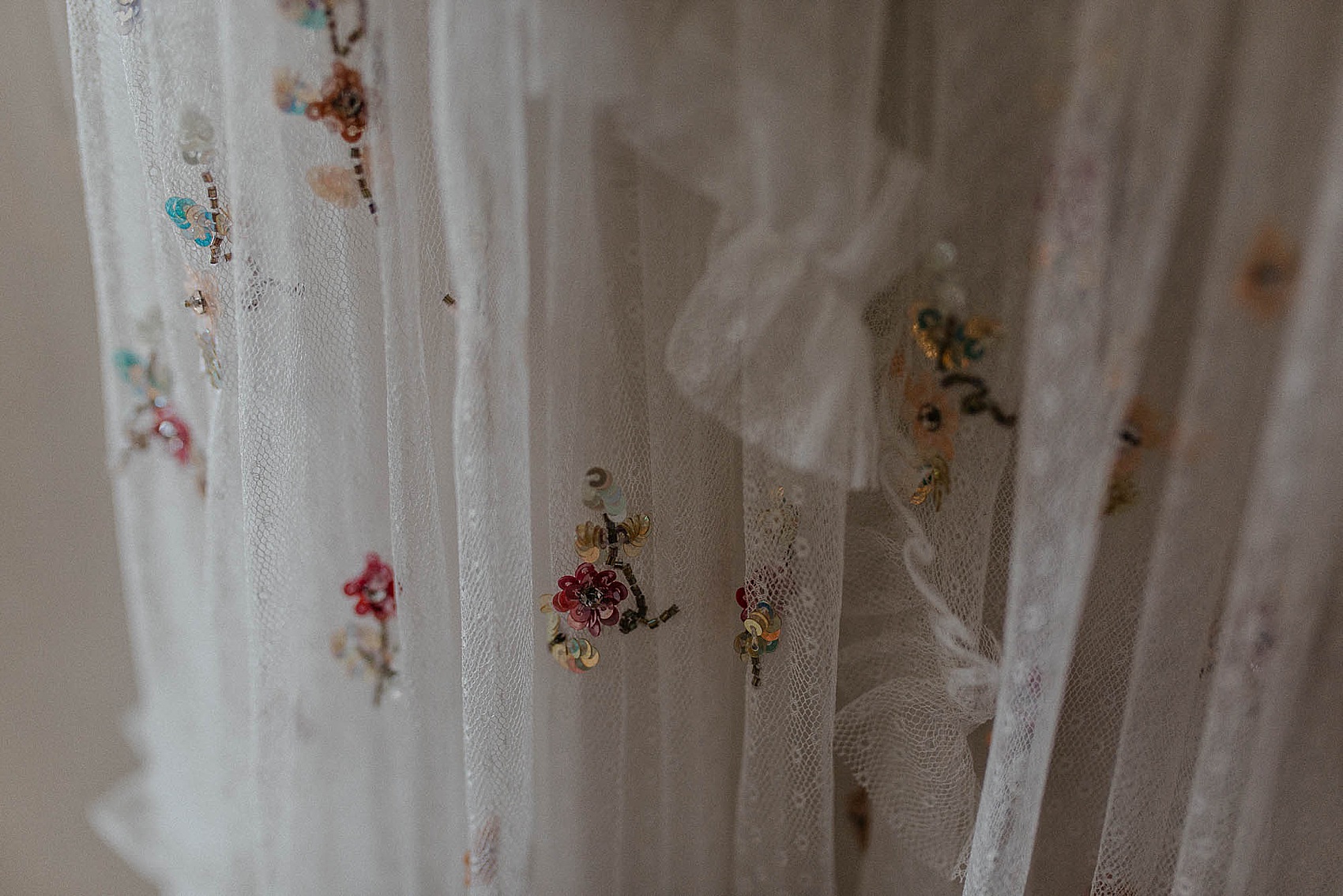 She accessorised with a string of vintage pearls, given to her to wear by her mother, as well as moonstone earrings and bracelet. She also wore a pair of lace-up chunky heels, bought from Austrian store CCC.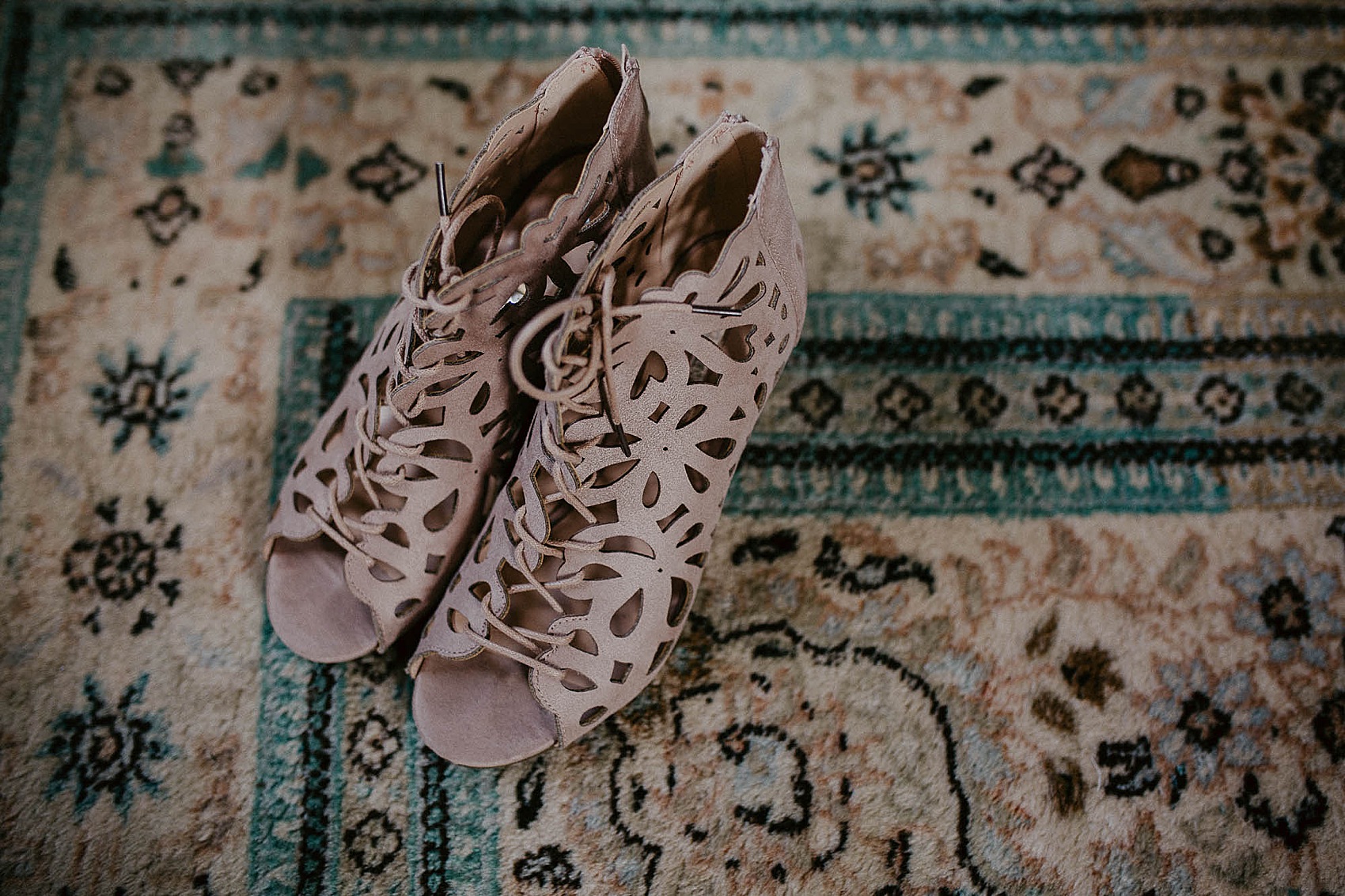 Her flawless make-up was done by Enhance Hair & Makeup in Nottingham, who also caught up her dark hair into an elegant chignon.
"My handmade poppy hairpiece was from Etsy."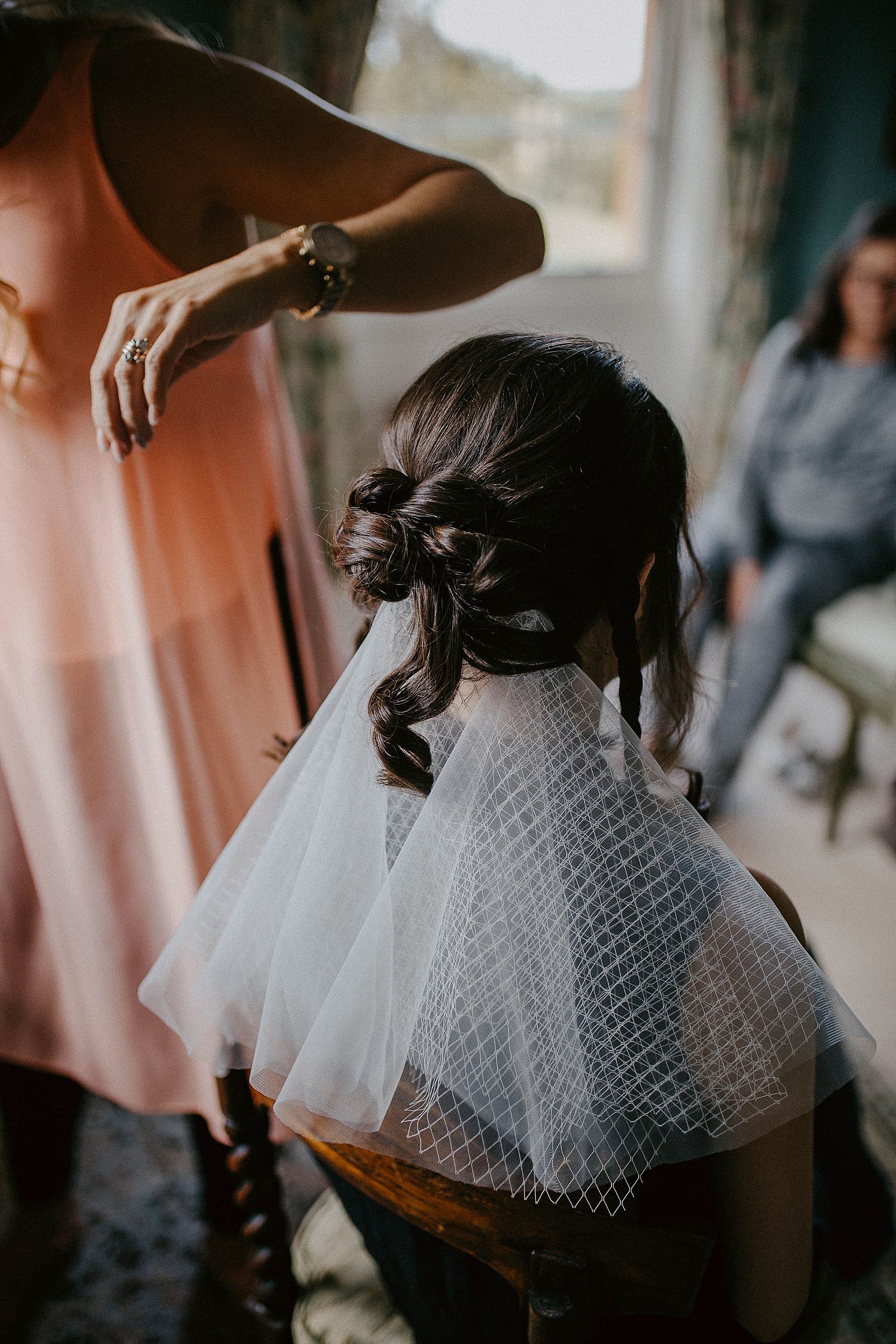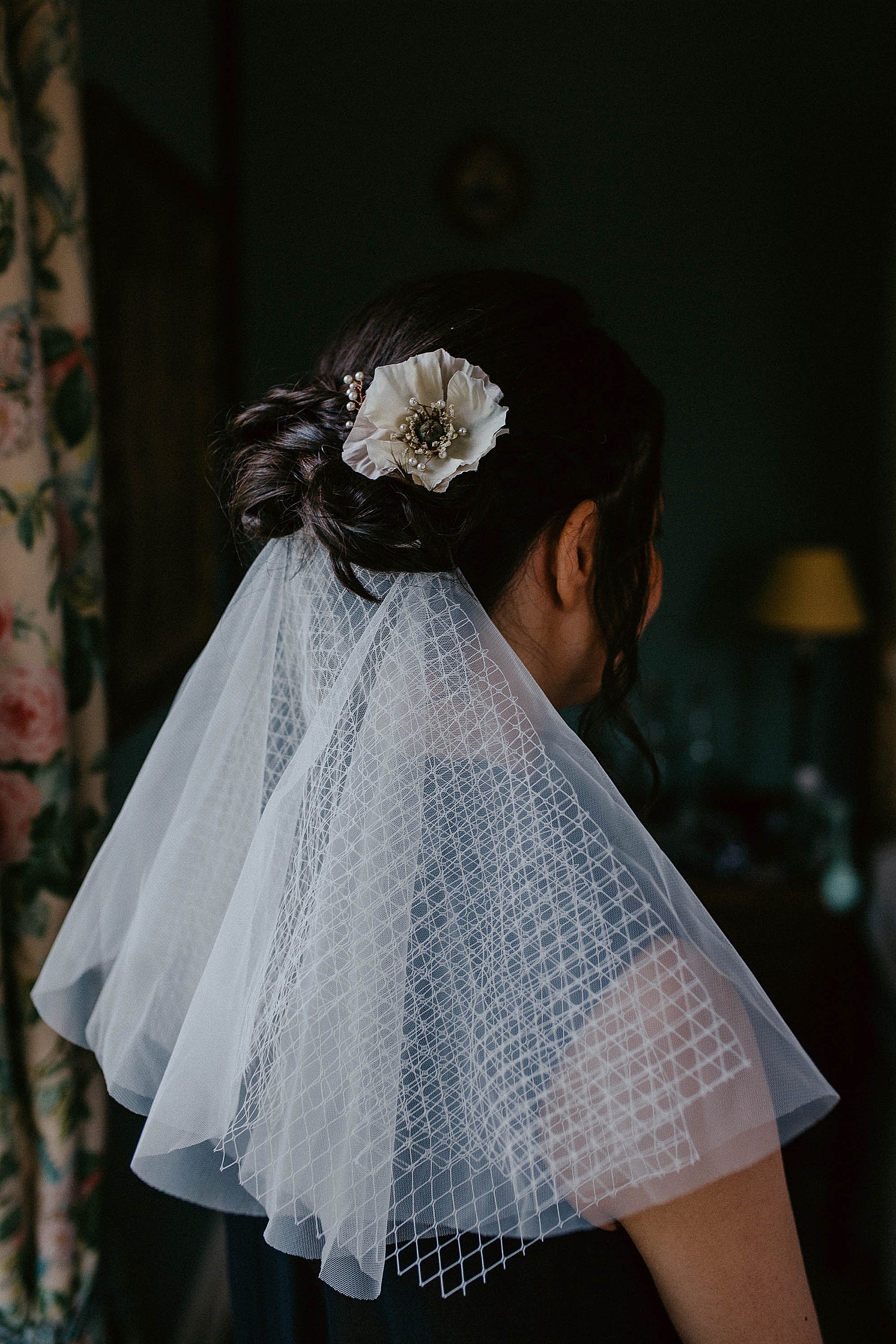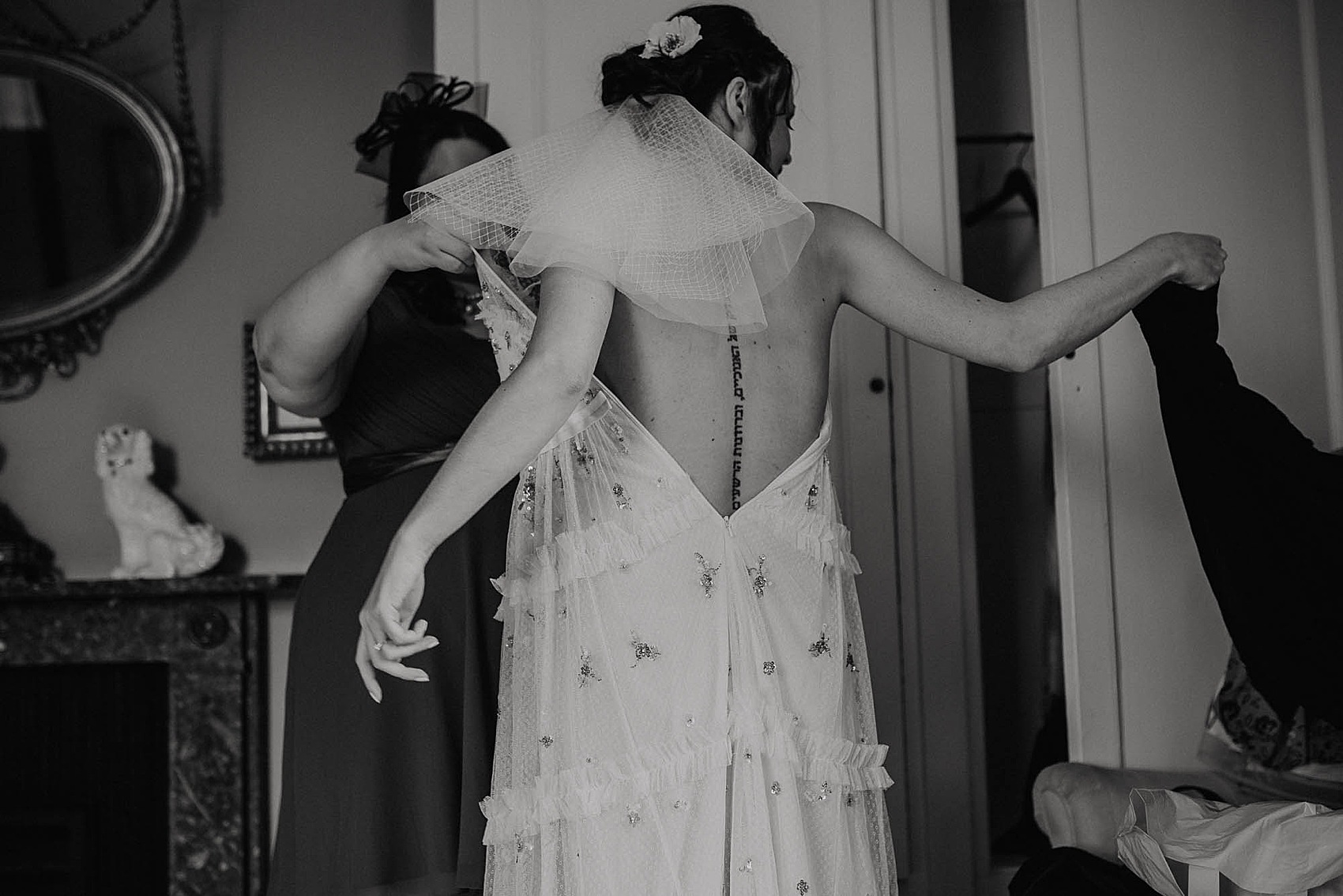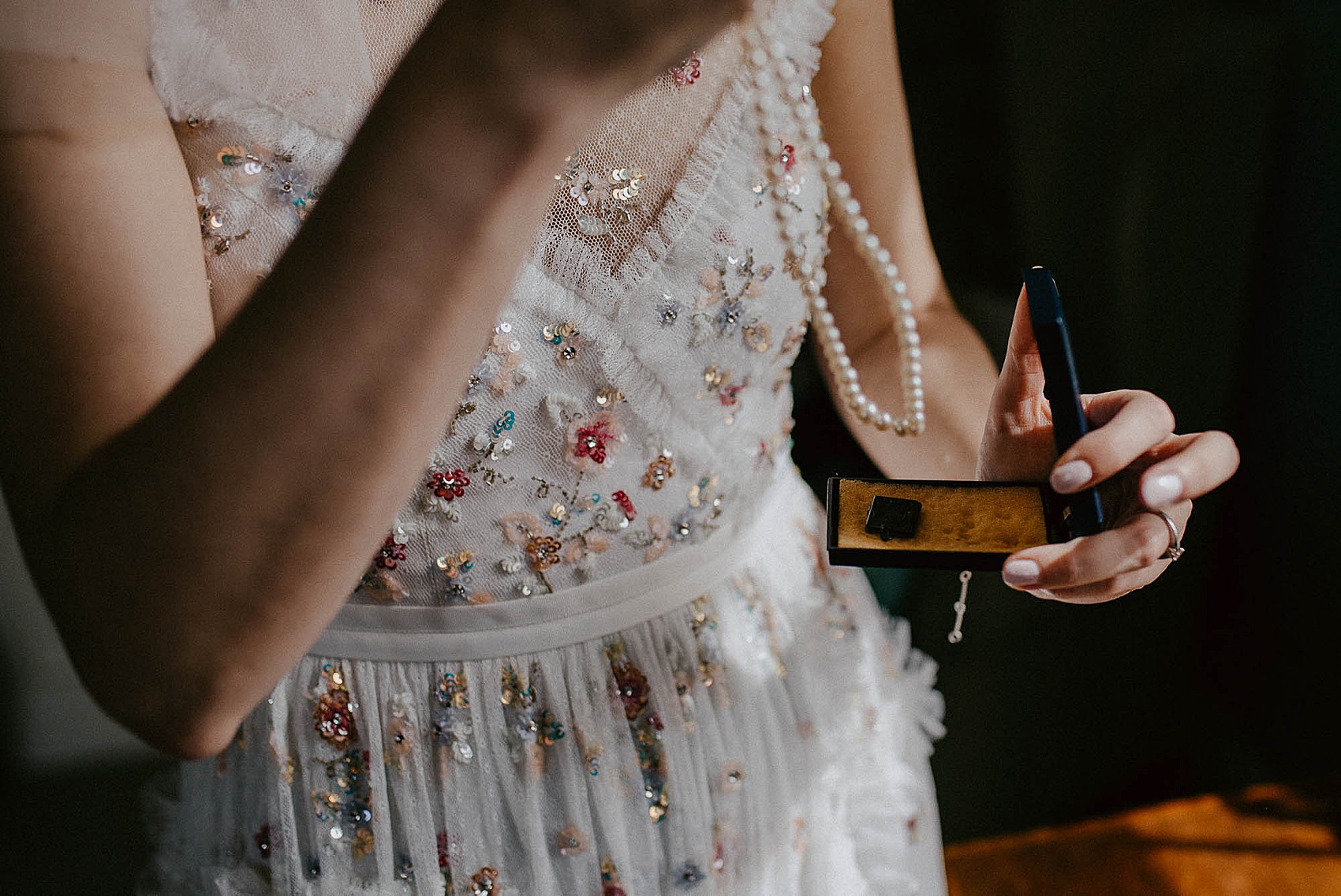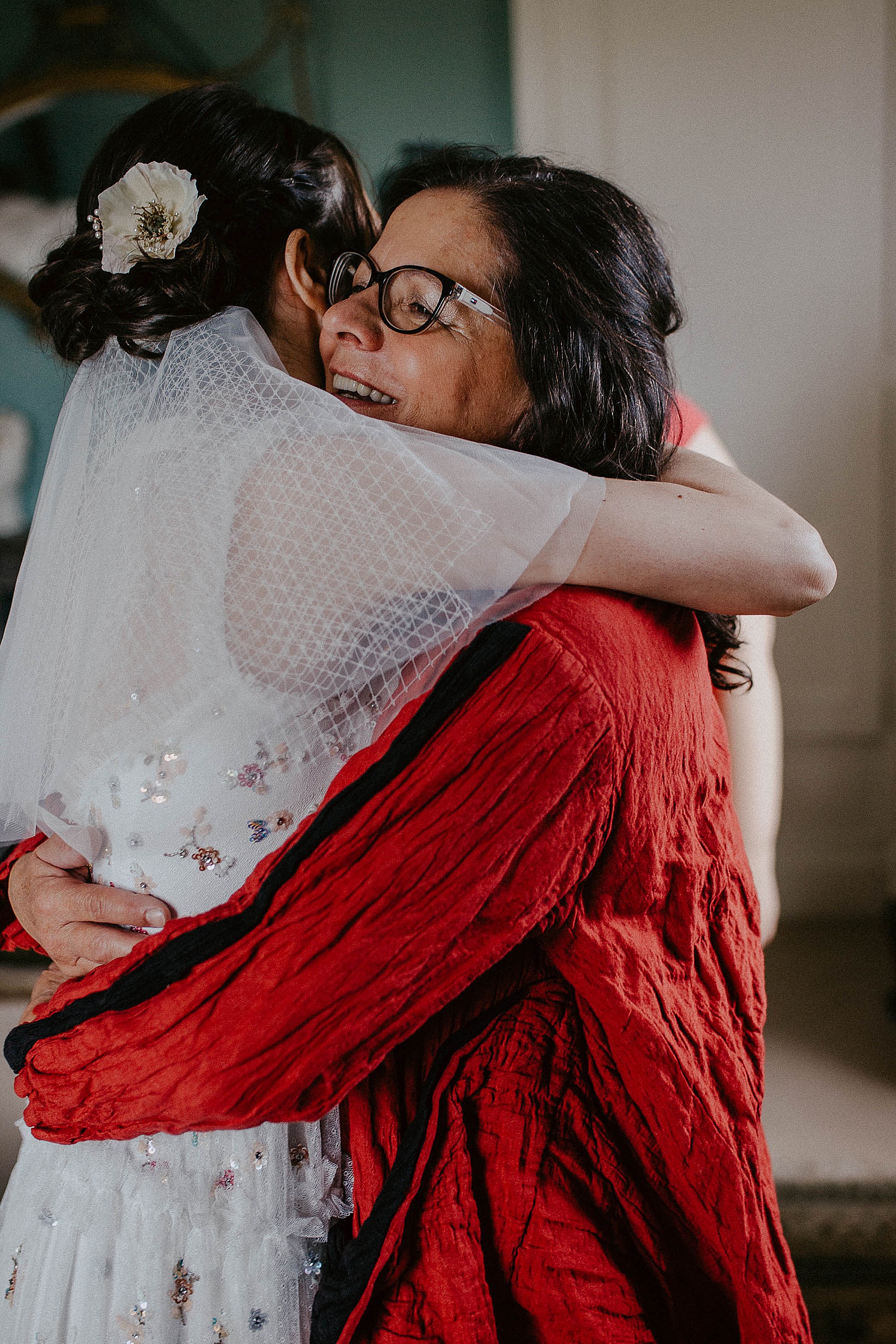 Her dainty bouquet of poppies and other late summer flowers were styled by Big Day Blooms & Cakes.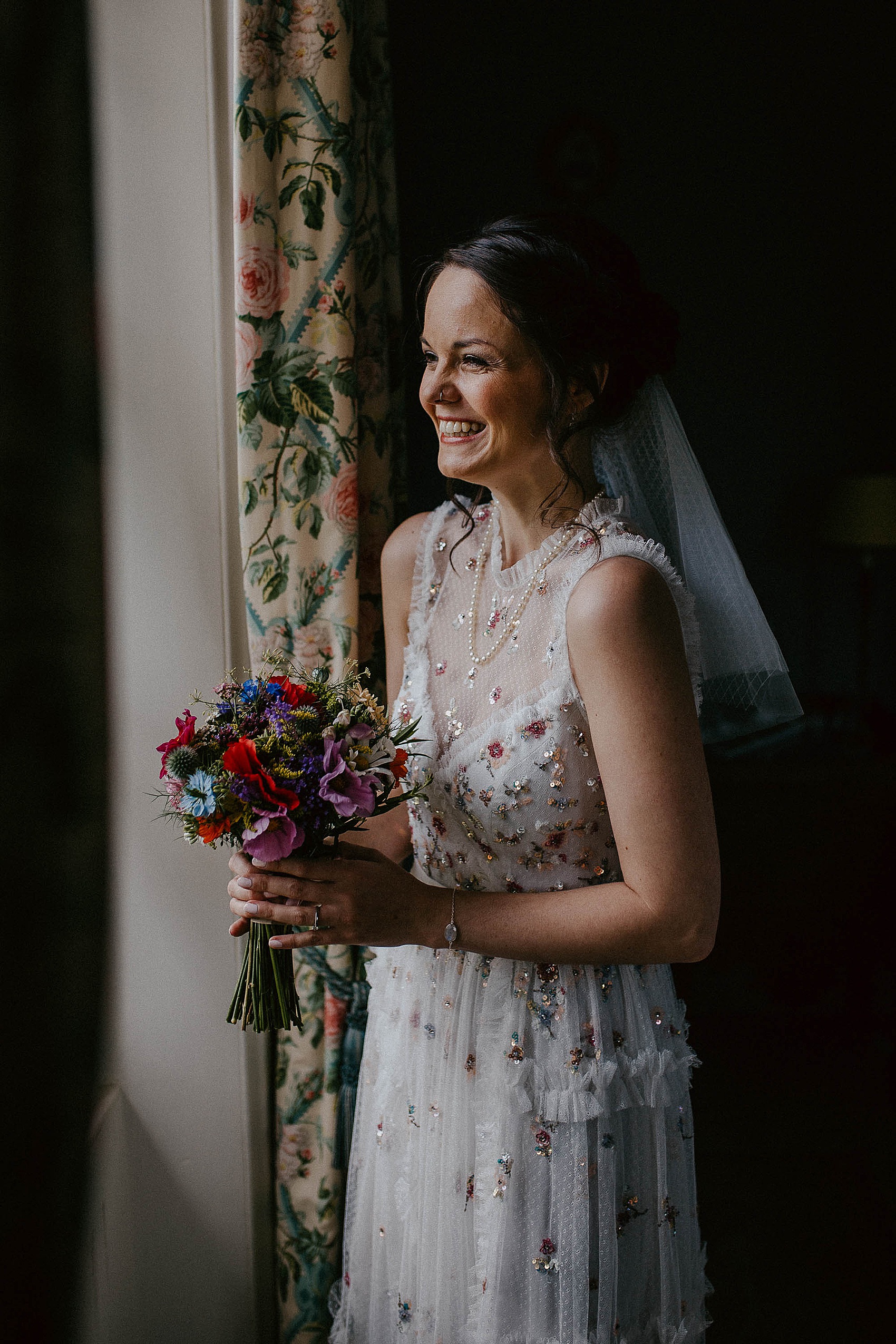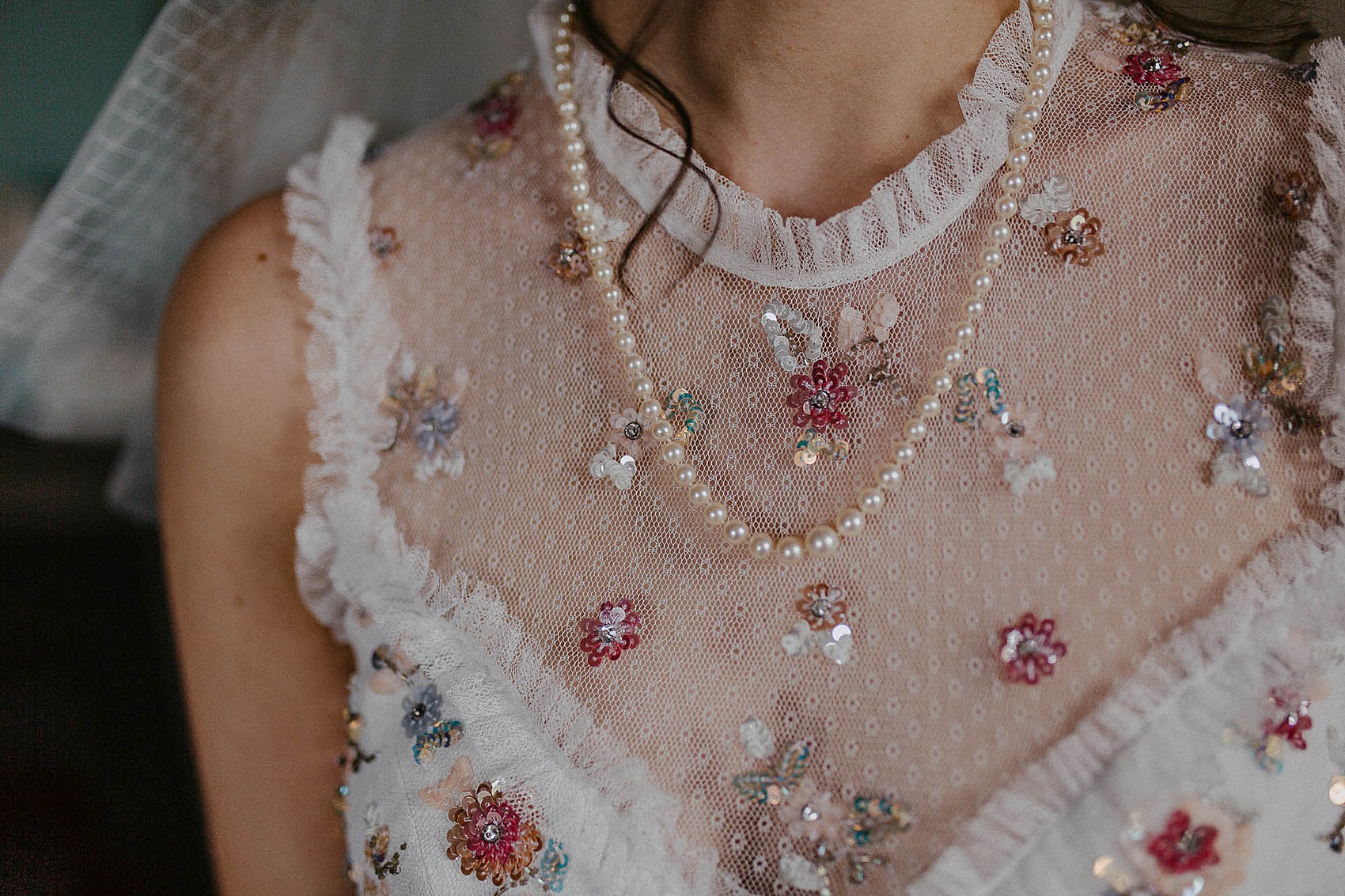 Matt chose a smart, tailored suit in blue from Moss Bros., with a neutral tie and brown brogues from Next as well as a pocket-watch.
"Matt had his suit custom-tailored at Moss Brothers Croydon who were very helpful in choosing the different elements. Matt wanted something unique yet somewhat affordable, a suit he could use more than once."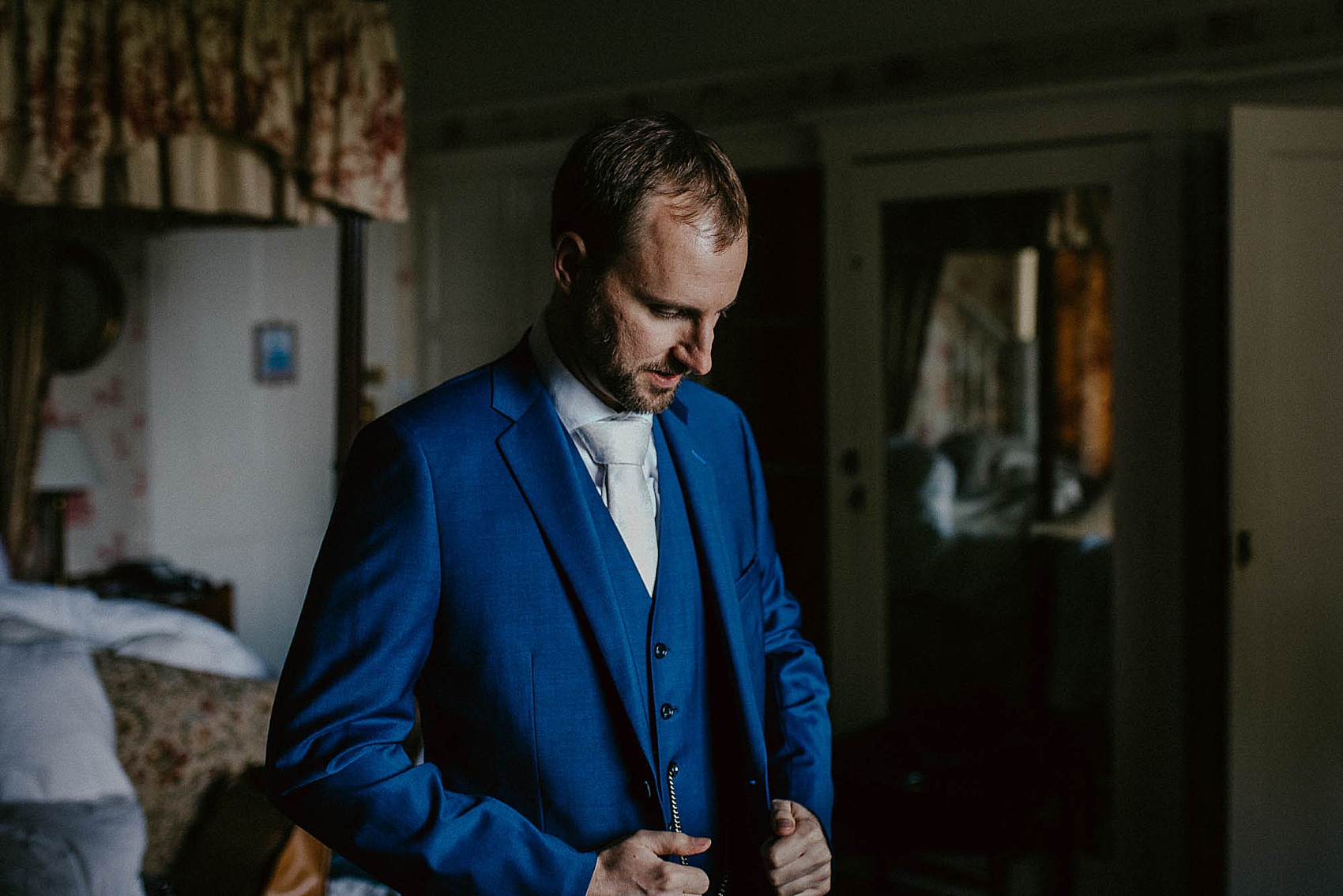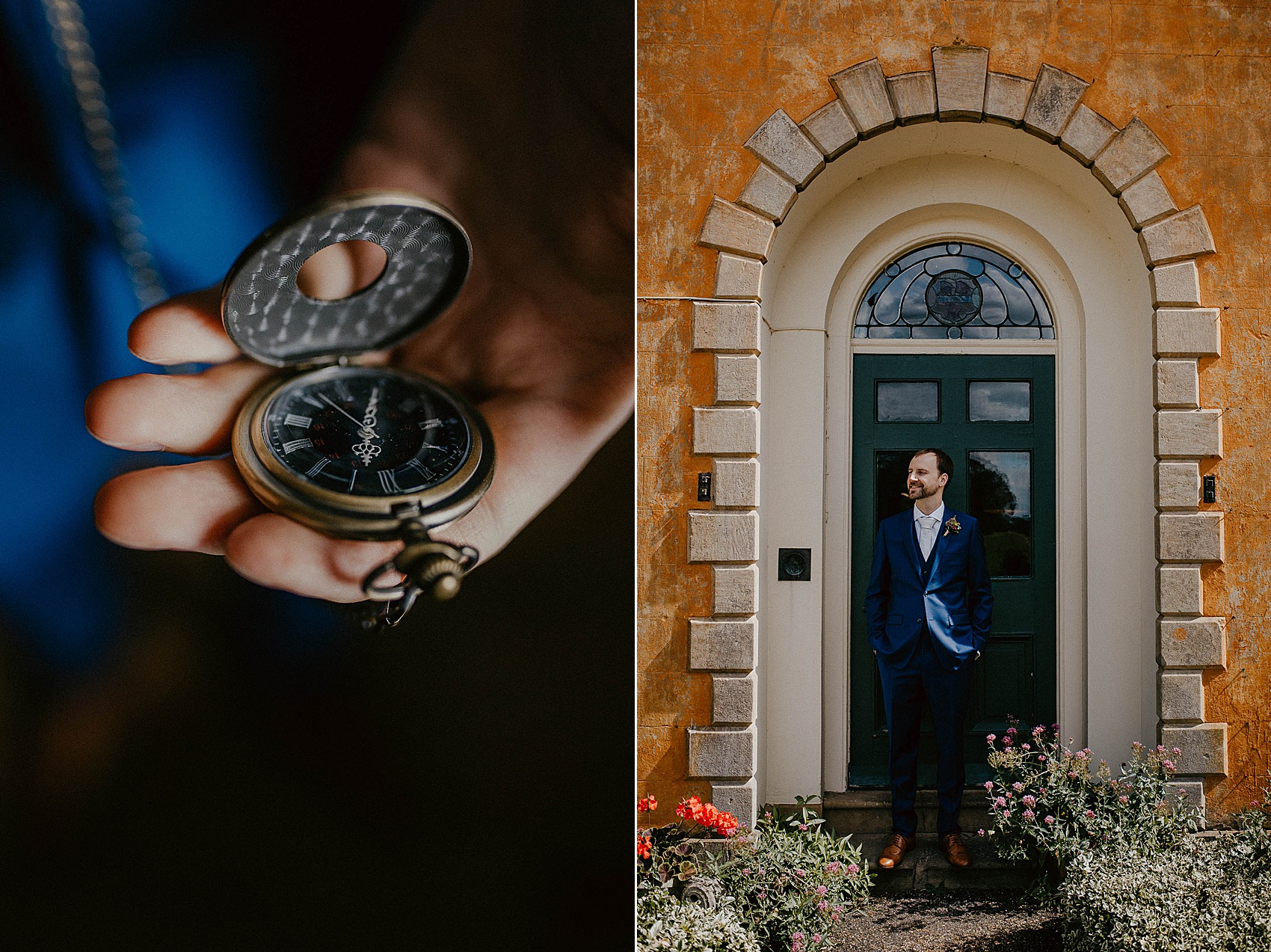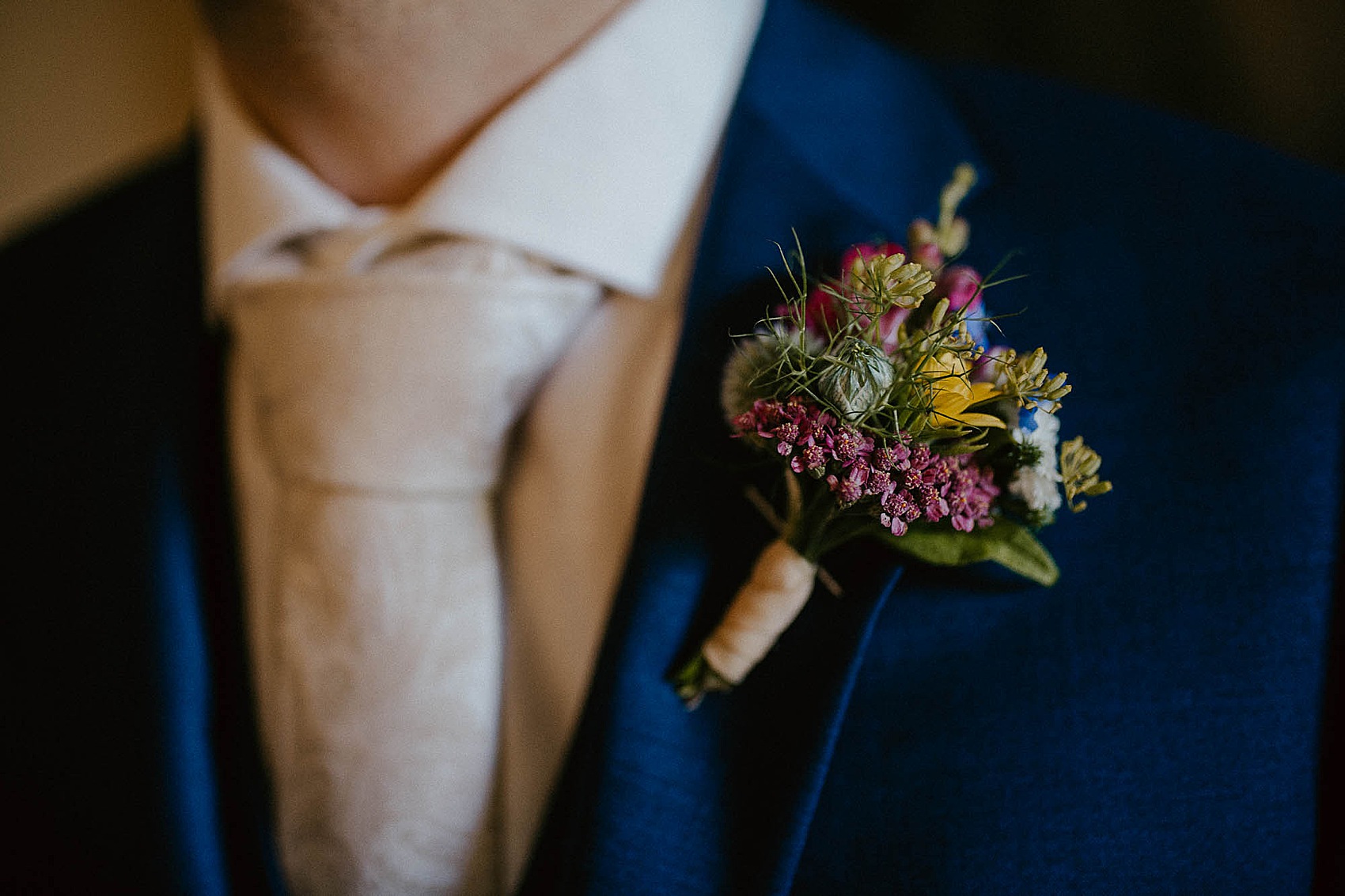 The couple's wedding ceremony was held in the Hall's Main Dining Room, and Johanna walked down the aisle with her mum to a duet version of 'Making Love (Out of Nothing At All)' from the musical 'Bat Out Of Hell'.
Postponing your wedding? Bookmark our Covid19 pages which are full of useful, practical & emotional advice.
"We both wrote our own vows. We didn't share them with each other beforehand but coincidentally we both mentioned some of the same things."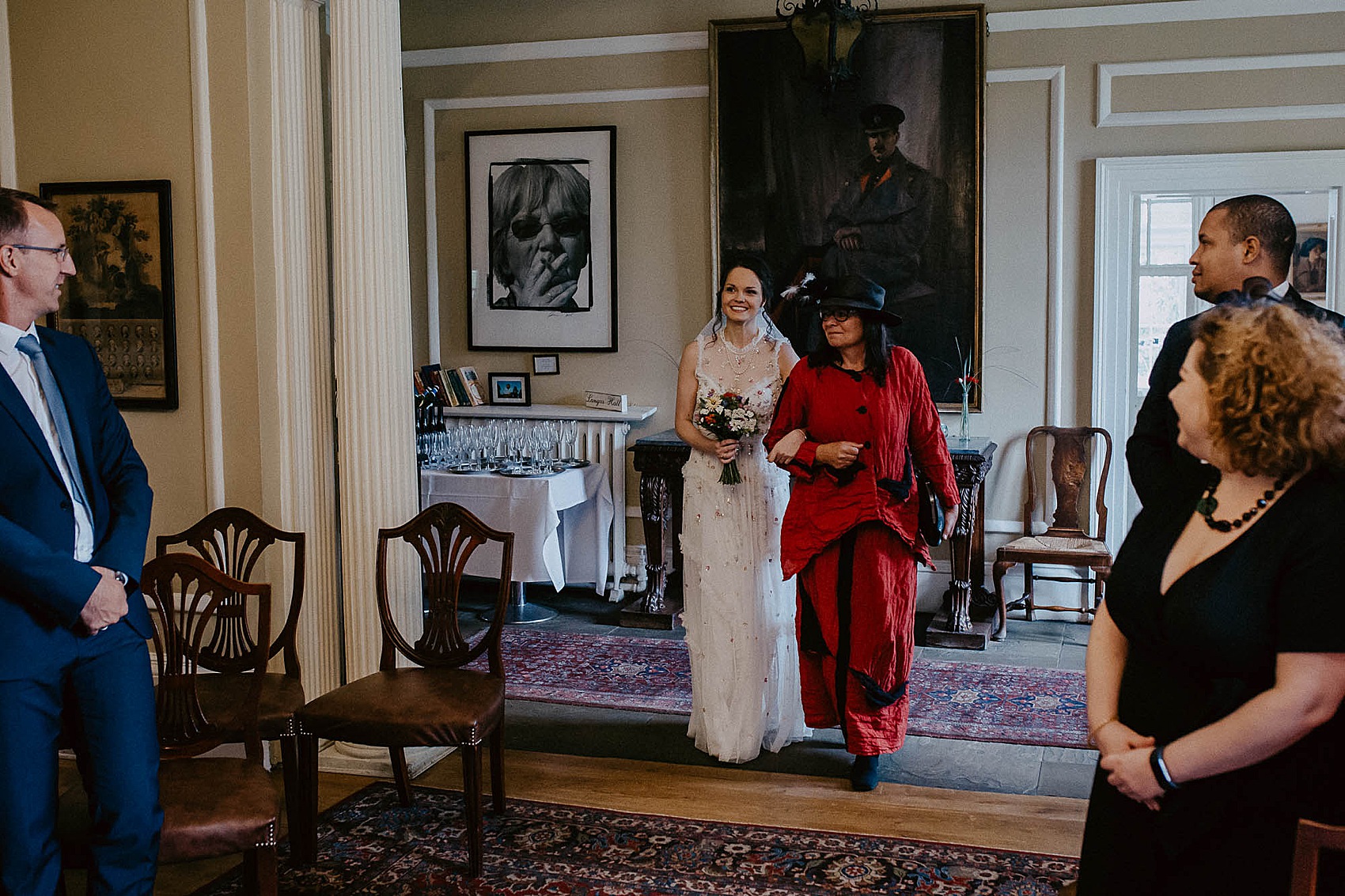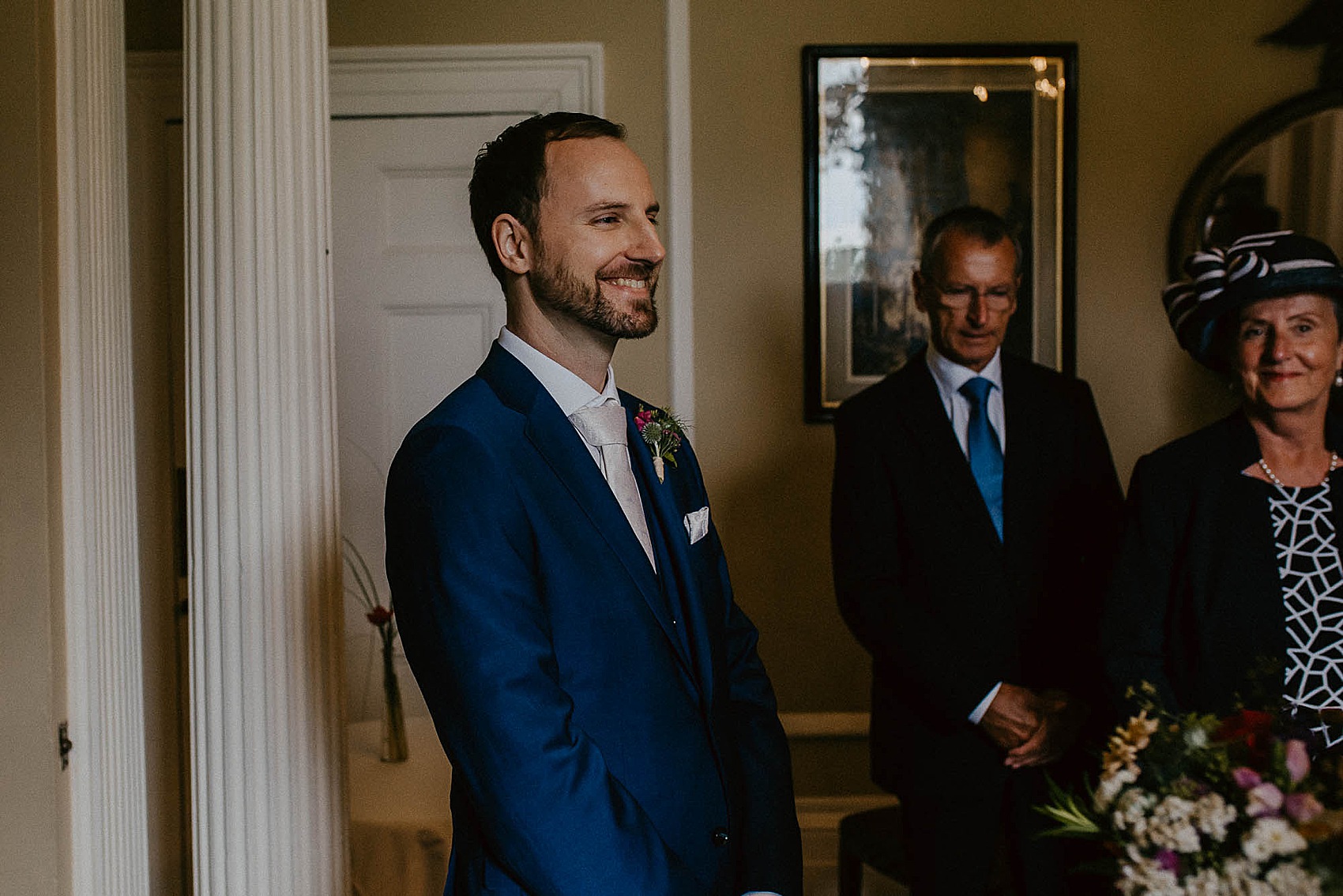 "For example, that Matt knows exactly how I drink my coffee and brings it to me every morning and that we love doing the crossword from an Austrian newspaper called Der Standard together."
Explore lots of more wedding readings here on Love My Dress
"We had two readings; 'Dich' by Erich Fried (read in German) and 'All I Know About Love' by Neil Gaiman."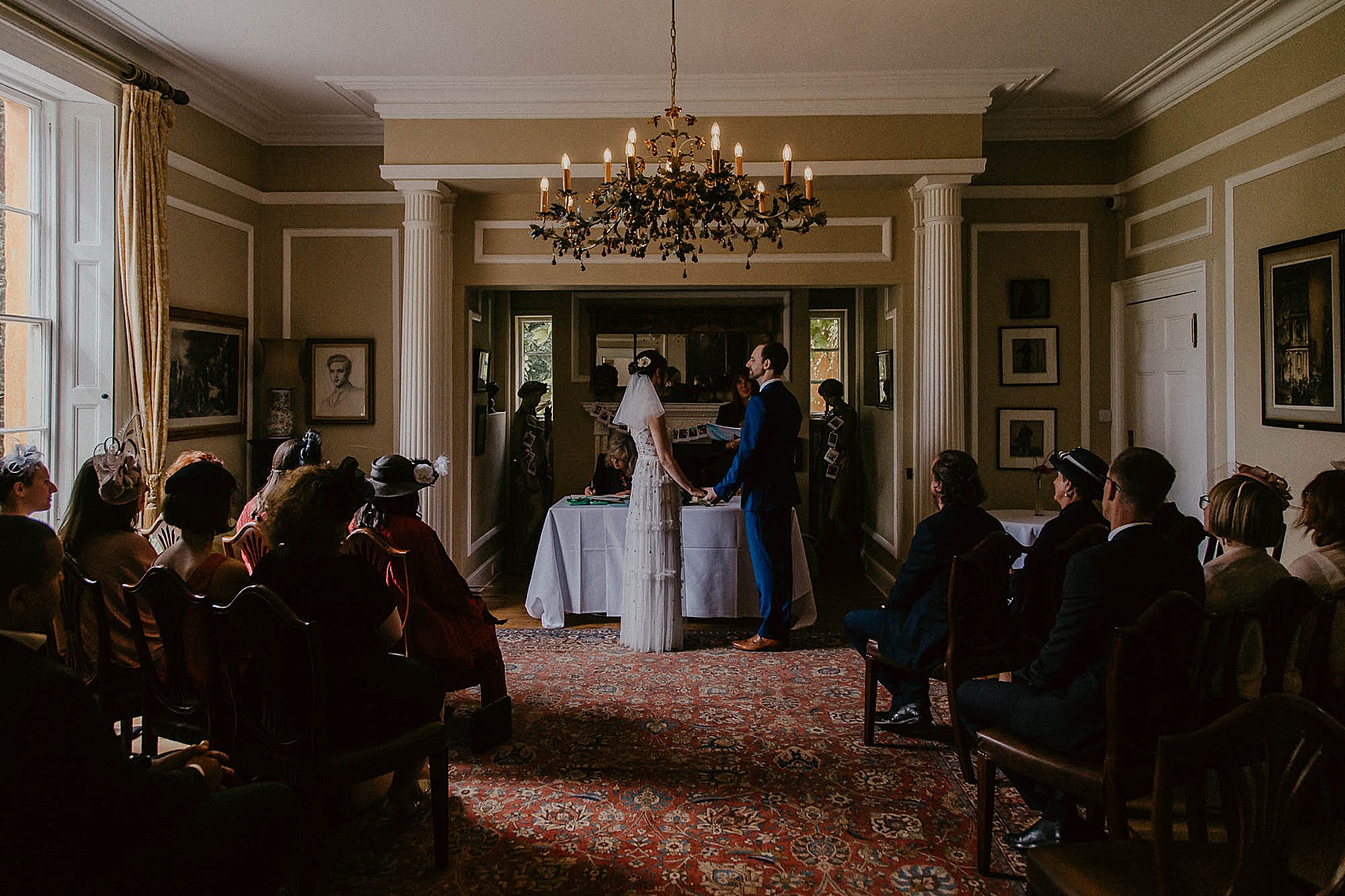 Matt and Johanna exchanged rings they found in a jewellery shop in Hatton Garden, London, before moving on to celebrate with their family and friends.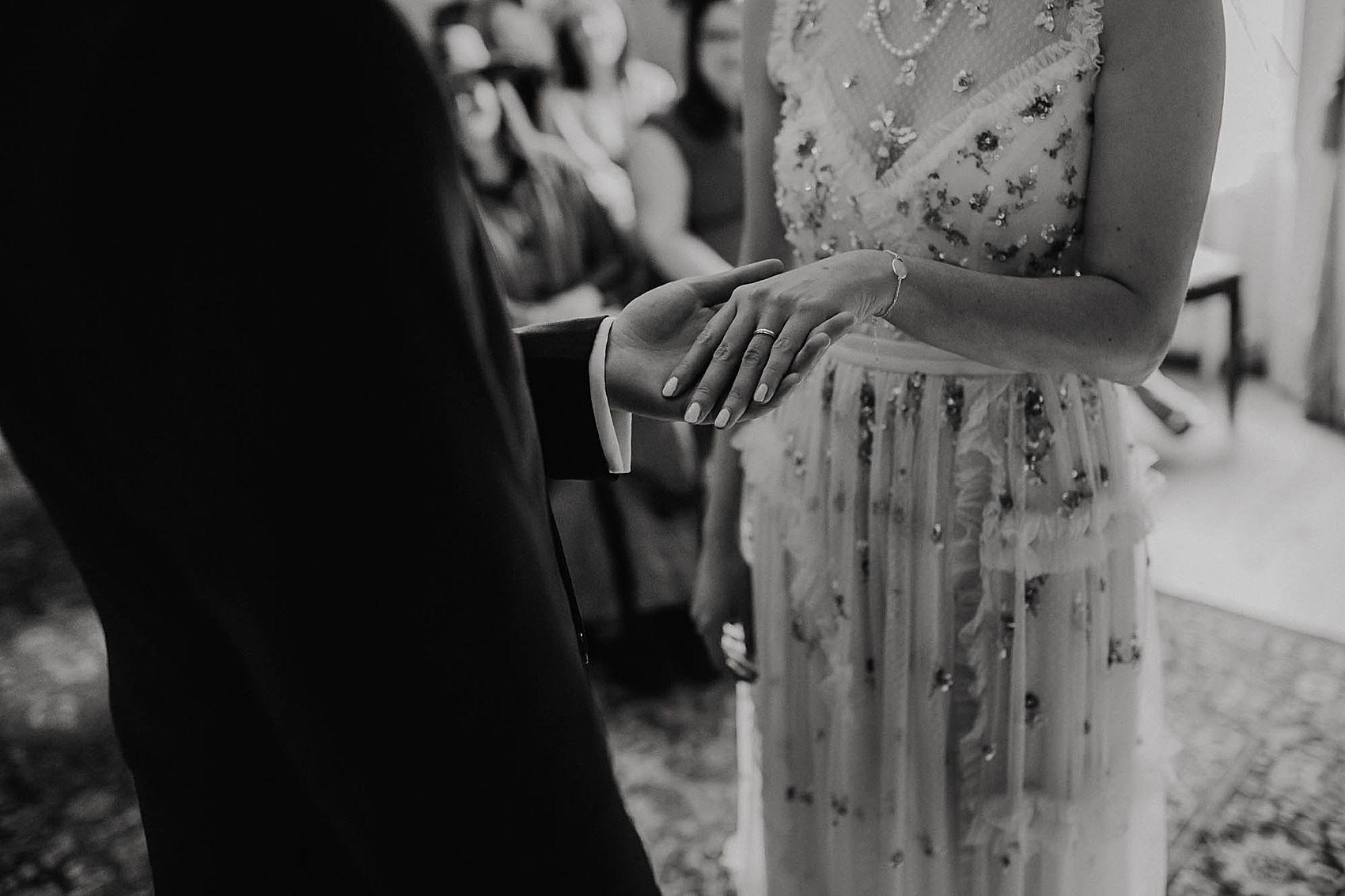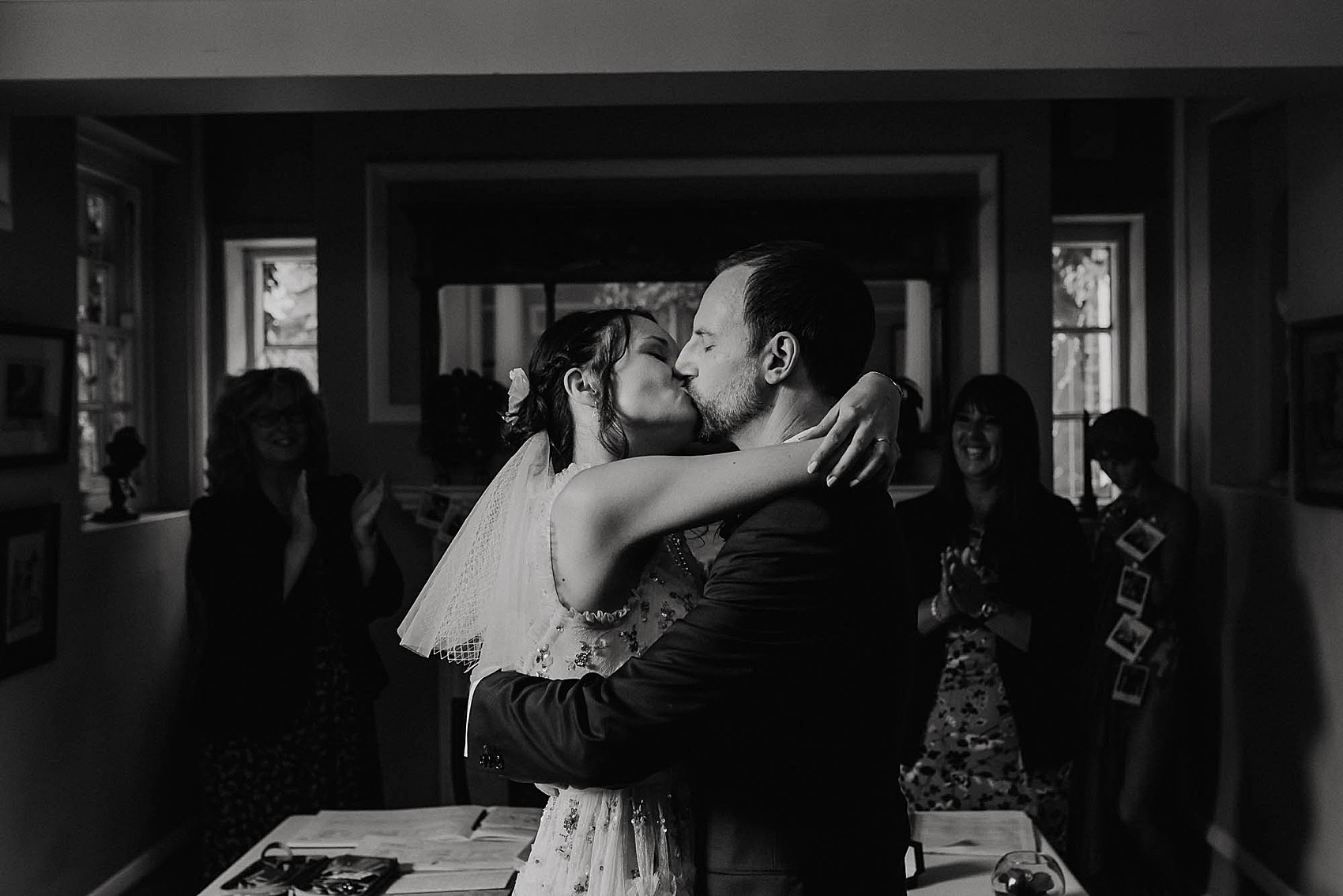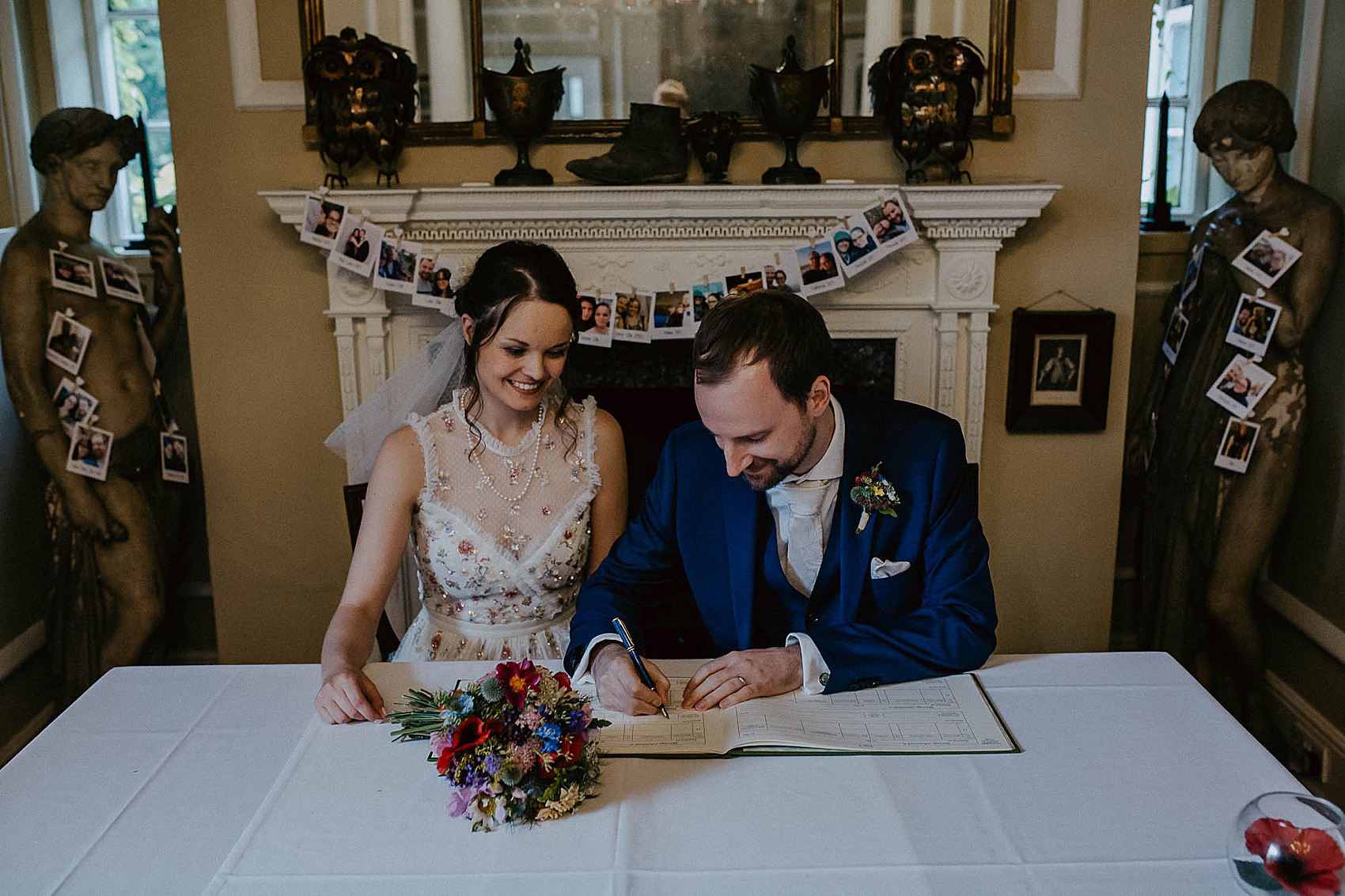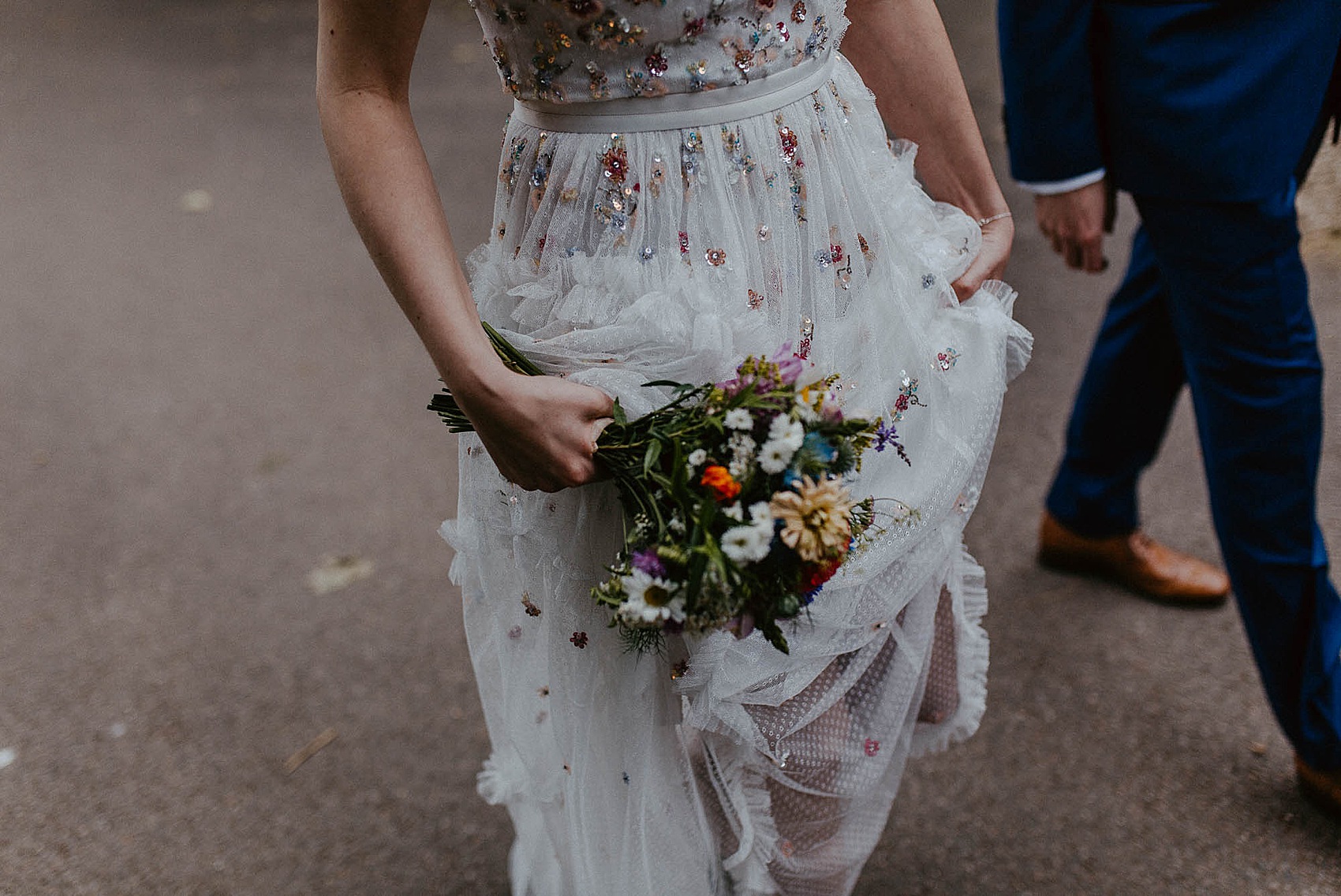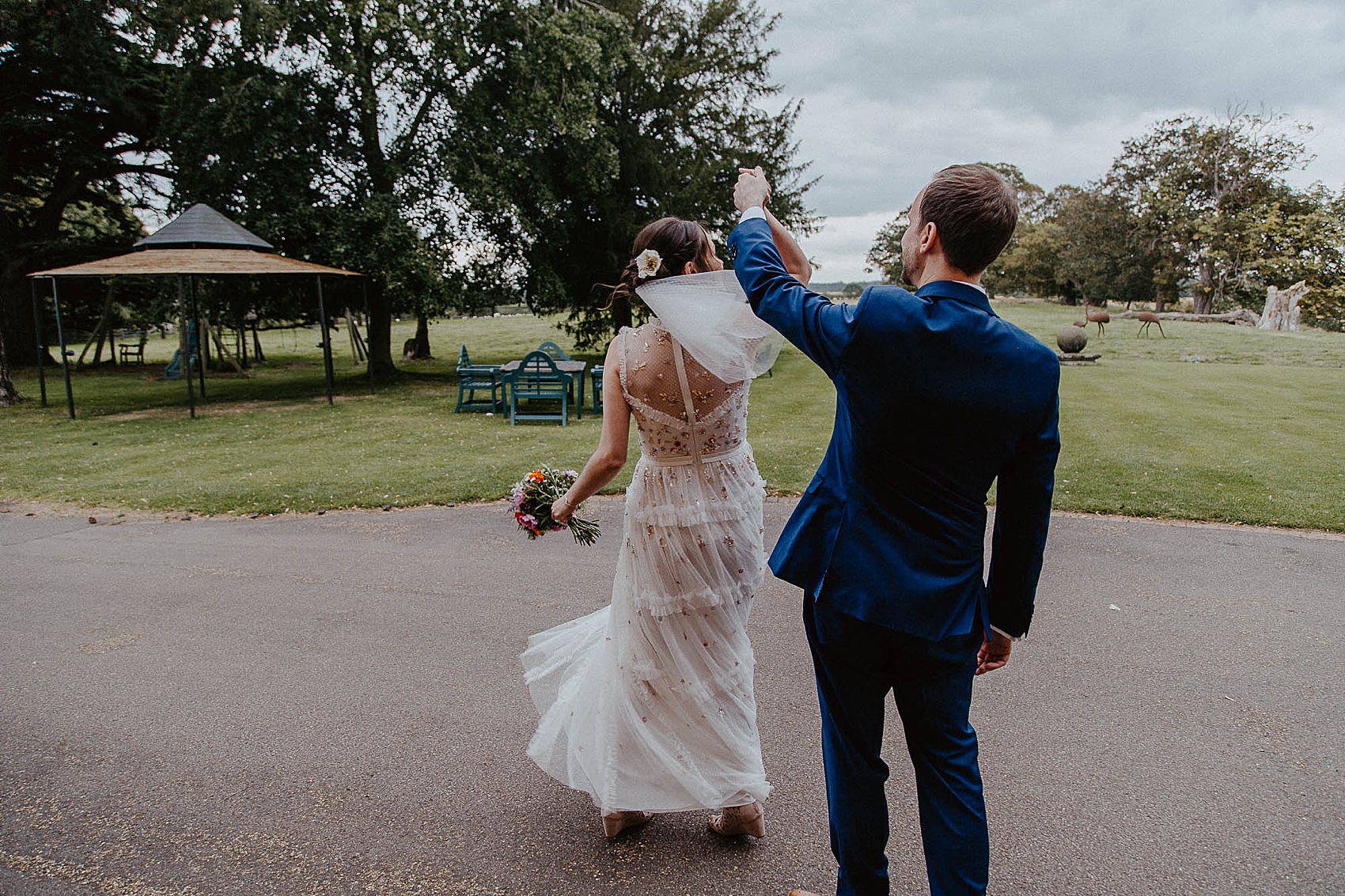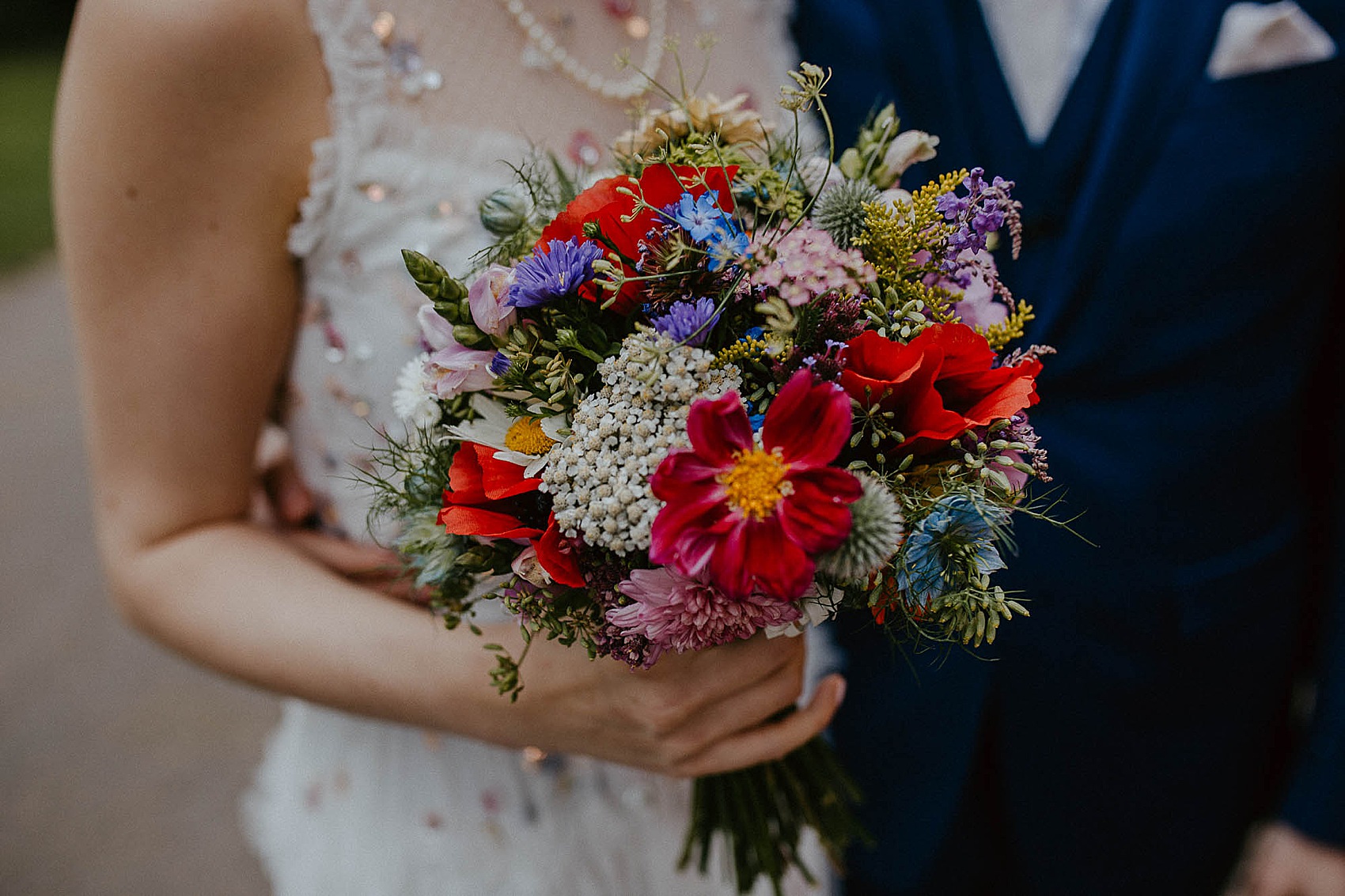 I really adore their ceremony photos; the first kiss is so passionate and loving.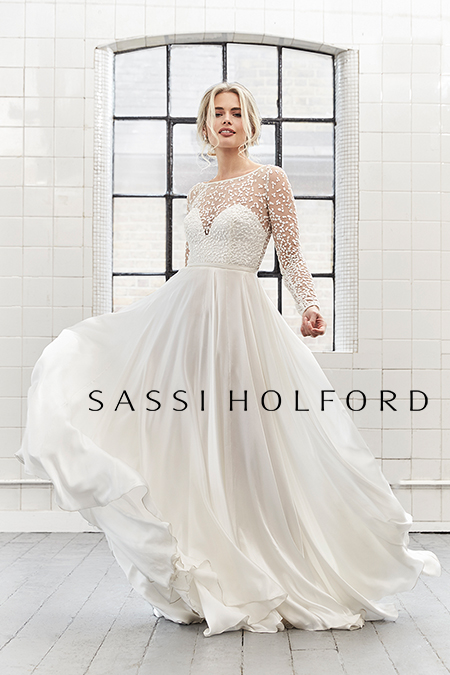 These beautiful, documentary-style photographs from Anna Rose Heaton are so full of movement and joy, and the romantic garden photographs are just exquisite.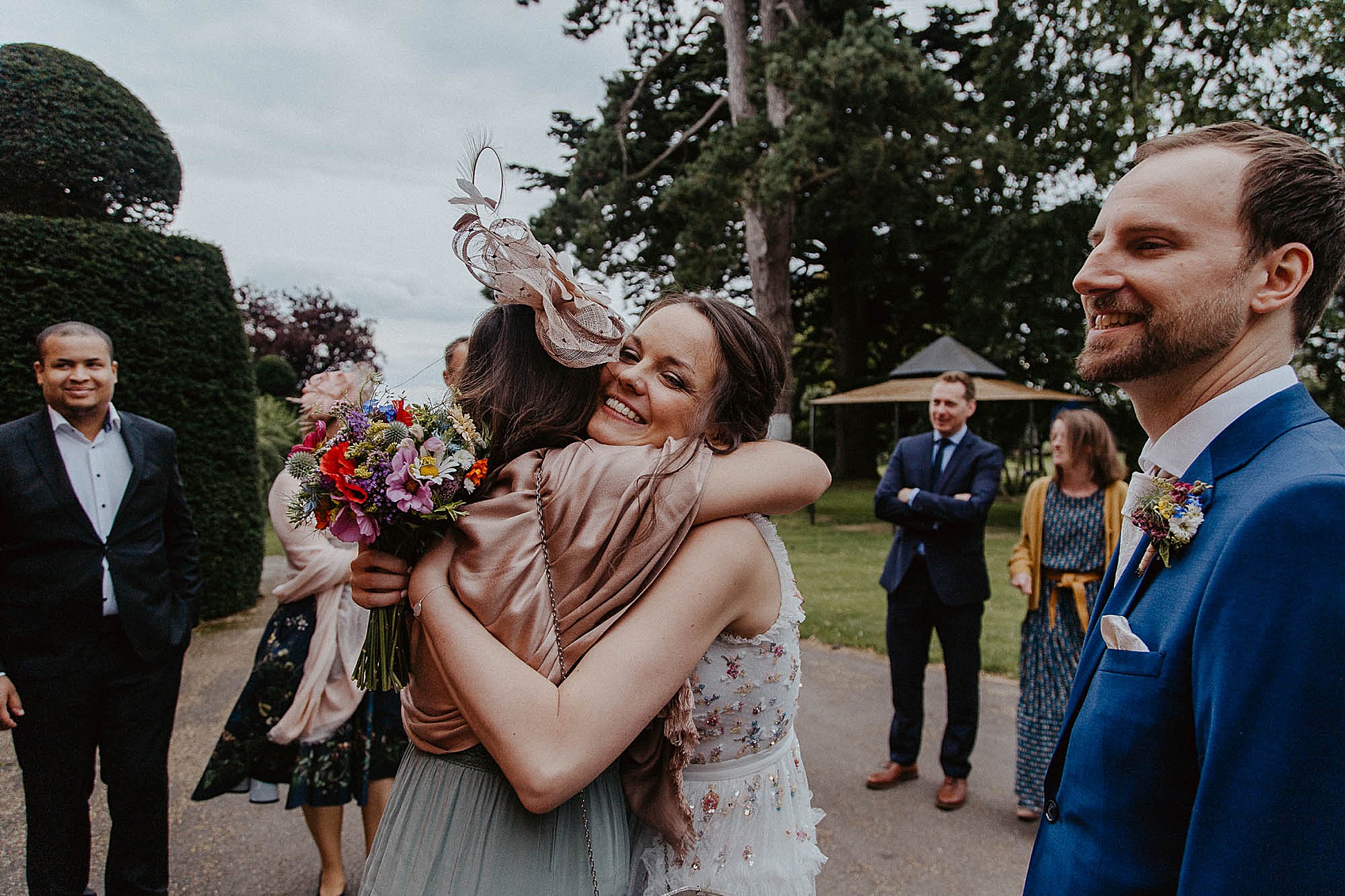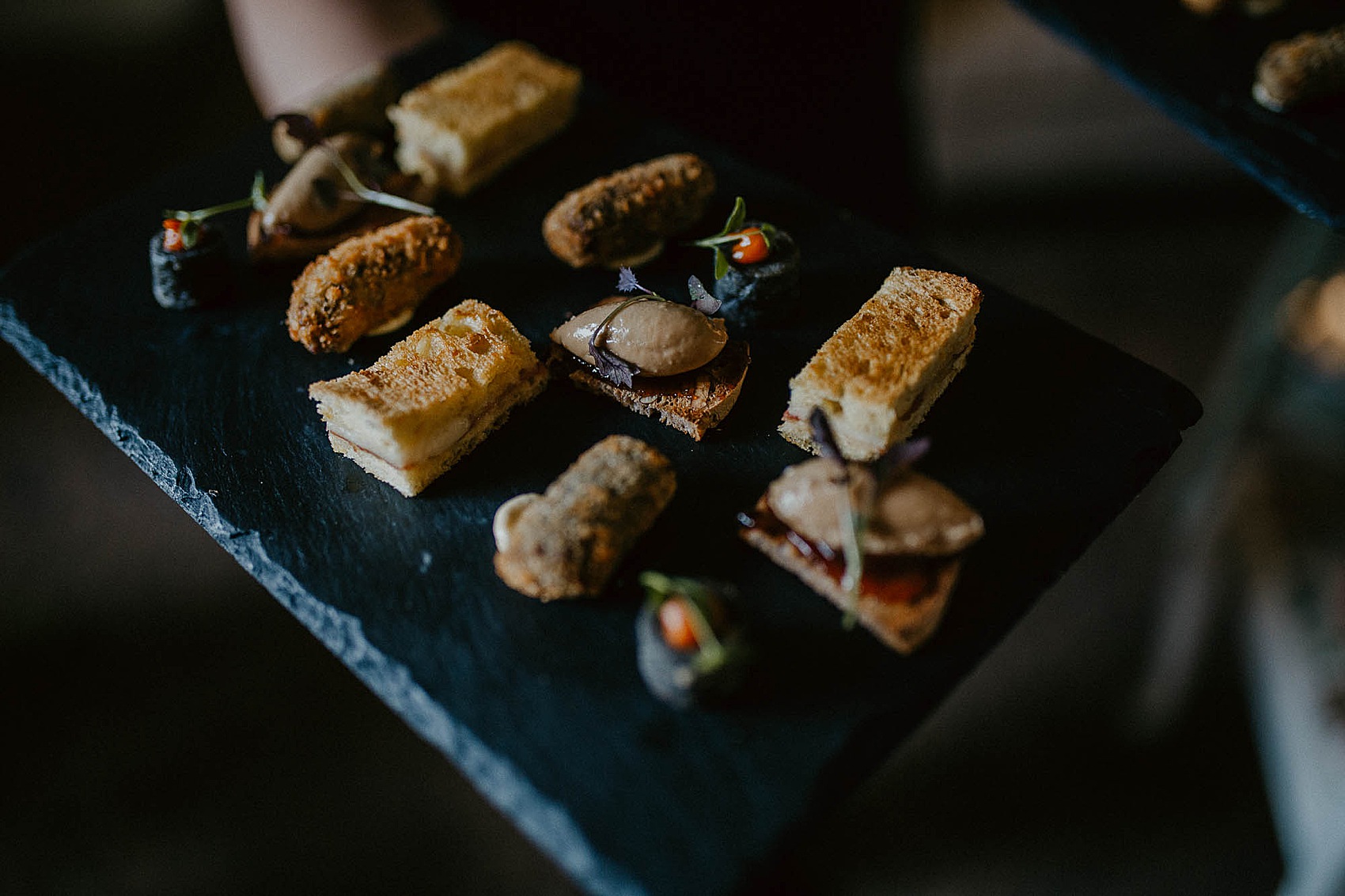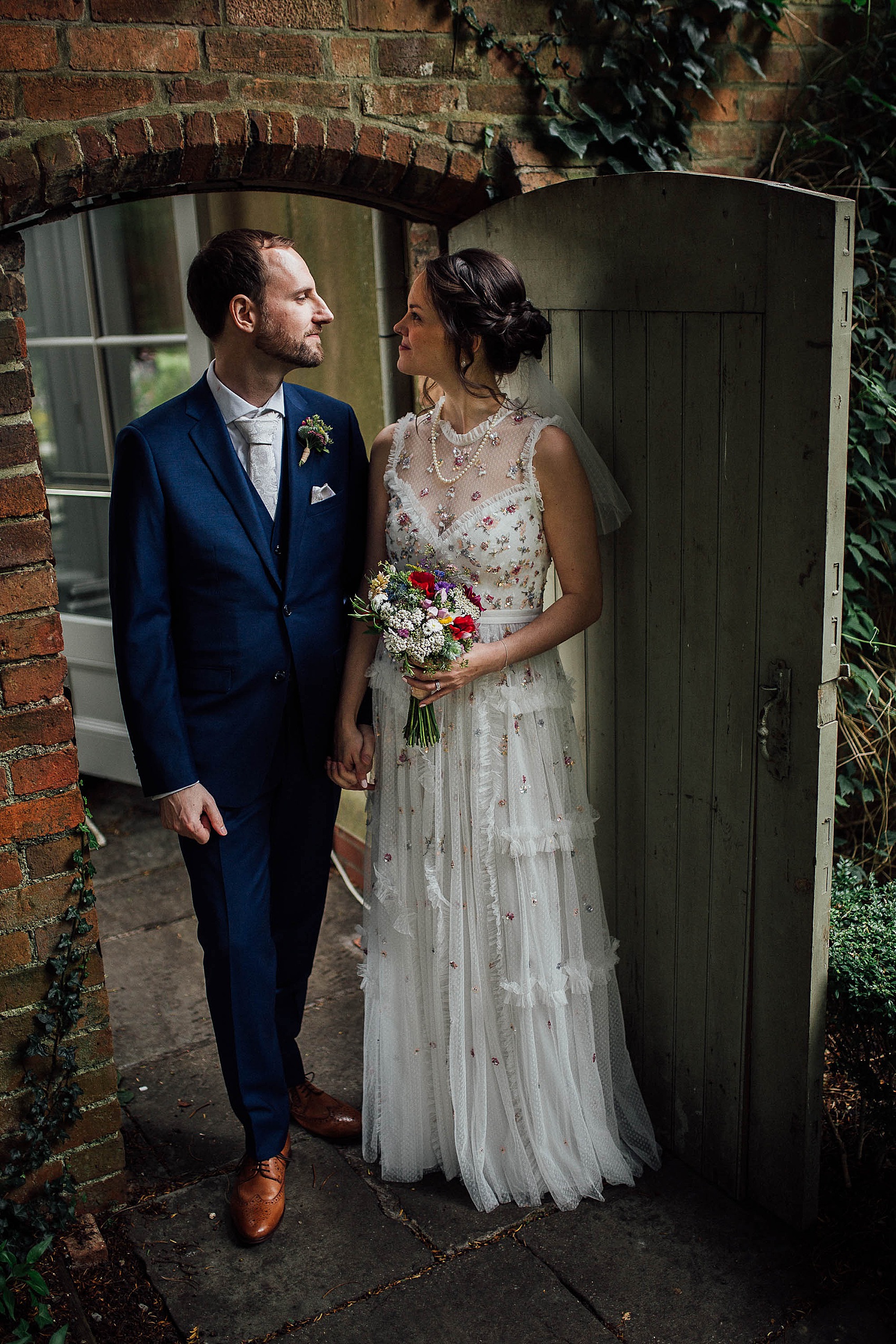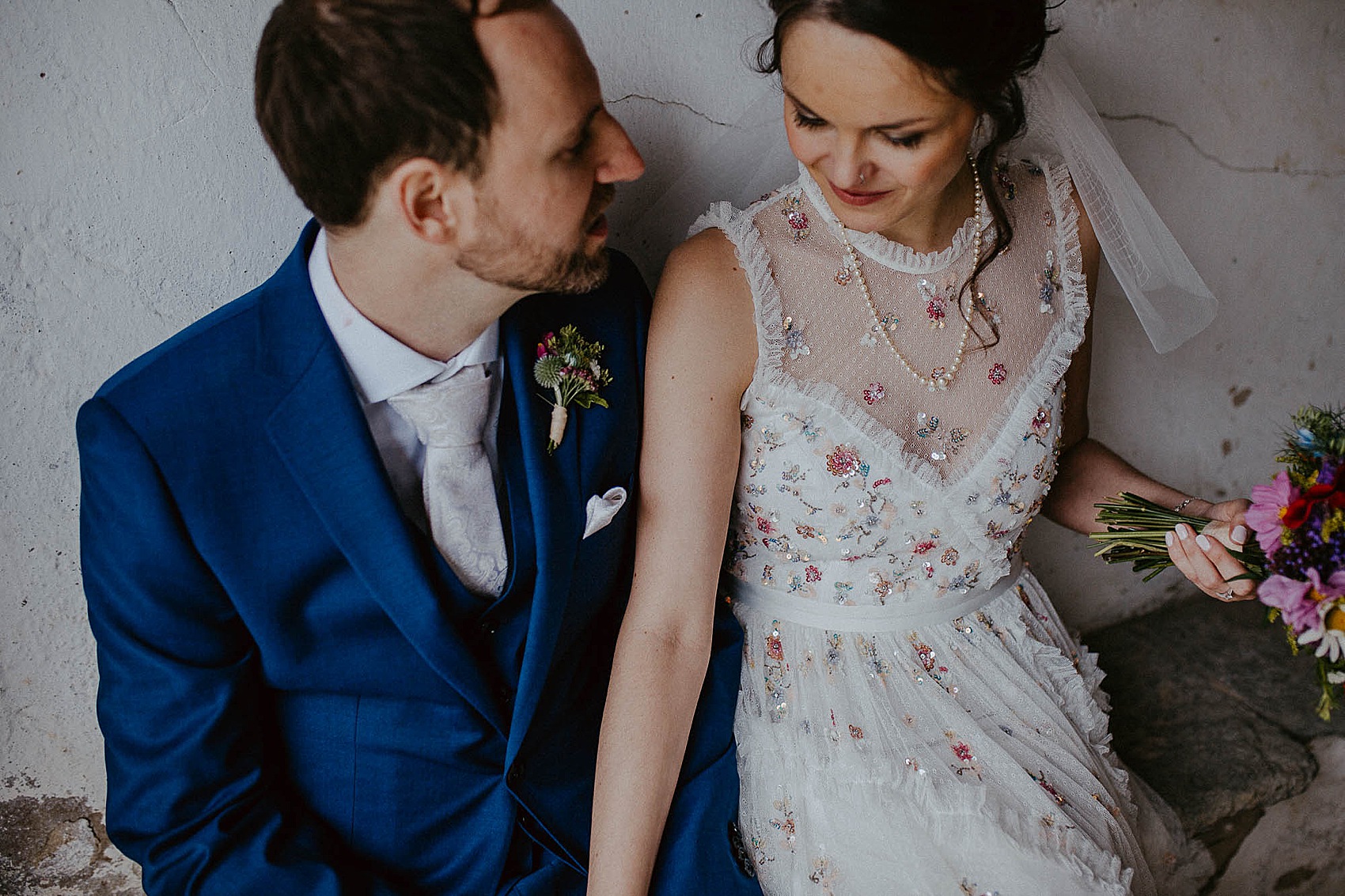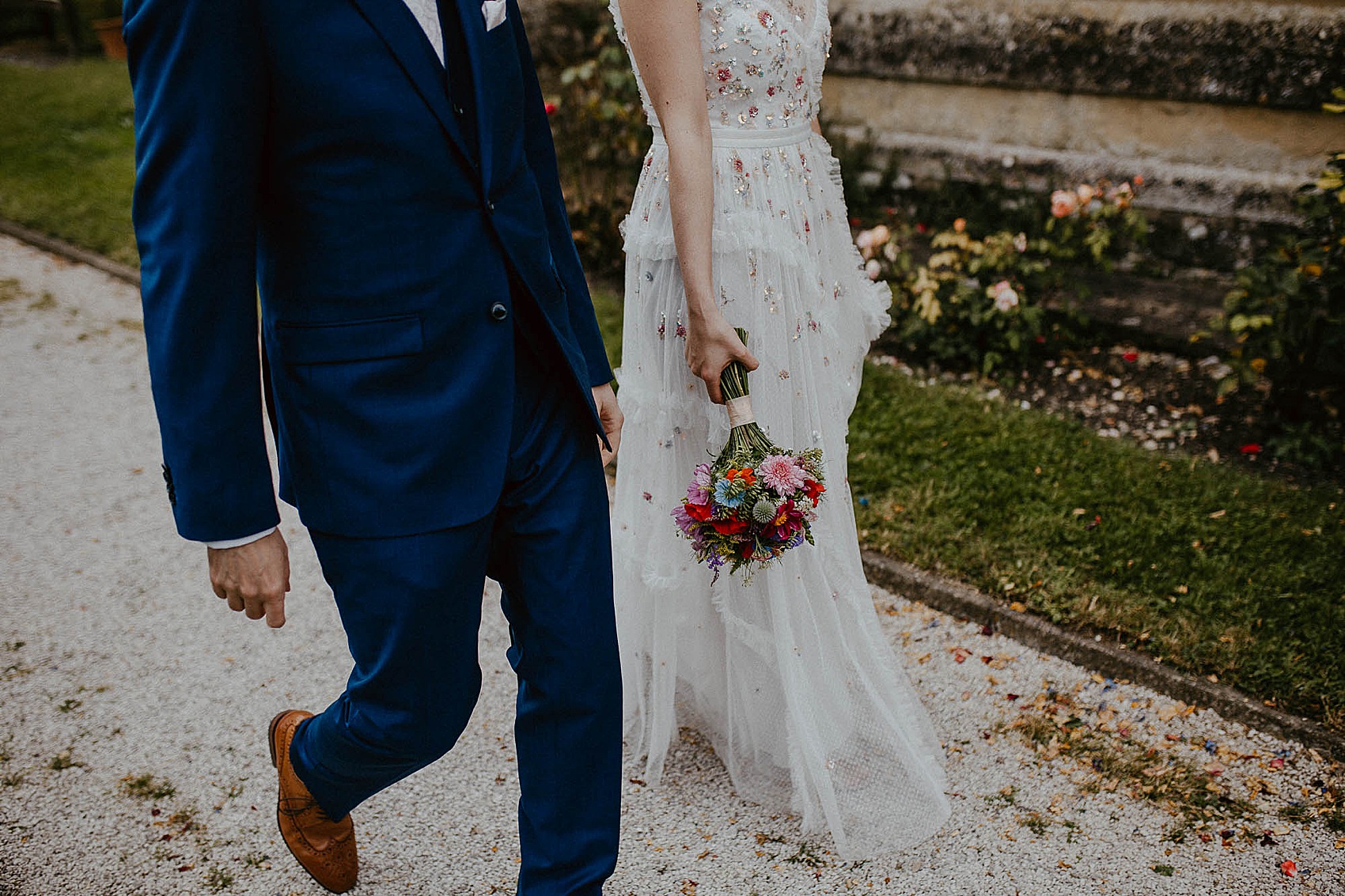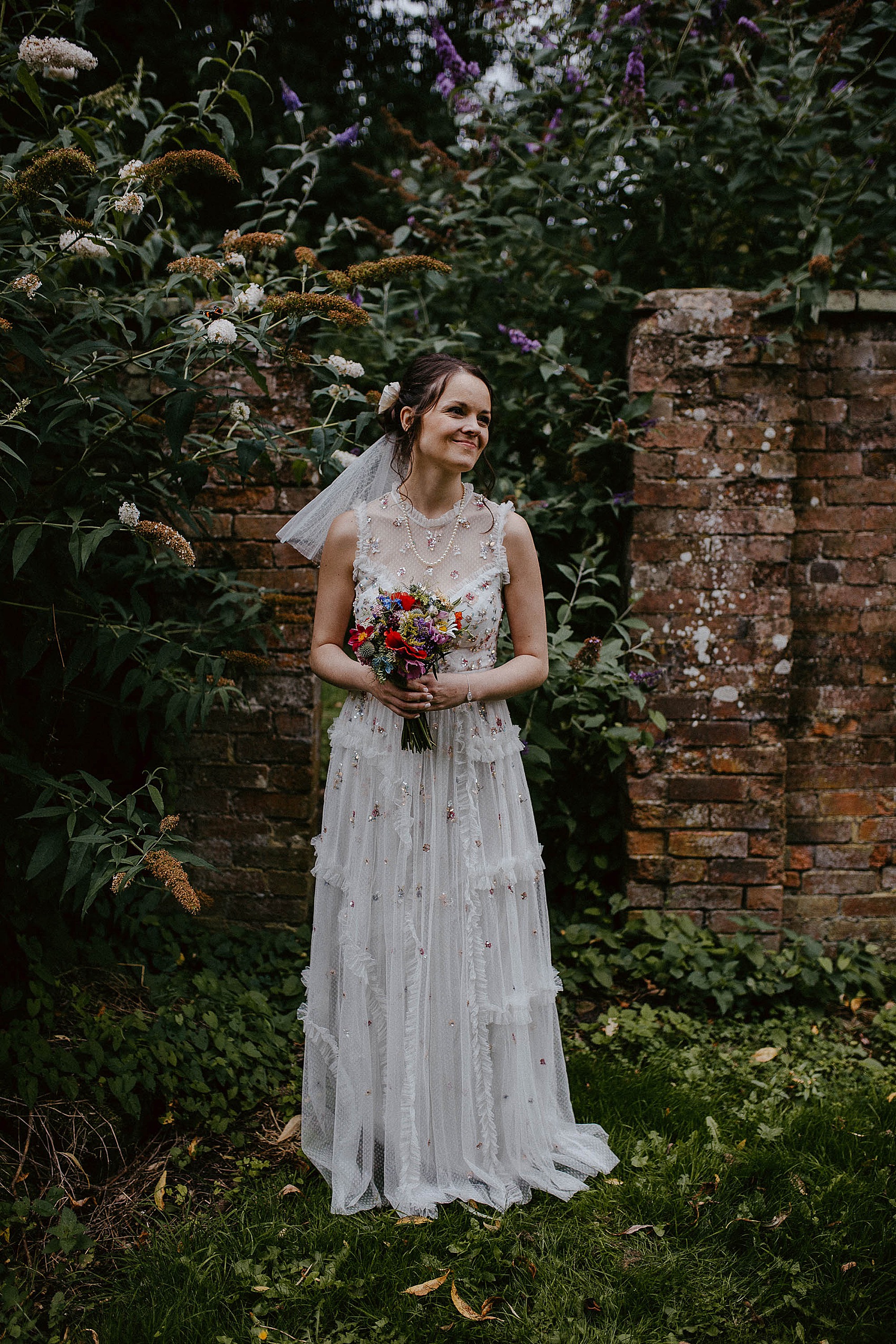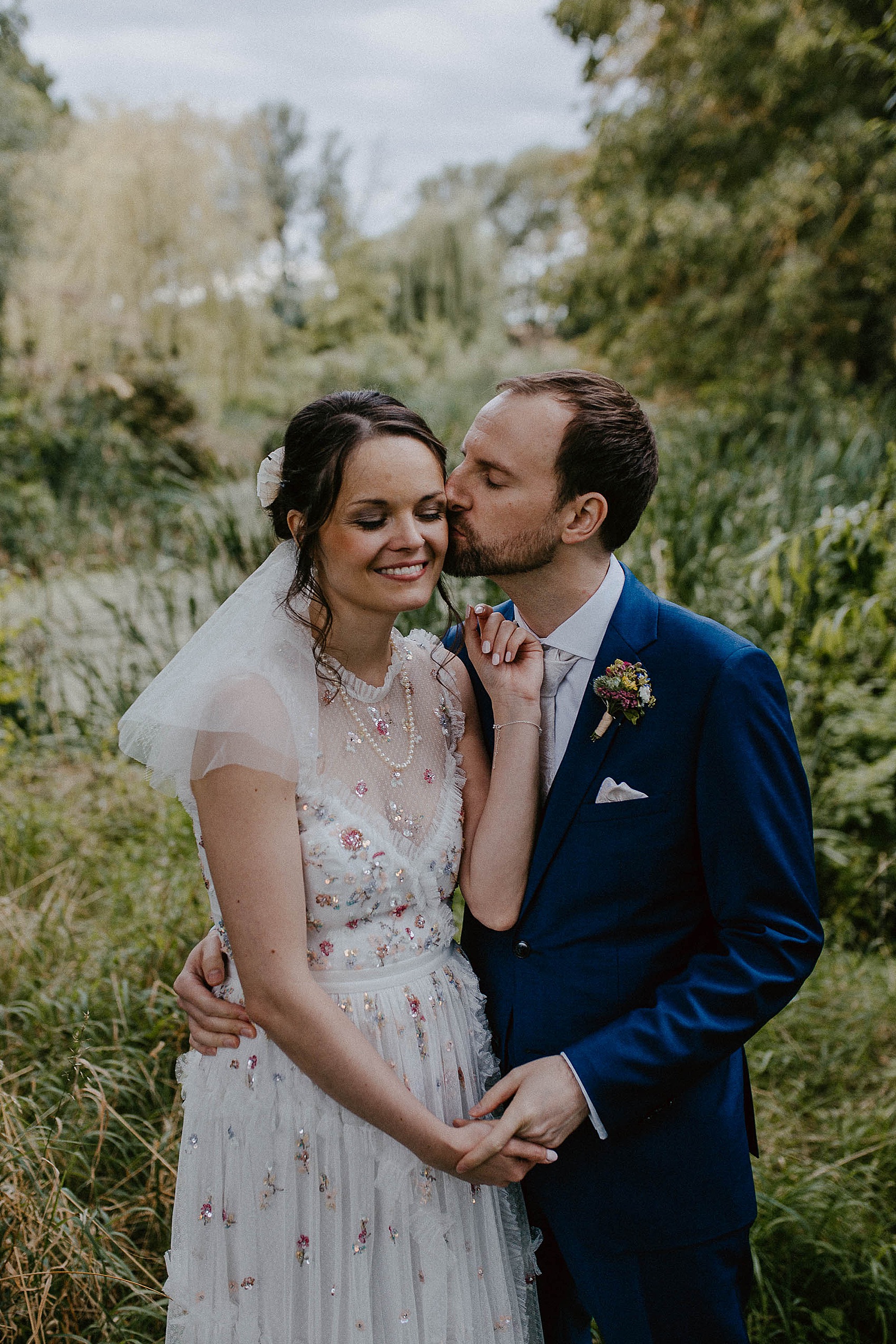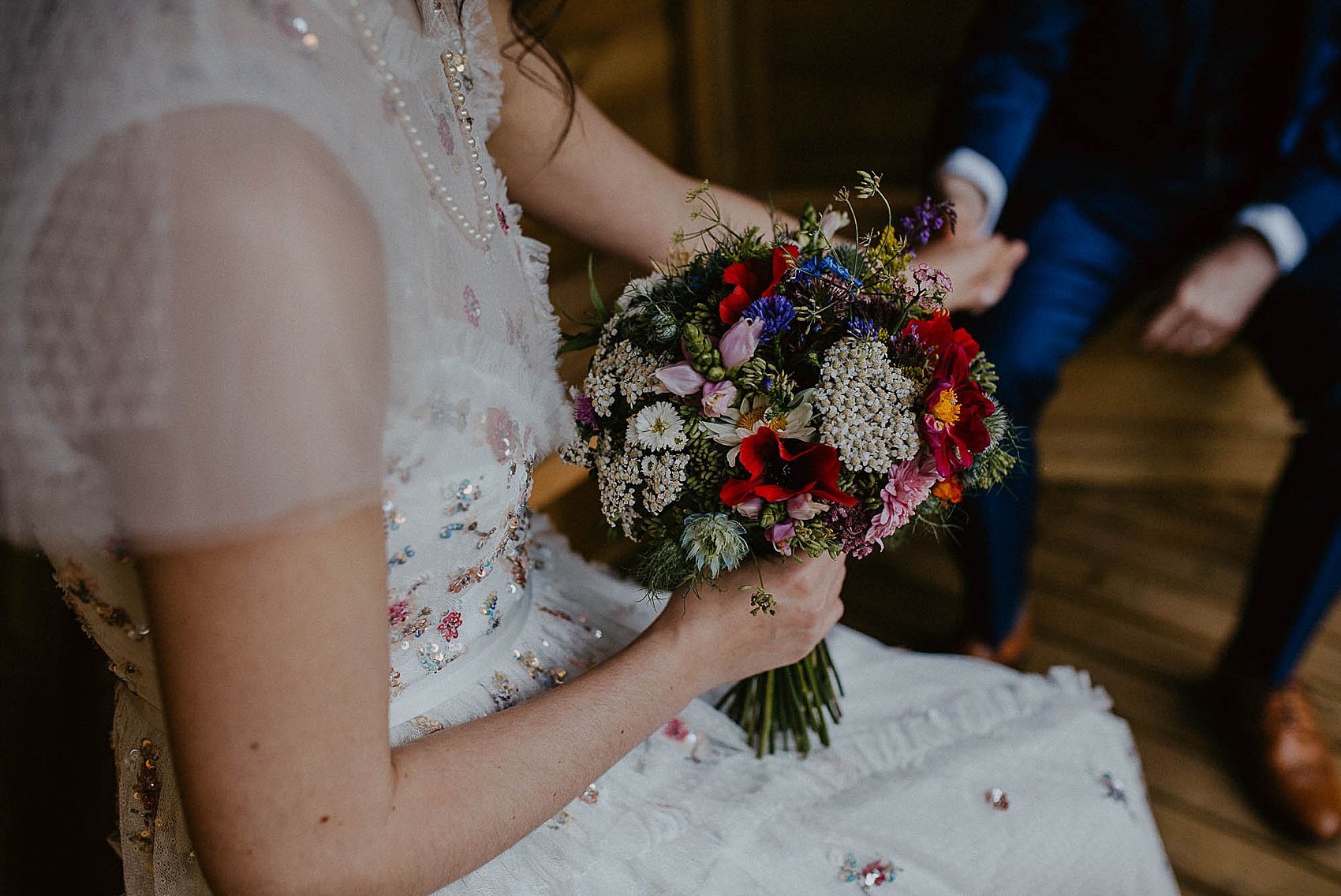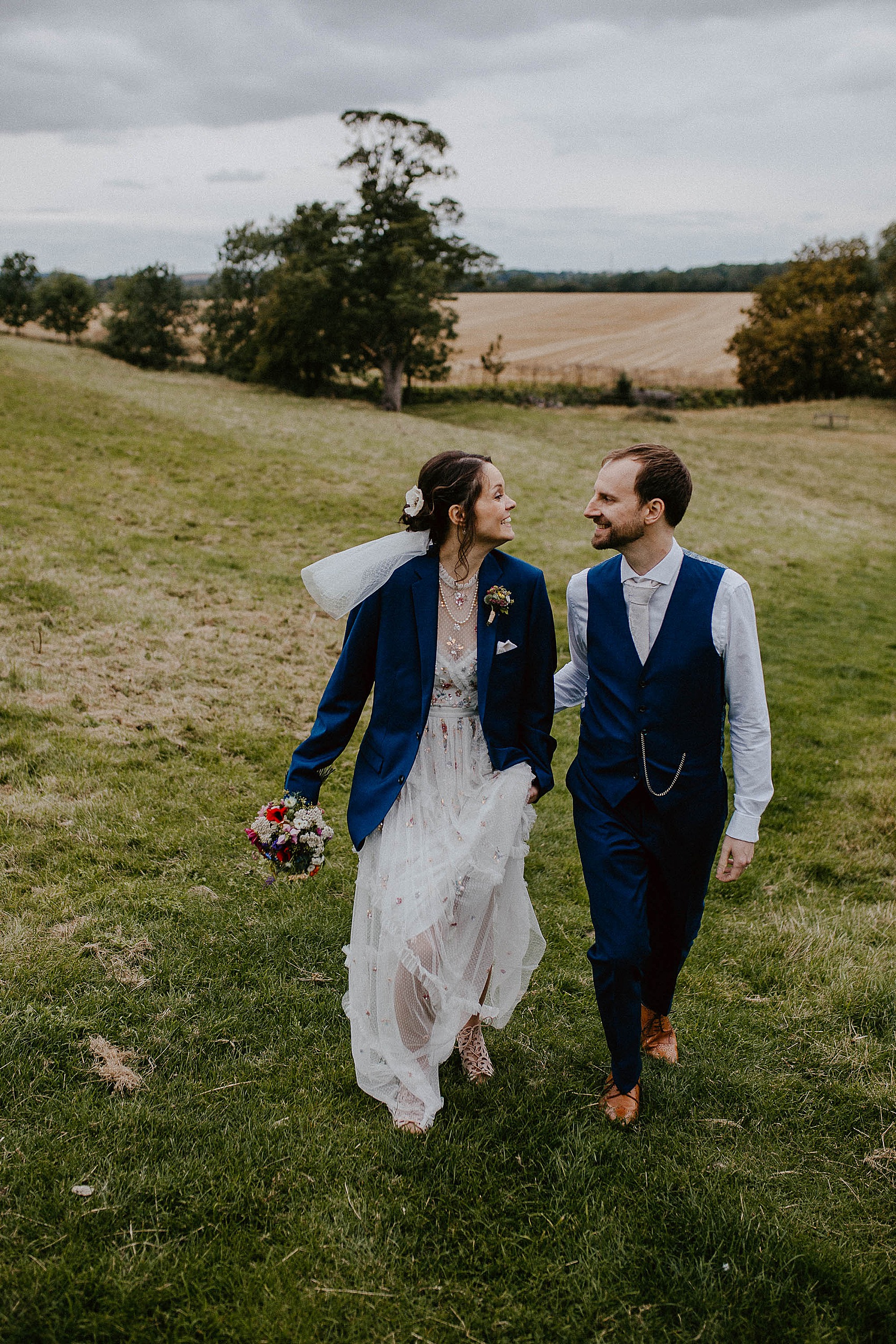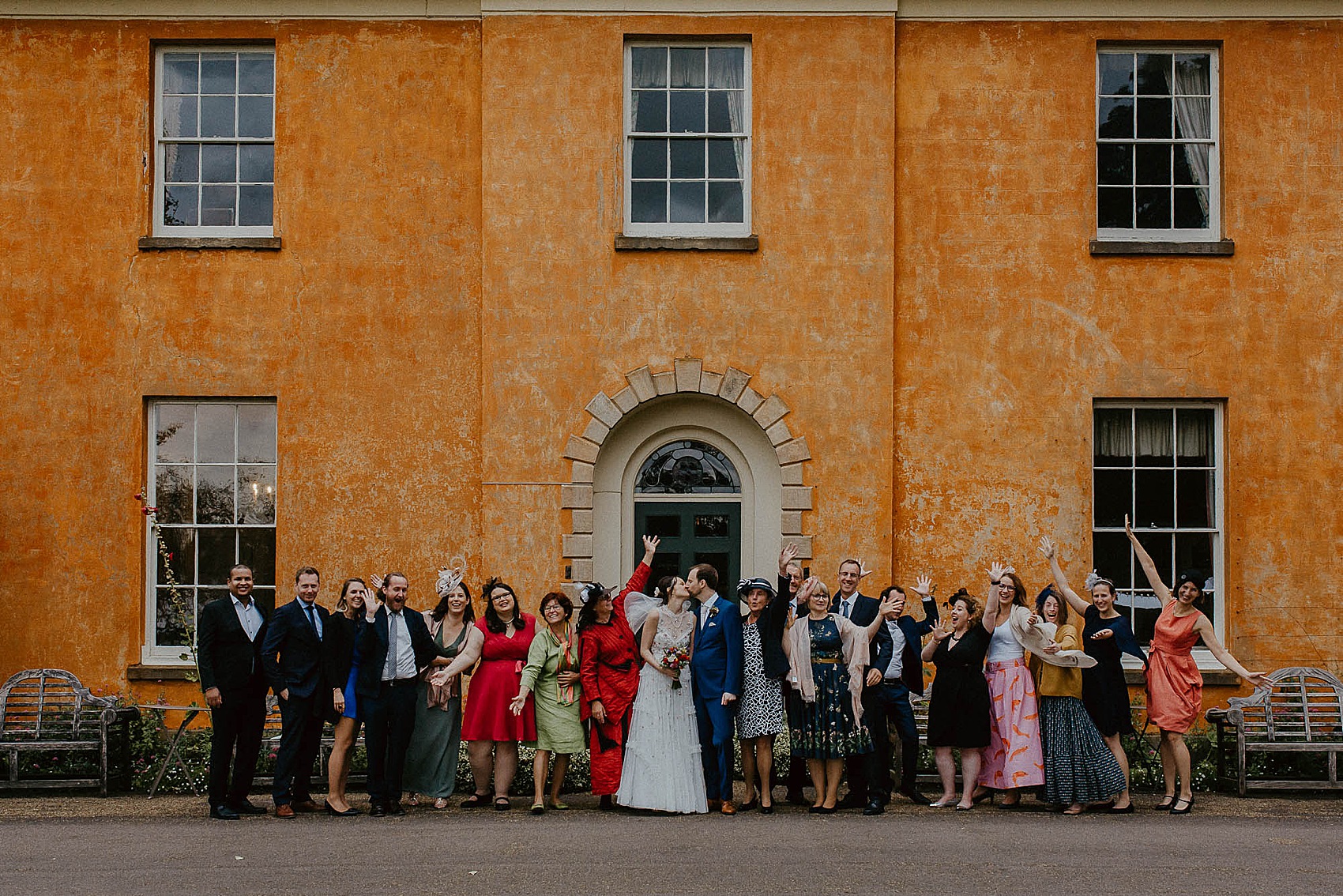 Later on, the newly-weds and their guests sat down along elegantly-dressed tables for the wedding breakfast, provided by Langar Hall. The single-tier, semi-naked cake with its dressing of fresh flowers, was provided by Big Day Blooms & Cakes.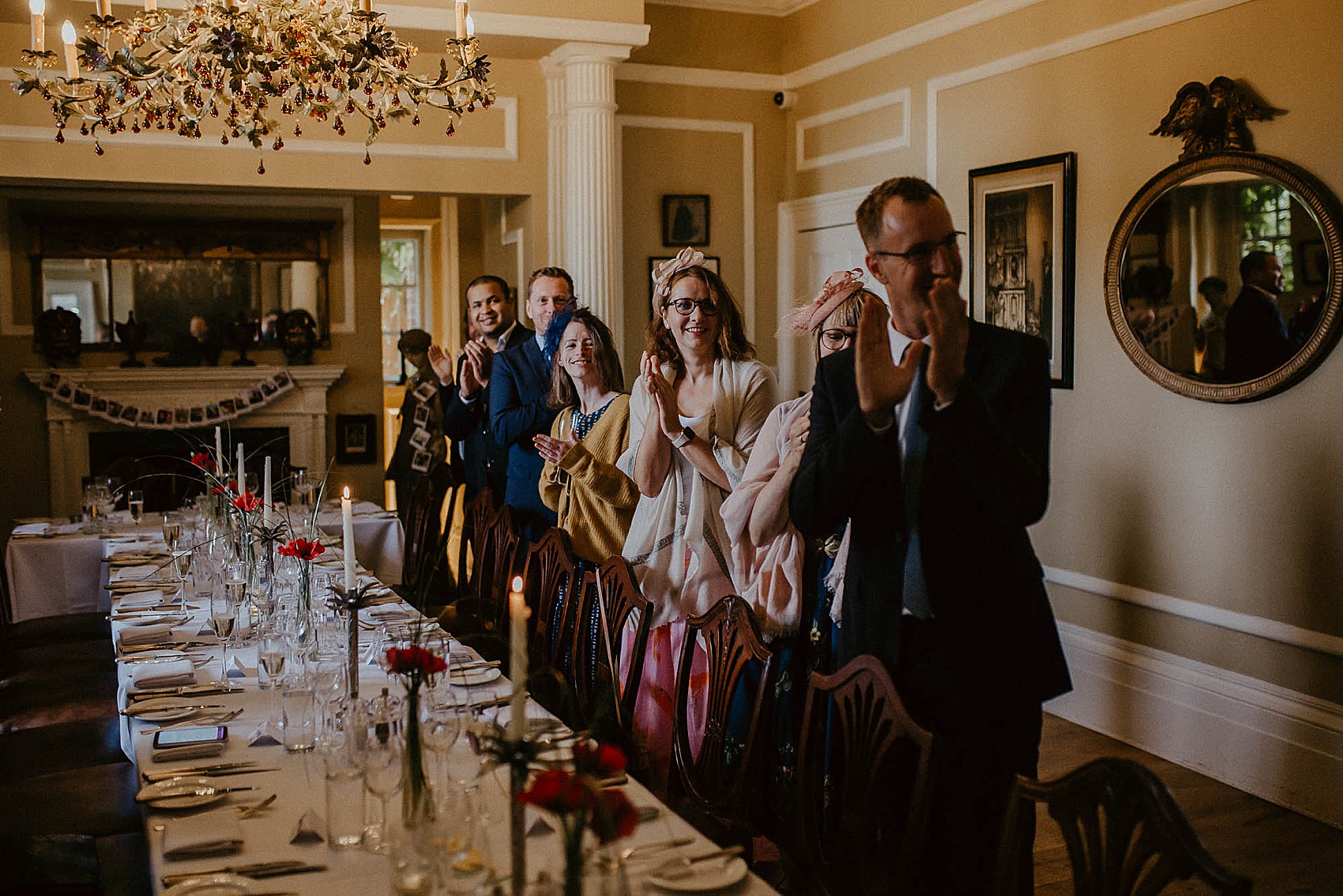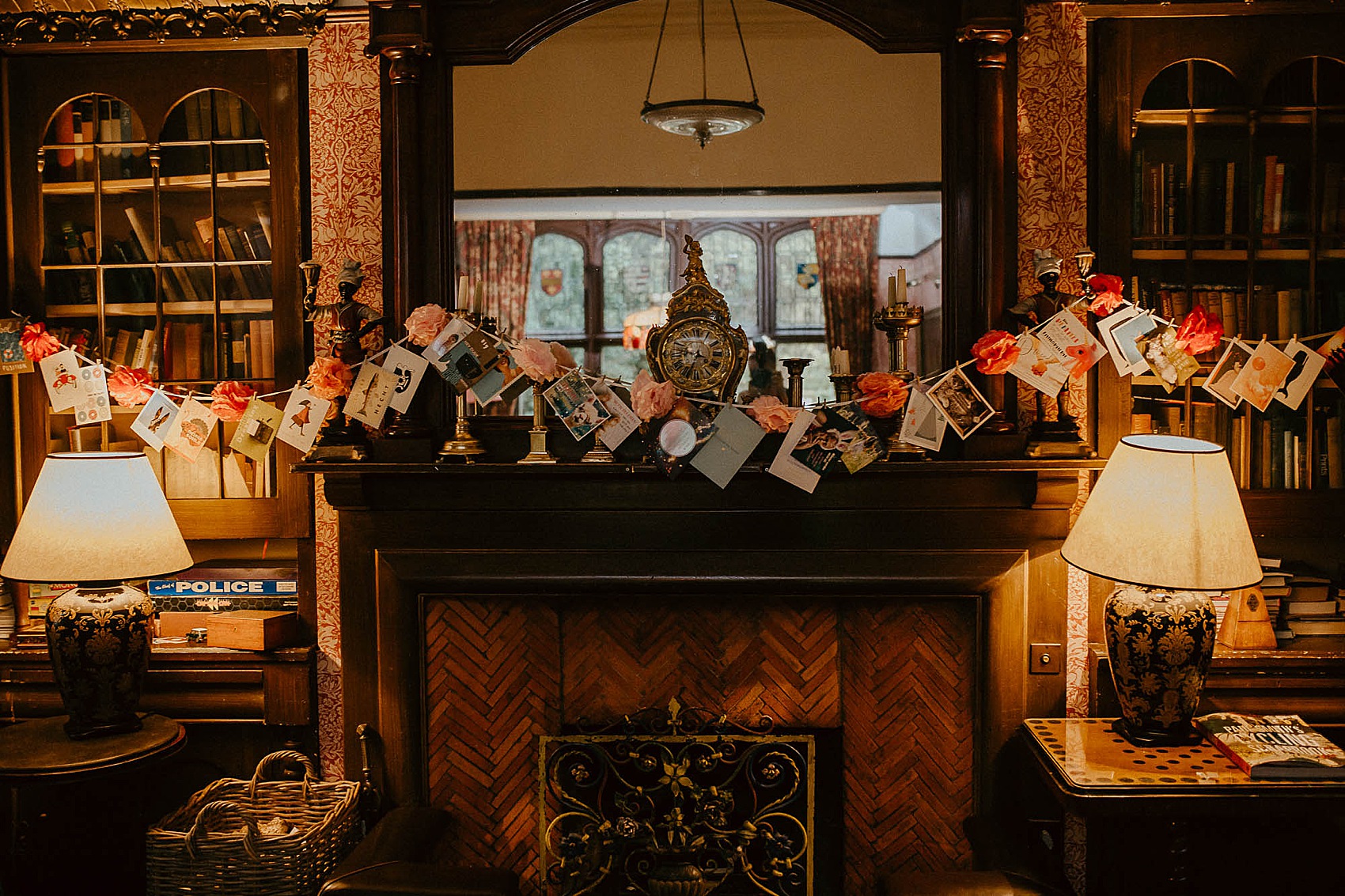 As well as garden games in the afternoon, the entertainment came from Let's Party Karaoke Disco Hire. It looks as if the guests had the time of their lives, singing into the night.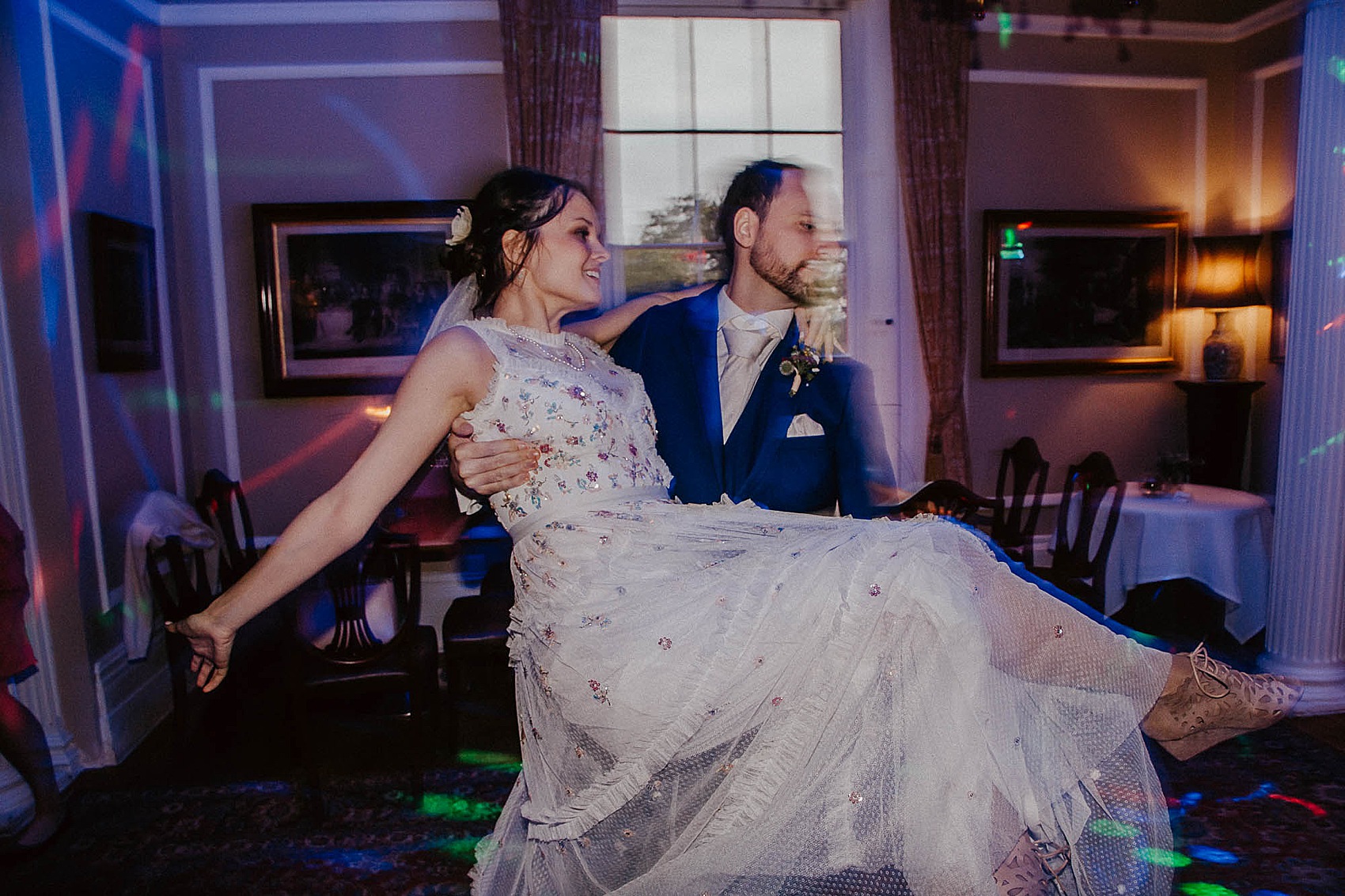 "We had a choreographed first dance to a medley of 'Never Saw Blue Like That' by Shawn Colvin and 'I Touch Myself' by Divinyls."
"We loved the day in its entirety, but the best part was to be married to the person we love by the end of it."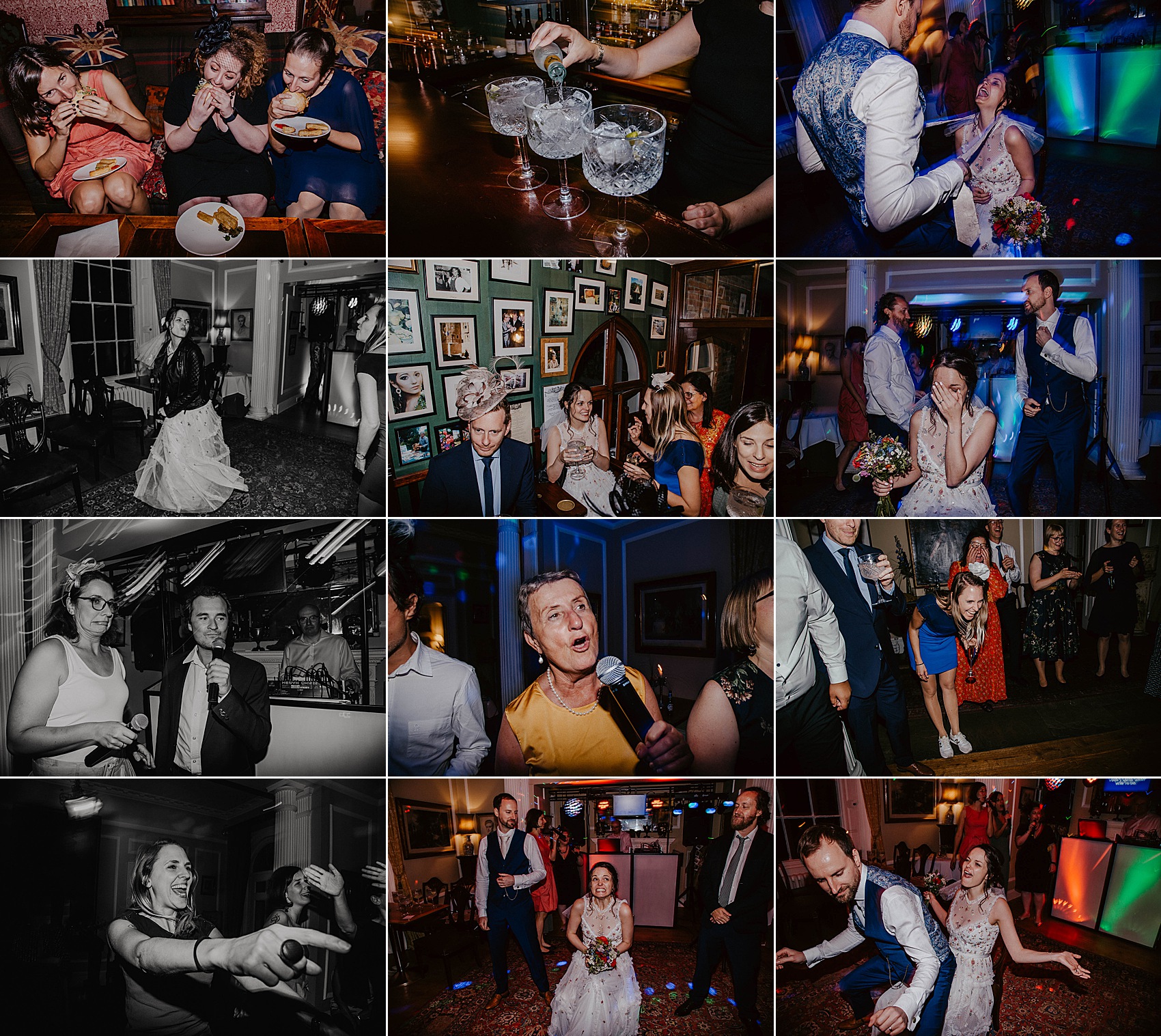 Words of Wedded Wisdom
Johanna: "Never lose sight of the most important thing, your love for your partner. That's really the only thing that matters at the end of it."
Matt: "Plan the wedding for you, not for your guests. Make sure you'll have some time for yourself."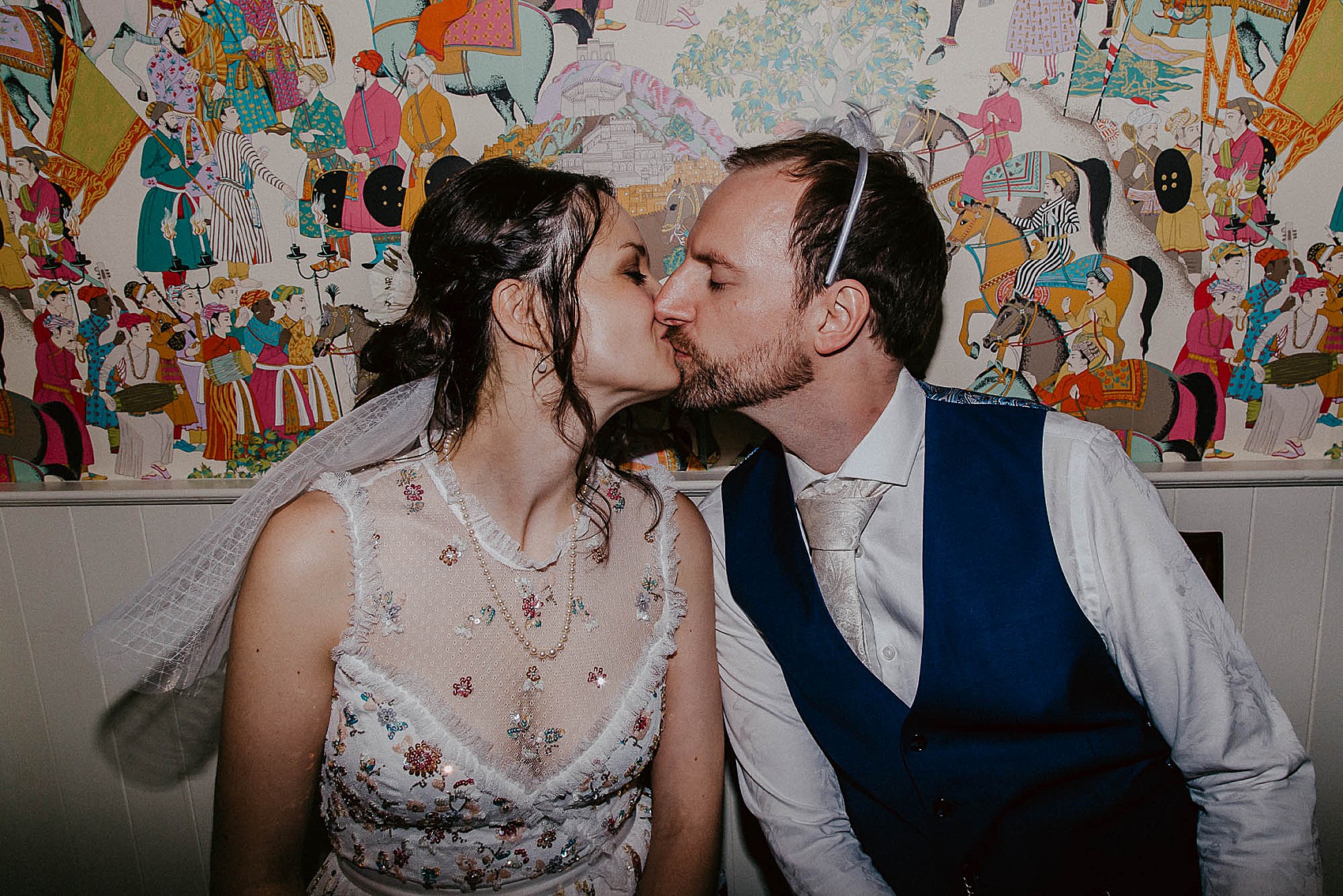 Congratulations Johanna and Matt, it looks as if you had such a wonderful day. Thank you so much for sharing it with s, and thank you Anna Rose Heaton for allowing us to publish your sublime work.
Ele xx


[ad_2]

Source link