Lovely readers, how are you all doing? I really do hope you're enjoying all of the beautiful real weddings we've been sharing with you lately.
The one I have to share with you today is intimate and heartfelt, with thoughtful and uplifting words throughout from our bride. It's also filled with pink peonies and garden roses, in a picturesque and peaceful rural setting. Meet our couple Kyla, a primary school teacher, and Christopher, who is a programmer.
Through The Woods We Ran Photography + Follow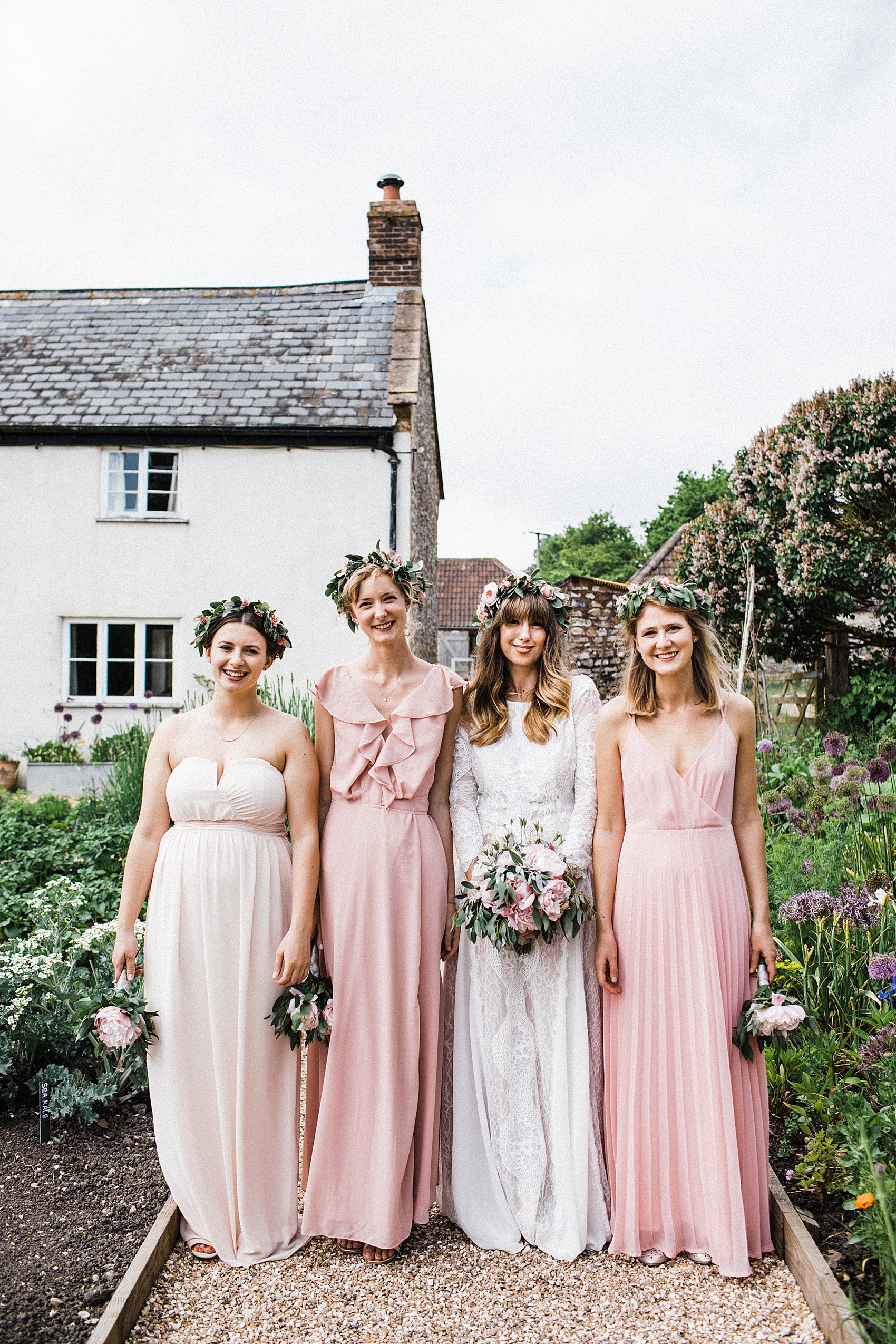 They were married on the 1 June in an outdoor ceremony in the walled kitchen garden at River Cottage, Axminster, Devon, followed by a meal and evening party inside the farmhouse.
"We both love spending time in nature, so being in the countryside was a good fit. Along with that, we wanted an intimate and earthy feel to our wedding. My favourite flowers are pink peonies, so that became a natural inspiration for the colours of the day, and everything else blossomed from there."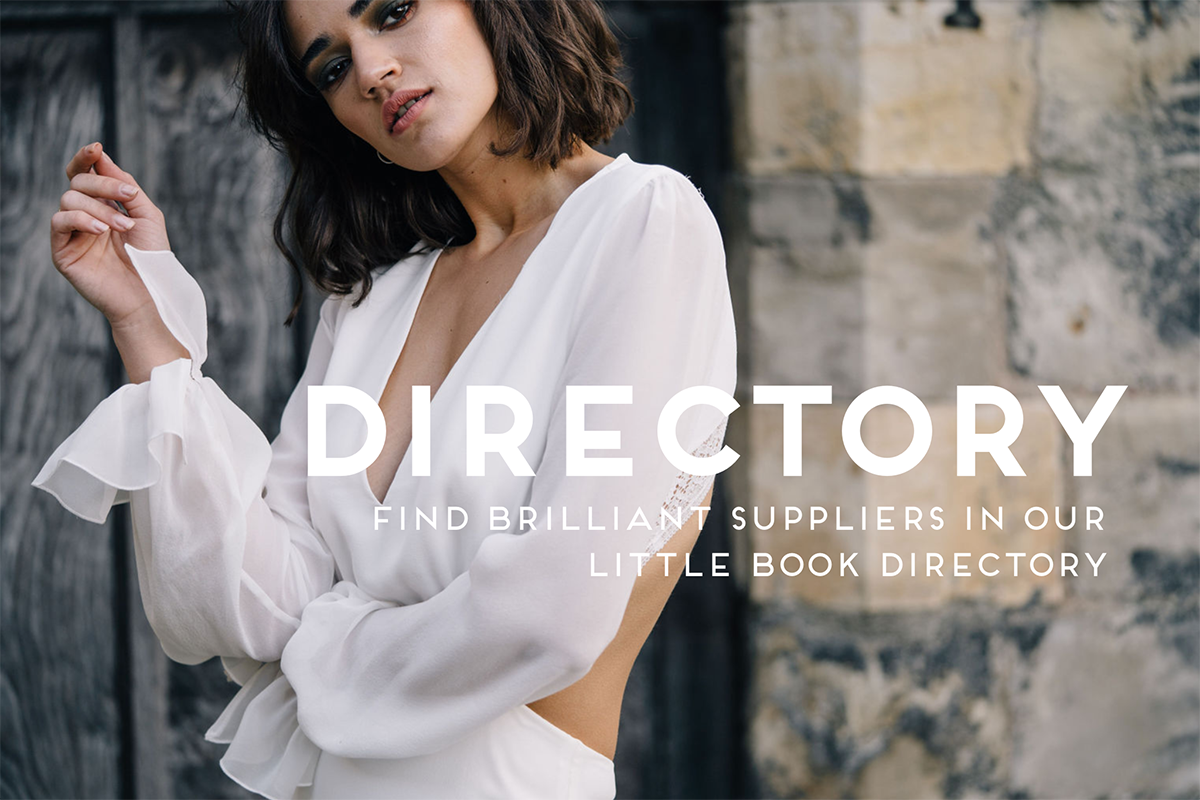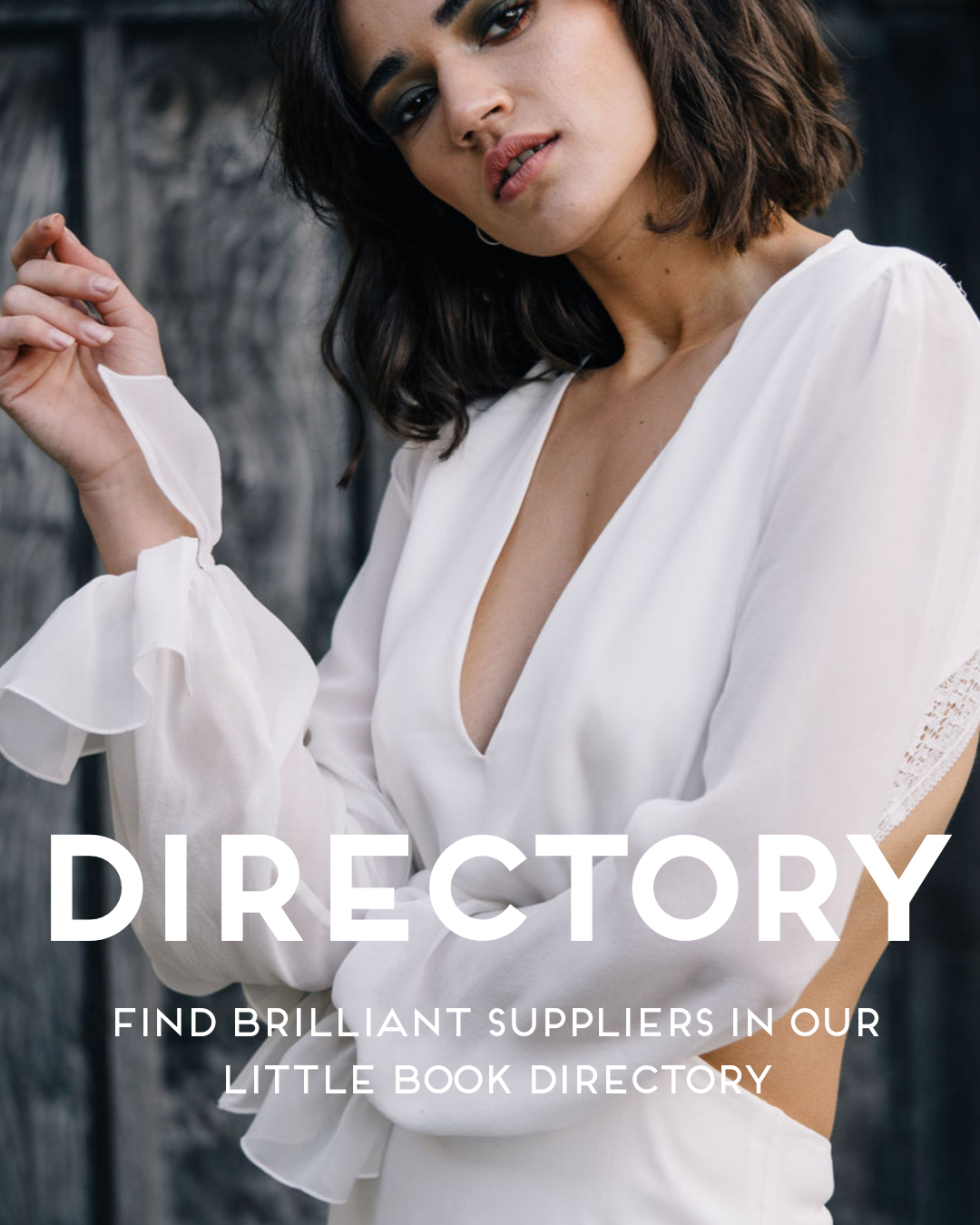 Kyla kept her hair loose, and wore a flower crown of lush pink and apricot hued roses, peonies, and fragrant eucalyptus sprigs, made by florist Charlie Ryrie at The Real Cut Flower Garden.
"I wore my grandmother's aquamarine drop earrings – her birthstone. She was unable to travel from Vancouver for the wedding, so it was a nice way to have her with me on the day. Other than that, I just wore my engagement ring, followed by my wedding band of course! I like to keep things simple and meaningful."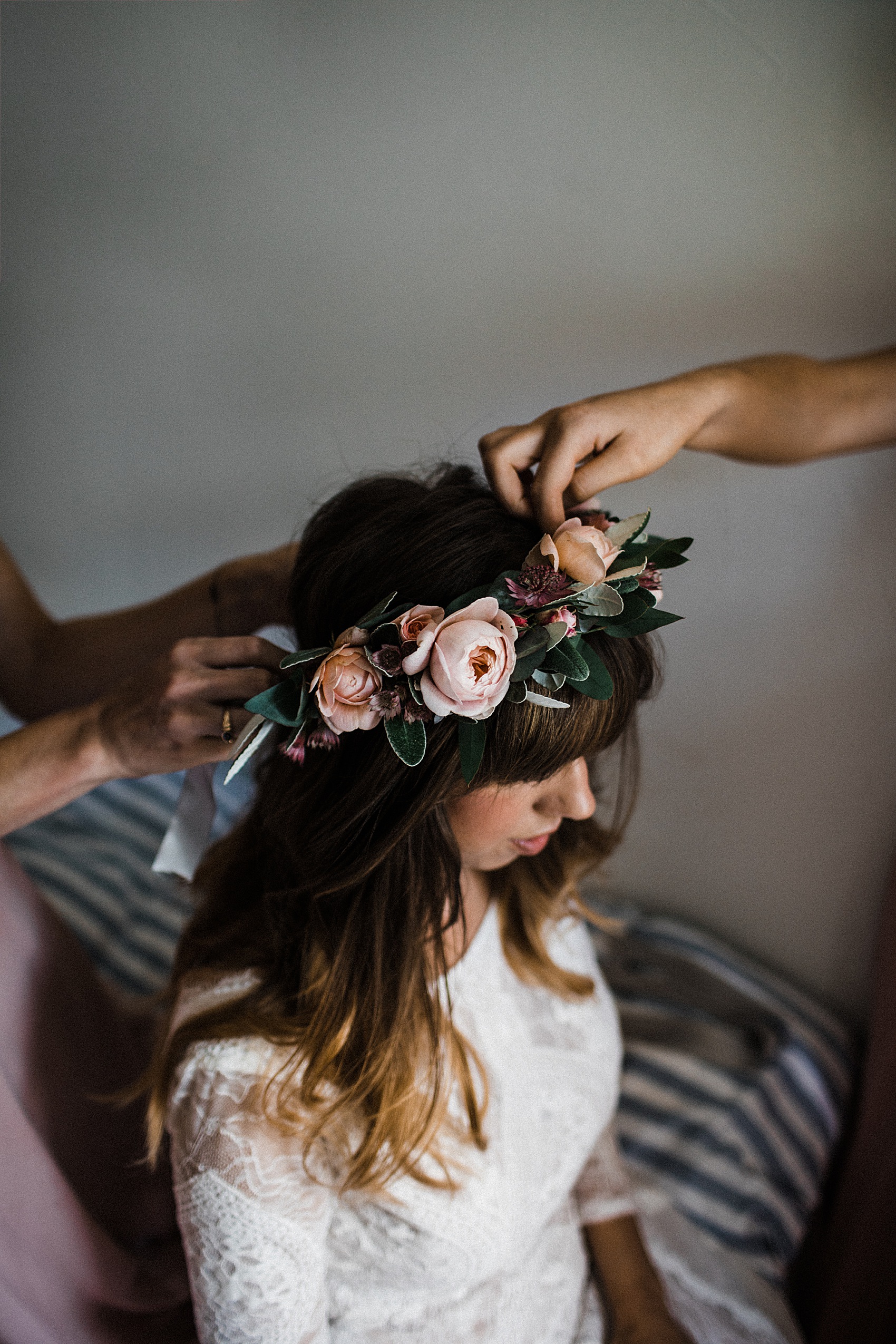 Kyla's gown was a pre-worn Grace Loves Lace dress that she discovered through a site specialising in pre-loved gowns.
"When choosing my wedding dress, I was sure I wanted lace and a simple silhouette. I tried on a few styles with this criteria in mind, then I ended up falling for this gown with long sleeves and an open back – it looked timeless. I loved the softness of the French lace, and the long train made me feel so elegant."
To complete her look, Kyla wore gold block heels from Madewell, and added a mist of Chanel No. 5.
​"Christopher bought me a bottle of Chanel No 5 the previous Christmas, and I've worn it pretty much every day since. It's my scent."
The bridesmaids chose their own full length dresses from ASOS and Shopbop in pastel shades of blush and seashell pink, which they wore with flower crowns, and their own shoes.
"It took a bit of searching, but it was important to me that they all found something they felt comfortable in. I think they all ended up making absolutely gorgeous decisions, and they went together so beautifully."
Christopher wore a splendid three-piece suit in a charcoal tweed, made to measure at Suitsupply. He also wore a floral bow tie to match the ties worn by his party (no details provided about these) and shoes from Loake.
"At first, we were charmed by the kitchen garden, which is beside a 17th century farmhouse. When we realised the venue's culinary reputation (we love to eat) we knew it was our ideal location."
"As a bonus, River Cottage is situated in a valley, so we were surrounded by lush rolling hills – it felt like a very private space."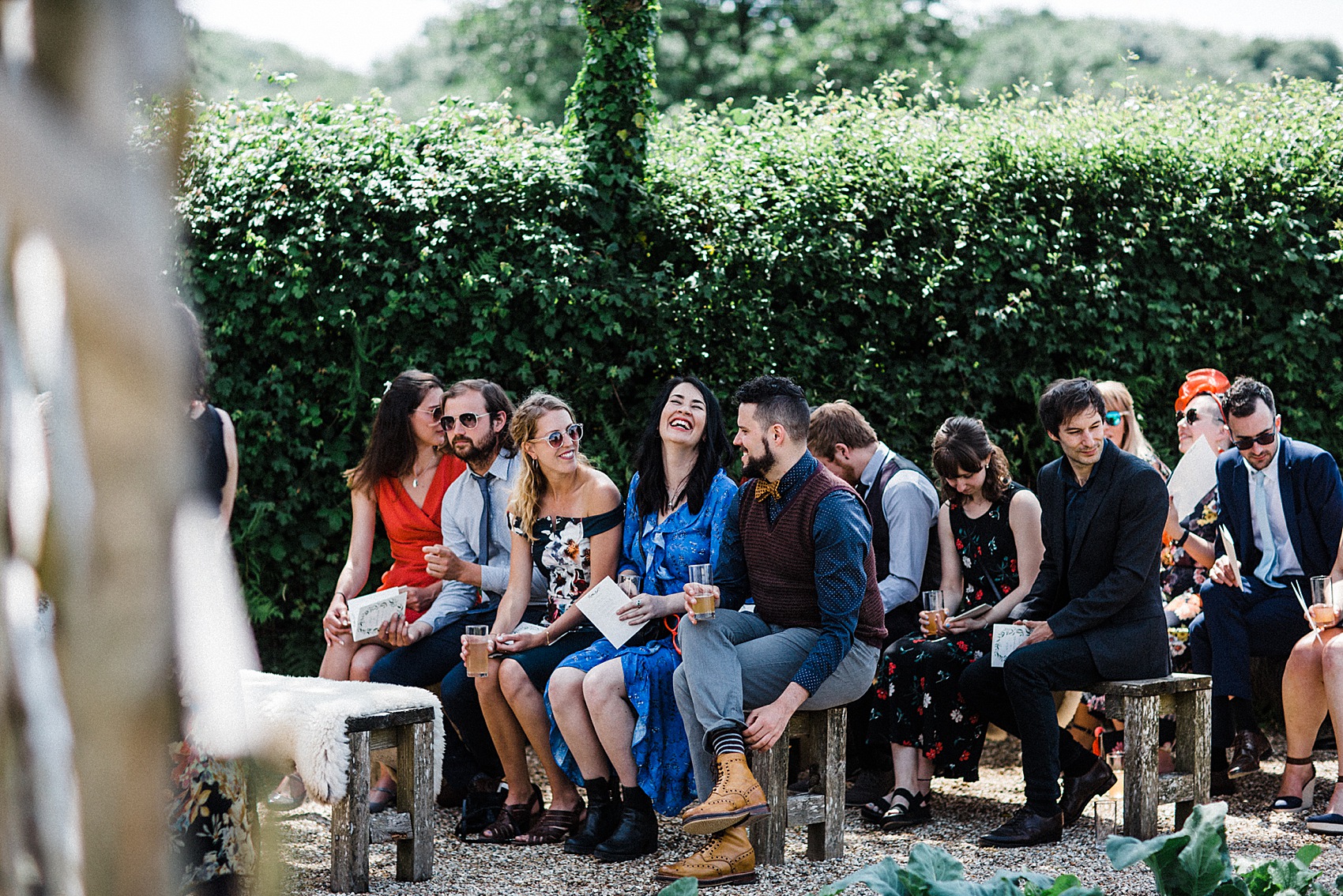 I absolutely love that River Cottage's transport is a tractor with a trailer, which is how Kyla and her party, as well as their guests, were chauffeured to the kitchen garden for the ceremony. As her entrance music, Kyla chose Shelter From the Storm by Bob Dylan.
"I was in the foster care system as a teenager, and worked as a nanny in my early twenties. As a result, I built a really close relationship with that family. They have loved and supported me through many ups and downs in my young adult years."
"I asked this couple, Scott and Shauna, to walk me down the aisle. It was quite meaningful to have my chosen family by my side, providing support and encouragement as I made the most important decision of my life."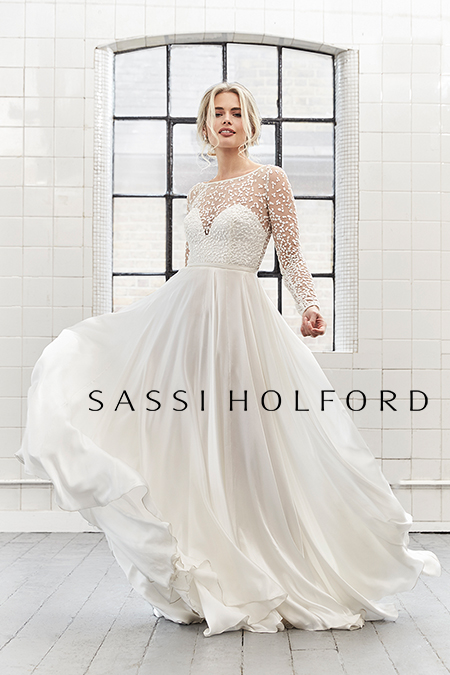 Kyla and Christopher were legally married at a local town hall two days before their River Cottage wedding, and Kyla's pastor Monica flew in specially from Canada to perform their ceremony.
"The official signing of the marriage certificate was really sweet in its own way (we actually both teared up) but it was extremely special to have Pastor Monica at the wedding and to be married by her – someone who's watched me grow from an insecure teen into a confident young woman. It was very personal and meaningful. We wouldn't have wanted it any other way."
Surrounded by their loved ones, the couple made their vows, and gave each other matching wedding bands from Firewhite Jewellery.
"The organic textured gold gave them a bit of character (again back to that natural vibe). We had the insides engraved with the title of our first dance song, Everything I Am Is Yours, and our wedding date."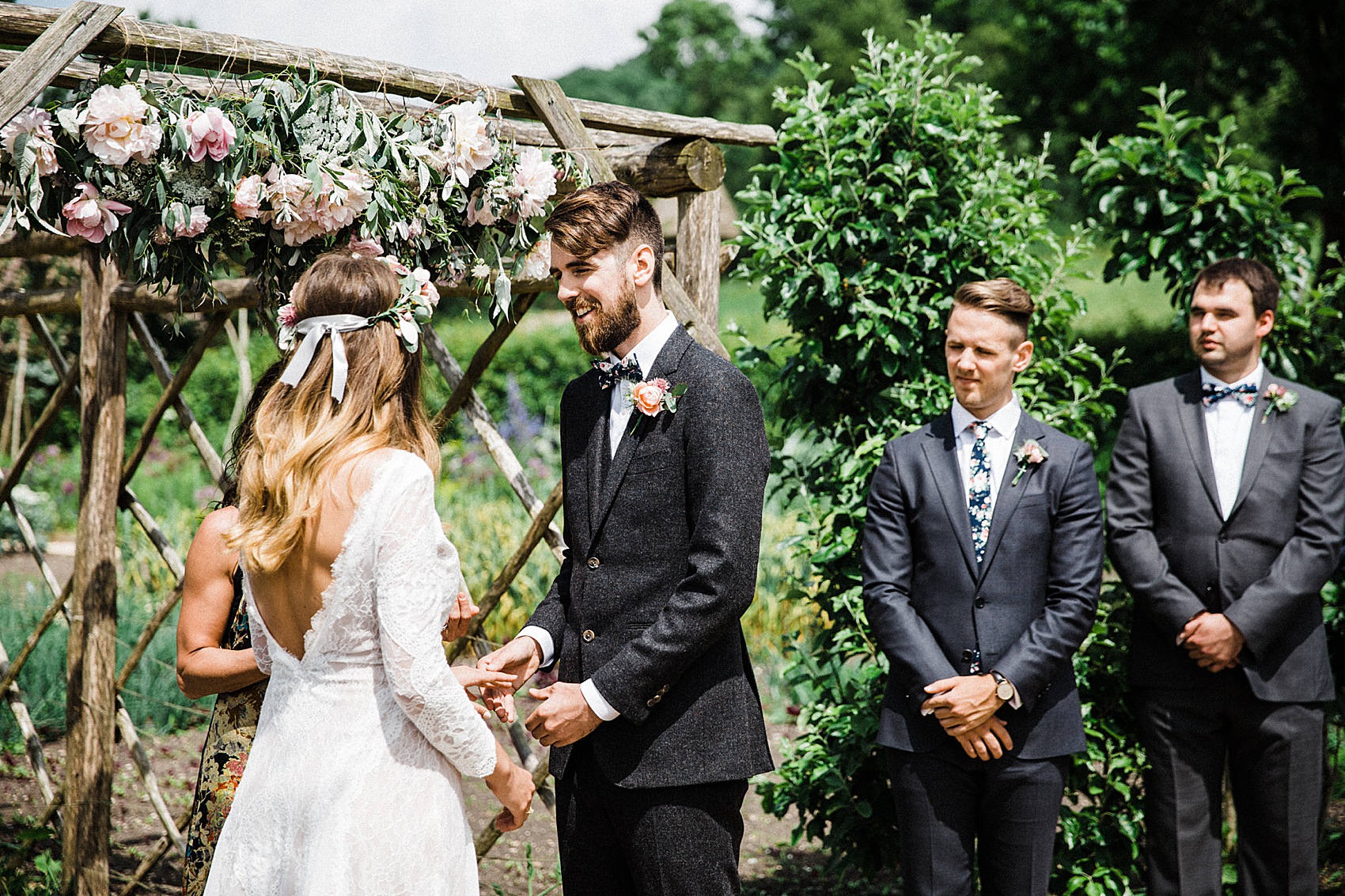 There were two readings; the first was a beautiful poem by Hafiz, called Our Union.
"We also had a Bible verse read from Ruth 1:16-17. This verse has always been really special me. Now as a Canadian falling in love overseas, marrying and agreeing to spend my life with someone in the UK, it has taken on a deeper meaning."
"My favourite part of the day was the hugs and congrats after the ceremony. It was such a happy moment so to be swarmed by all the people in the world you treasure, who are there (some literally travelling halfway across the globe) to celebrate you and your person, was pretty amazing."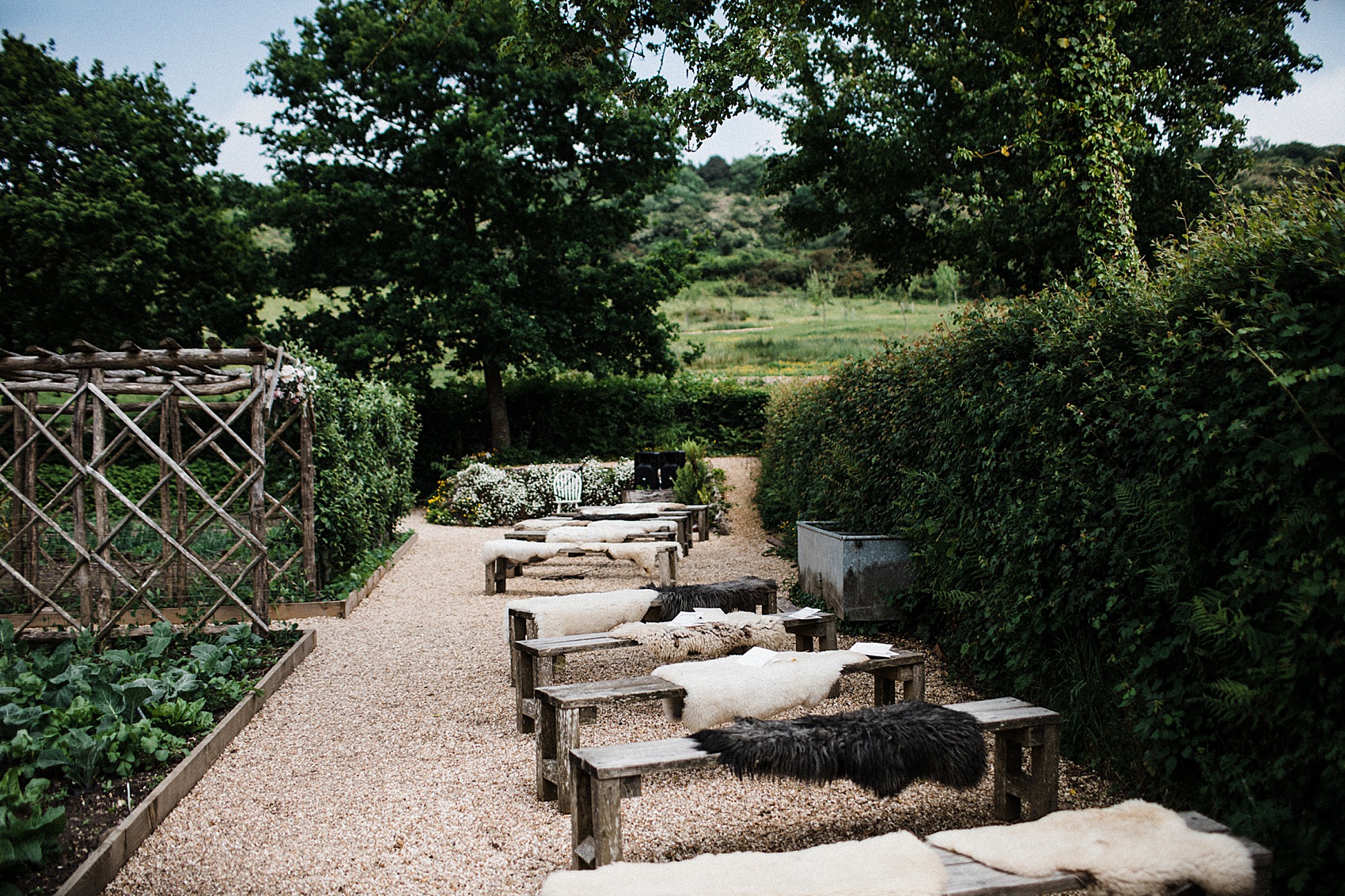 There was pre-dinner fun and games in the garden; welly wanging and skittles enjoyed with canapes from the River Cottage team, all under the watchful eyes of the resident cats, too!
I've had the pleasure of writing about a number of real weddings featuring the gorgeous photography of duo Lauren and Glenn of Through the Woods We Ran.
They weave such an enchanting, evocative narrative with their beautiful images, as they've done here with Kyla and Christopher's day. Also, theirs is such an awesome name.
"Glenn and Lauren are super talented and friendly photographers. Because they work as a couple, they were able to photograph each of our days from when we began getting ready. Their style is quite unique and beautiful – everything felt so candid. They captured the day perfectly!"
"We were met via Tinder in the early summer of 2015, and met at a pub in London called the Jam Tree. After dating for a few years, Christopher surprised me with a trip to Norway and hiking boots for my birthday – we both really enjoy travelling."
"There he planned a sunrise hike to the top of Preikestolen (Pulpit Rock) and right on the edge of a 600m drop off, he asked me to marry him. We were married just less than a year later."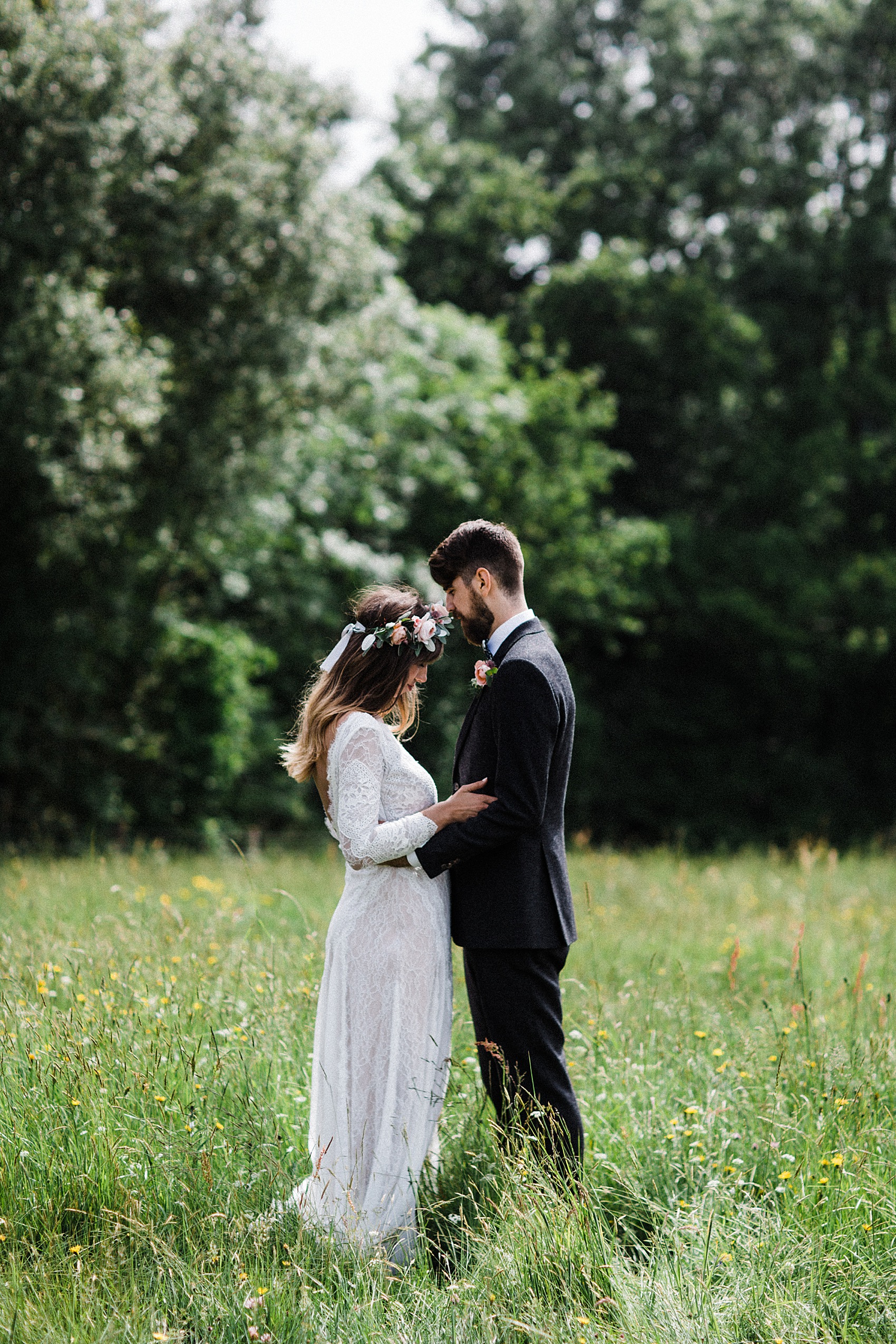 Kyla carried a bouquet of magnificent pale pink peonies, frilly scabiosa blooms and eucalyptus, whilst her bridesmaids carried posies, all made by Charlie from The Real Cut Flower Garden. They also matched the garland on the garden arbour, too.
Bookmark our Covid19 pages which are full of useful, practical & emotional advice.
"Pink peonies are my favourite, and we wanted a natural wildflower look. Charlie took those preferences (along with what was in season) and put everything together beautifully. We asked for some eucalyptus to be added as well because we love the look and scent of it – we always have a fresh bouquet around our home."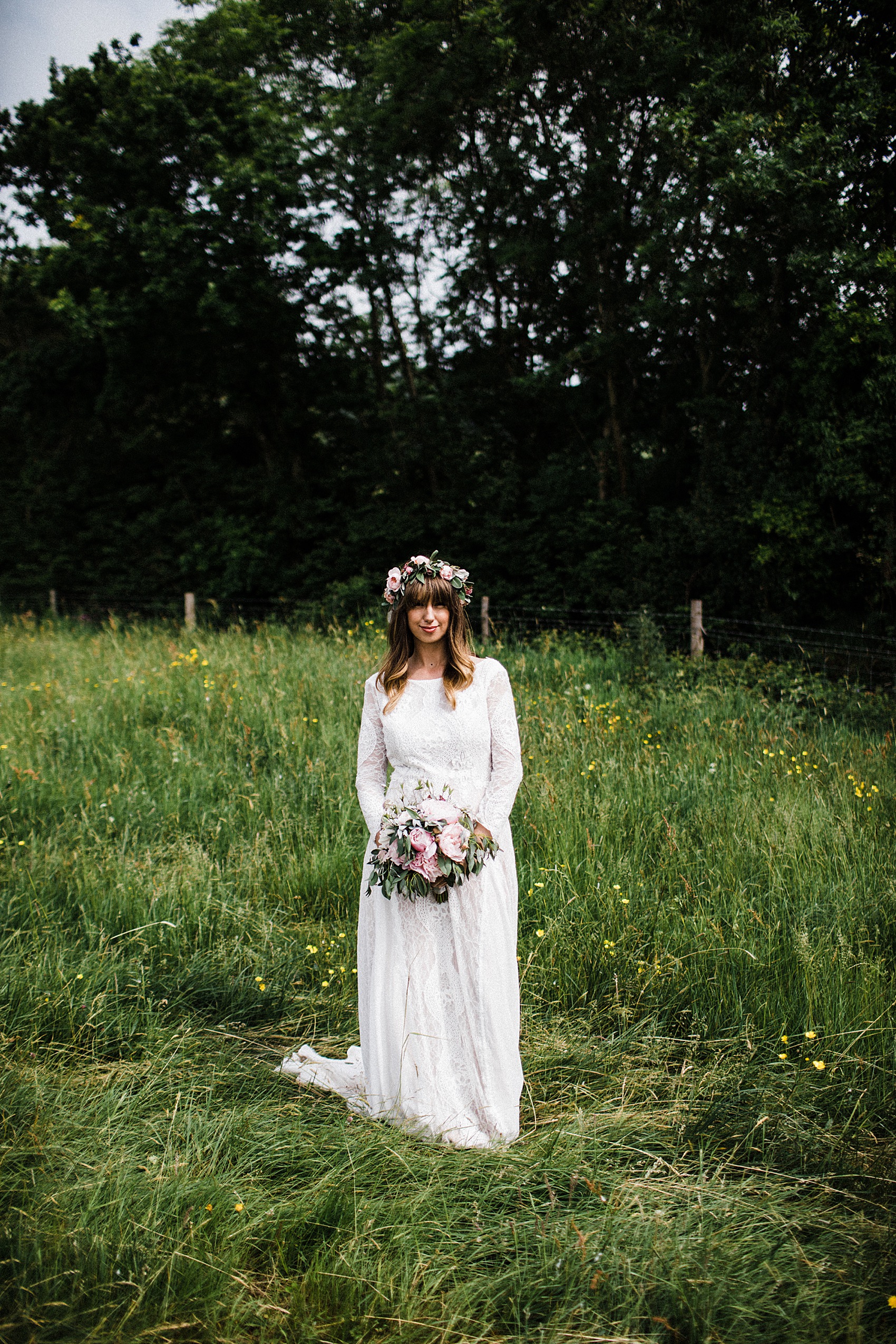 Inside the venue's historic farmhouse, long tables were laid for feasting, with linen runners from Etsy shop LinenLark, and rustic blue striped napkins.
Join our closed Facebook group for brides – a safe, protected space with a wonderful community of supportive fellow brides
"Our local florist in London gave us lots of eucalyptus, and River Cottage provided some simple jam jars filled with flowers picked fresh from the garden."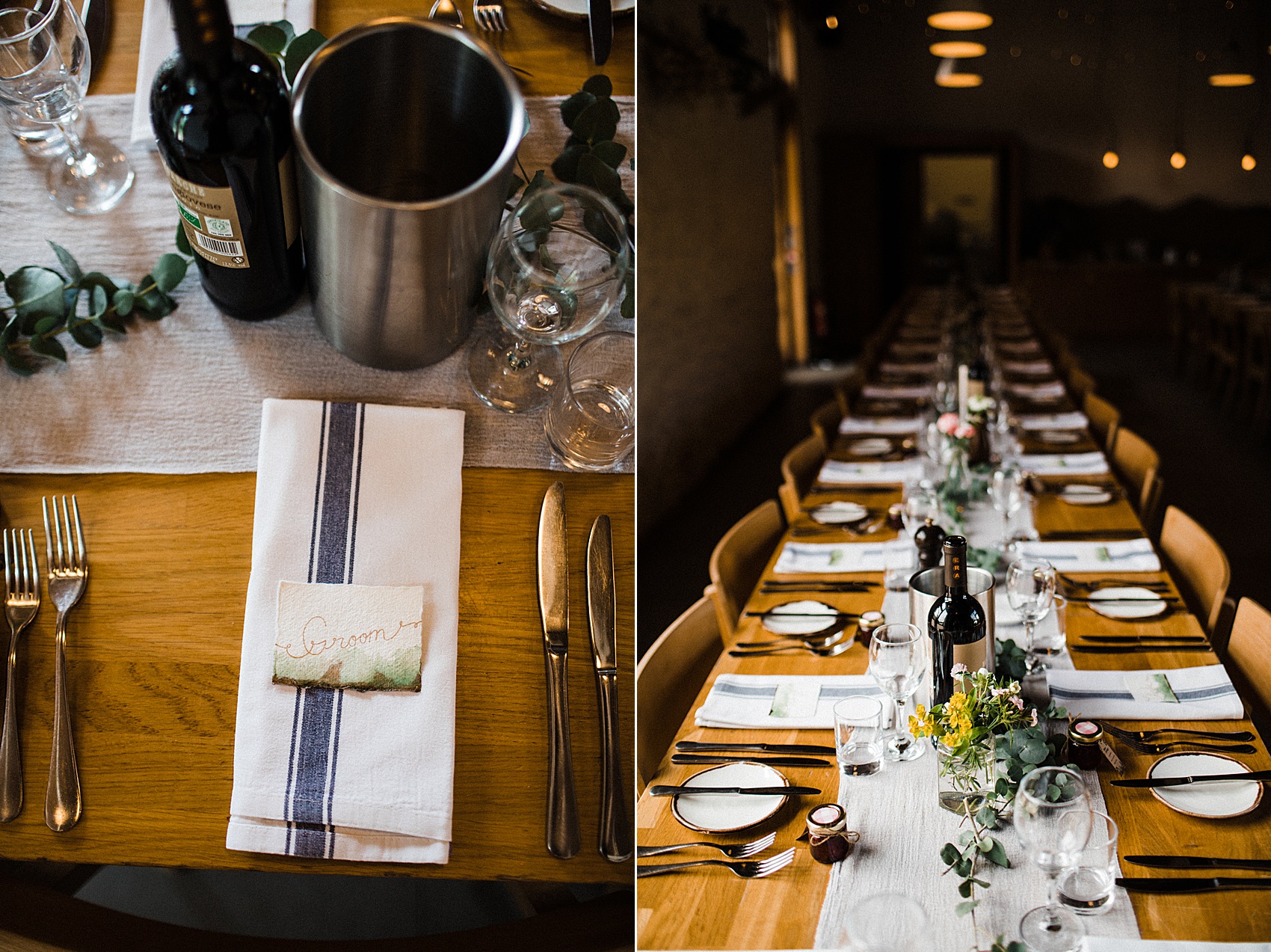 Botanical inspired stationery came courtesy of Papier, and Kyla made the place cards using textured paper, watercolour paint, and gold pen. Guest favours were little jars of locally made raspberry jam.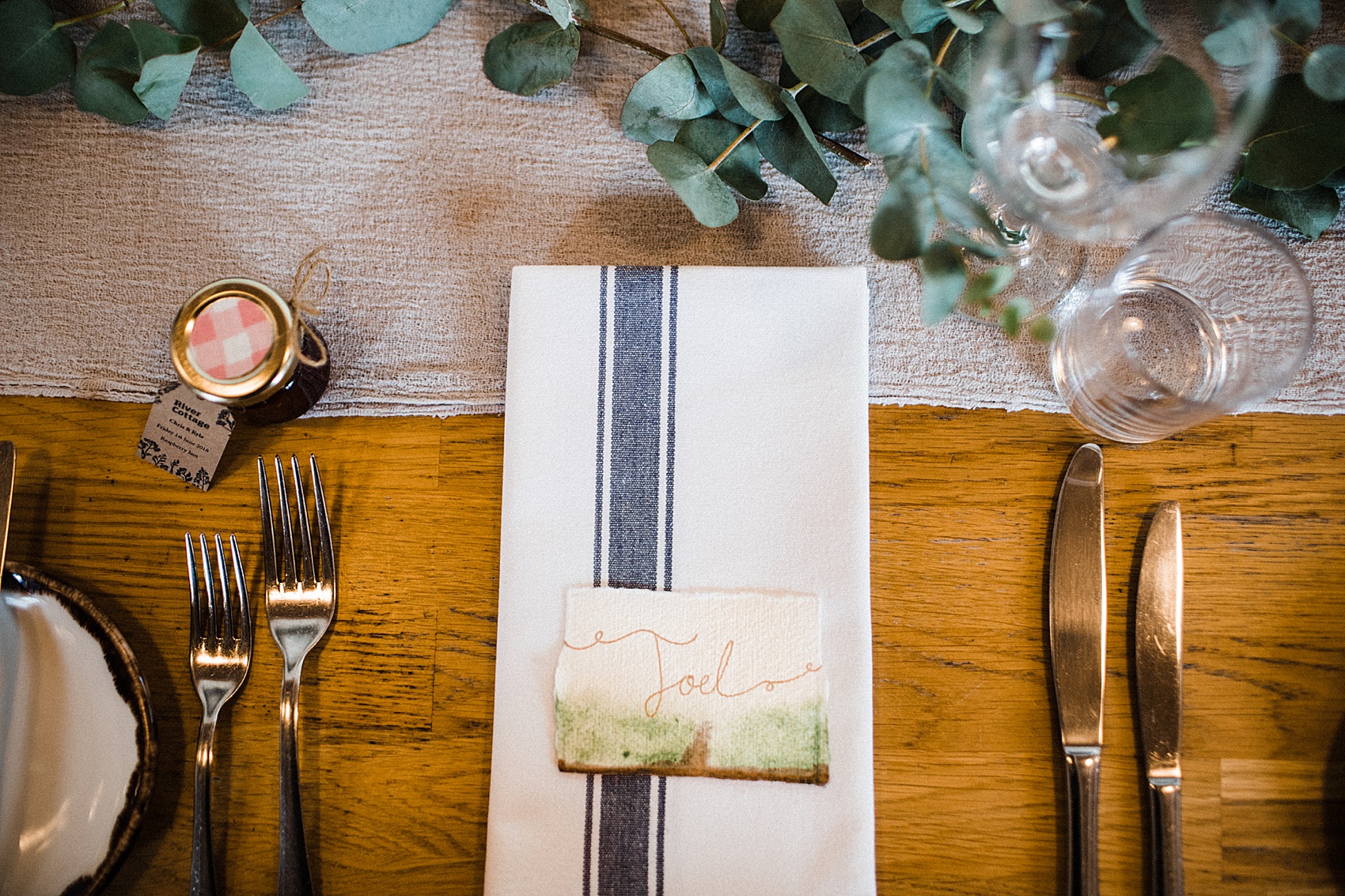 Claire Makes Cakes baked a delicious two-tier semi-naked caramel drip cake, decorated with fresh flowers.
"The cake was too delicious and our guests gobbled all of it up, so there was none left for us to take home. Fortunately, River Cottage are very on top of serving the wedding party, so they brought me a slice while I was busy chatting, and I didn't miss out!"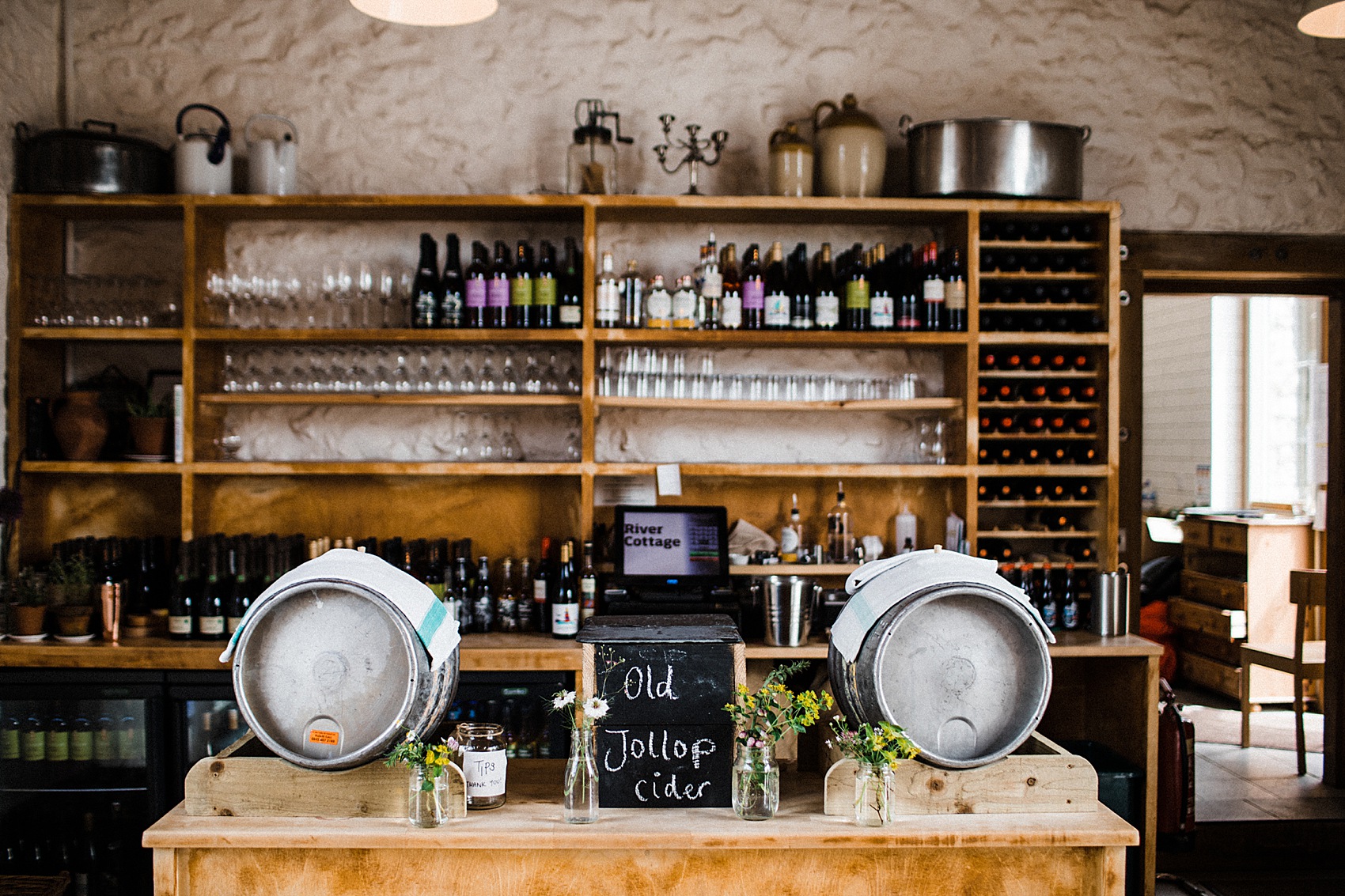 "River Cottage provided everything, and dinner was definitely a major highlight of the day. The chef was given an ovation after explaining the meal in detail along with River Cottage's philosophy about food. Kitchen staff catered to all of our guests dietary requirements so everyone was well fed and happy."
"They made sure Christopher and I were able to sample all of the hors d'oeuvres whilst we were busy chatting with guests. I particularly enjoyed the crispy squirrel with cauliflower purée (no joke – it was delicious!)"
With the dinner tables cleared away, the space became a dancefloor, and Christopher put together the perfect Spotify playlist as entertainment. The couple also enjoyed their sweet first dance together, to Everything I Am is Yours, by Villagers.
"Early on in our relationship, we had one of those cheesy, romantic dance in the kitchen moments, and the song has been ours ever since."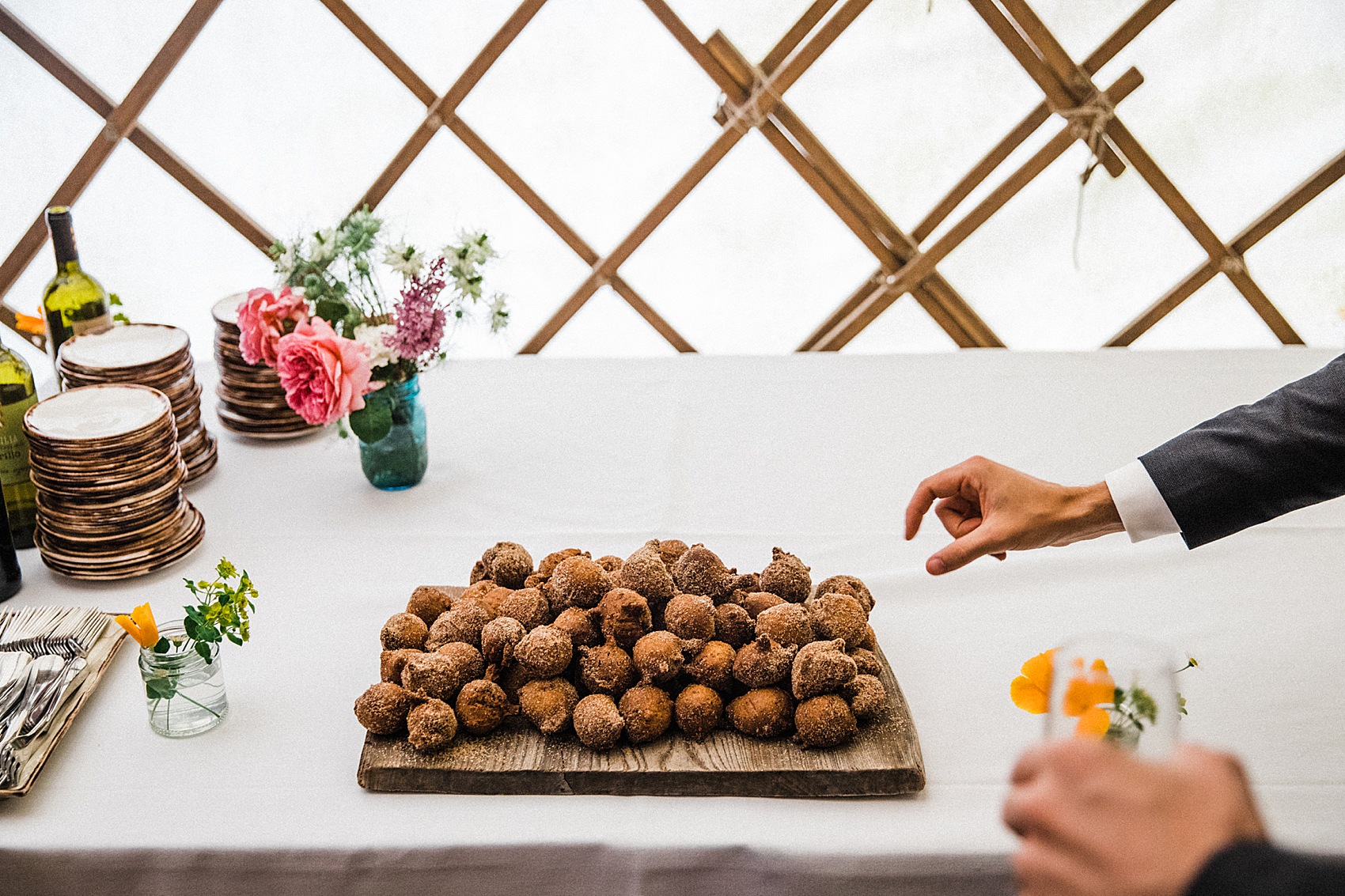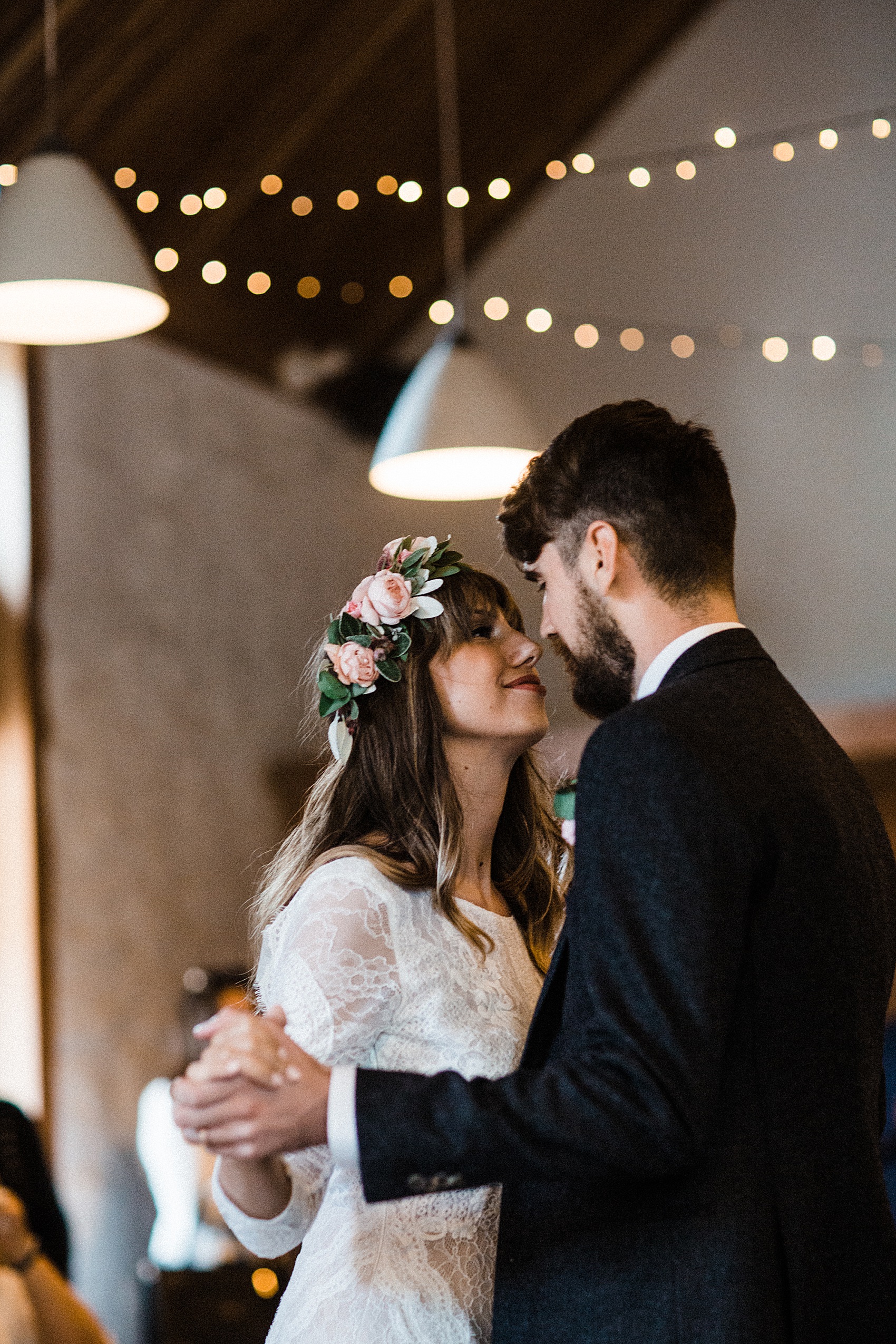 As evening fell with dramatic skies over the rolling hills around the valley, Kyla and Christopher took some time together to take everything in.
​"I also loved sneaking off after dinner with my husband and our photographers to take a few photos in the golden hour. It was nice to have a few peaceful moments away. We wouldn't change anything about our day – it was perfection."
Words of Wedded Wisdom
​"Relax. At the end of the day, people aren't going to remember the colour of linens you chose, or what shoes your bridesmaids wore; your wedding is a celebration, and you of all people should be having the most fun."
"Remember, your marriage is more important than the wedding. Make weekly date nights a priority (we take turns planning) and my favourite tip is the ten o'clock rule."
"Most people are given the advice to never go to bed angry, but the majority of heated arguments happen late in the evening when tiredness distorts our perspective and it's hard to listen to each other's point of view."
"The ten o'clock rule is simply that if an argument erupts, and strong feelings are being expressed after 10pm, either person is able to postpone further discussion until a more suitable time. 9/10 times we wake up and realise the argument wasn't worth having to begin with."
Thank you Kyla and Christopher, and thanks also for your beautiful words throughout. Many thanks to Lauren and Glenn from Through the Woods We Ran for their gorgeous images, too.
Lots of love,
Laura
[ad_2]