[ad_1]

Real Weddings | May 13, 2021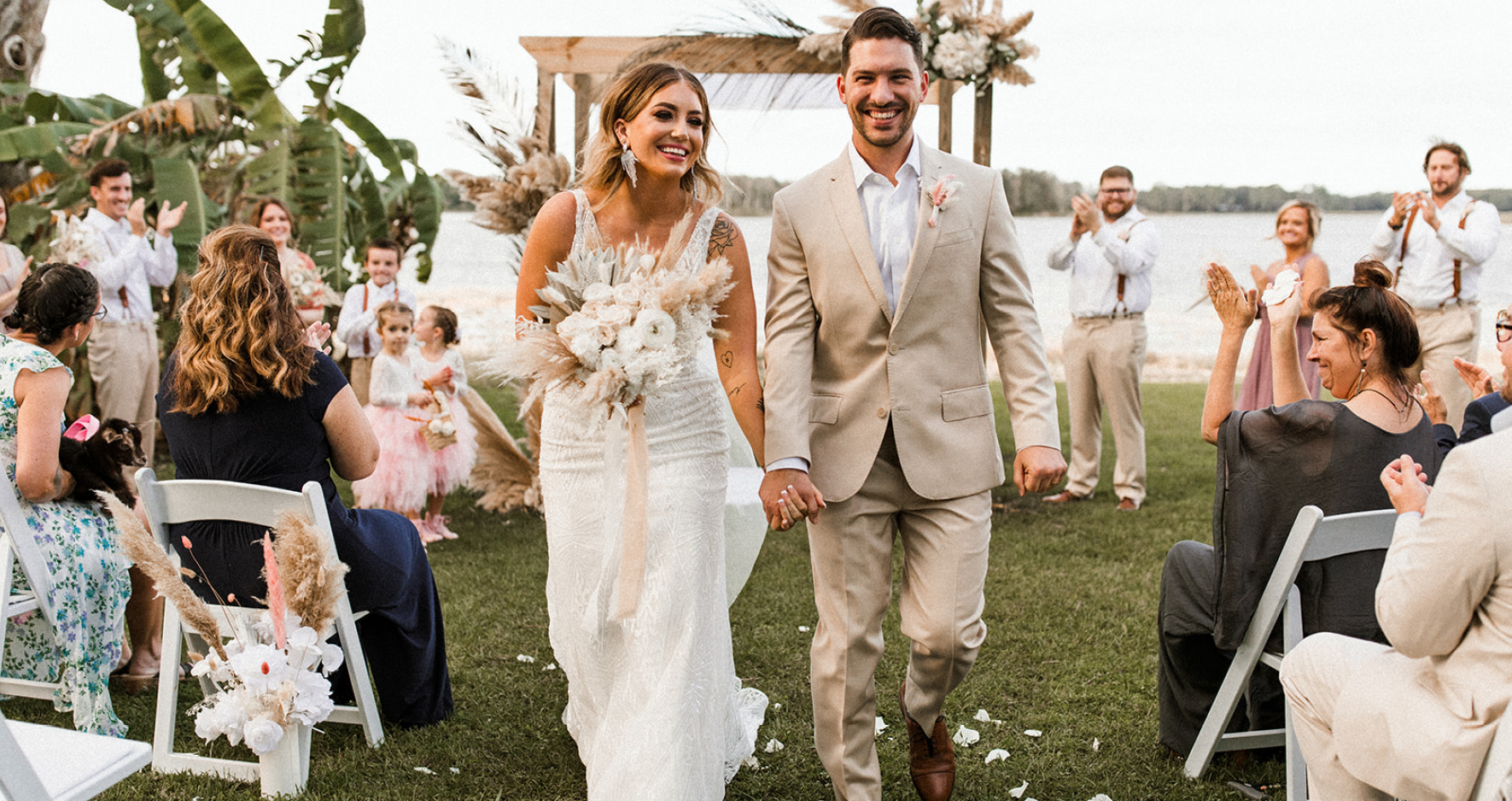 Meet one of our gorgeous real brides, Kaley (or Kale, for short)—a fashion and lifestyle blogger based out of sunny Florida. Kaley shares all kinds of wardrobe, beauty, and home inspo on her Kaley D blog and social media channels. Most recently, she shared her gorgeous wedding gallery featuring her dream bridal gown from Maggie Sottero. We're so excited to share highlights from her intimate lakeside wedding to inspire your chic and romantic wedding vision! 
A Little About Kaley and Noah's Wedding Vision
Kaley and Noah wanted to create something simple and stress-free, full of DIY details and chic rustic décor in a lovely outdoor atmosphere. Kaley says the most important thing was to "never feel the pressure to impress or stress," so she worked to "prioritize where to put money" to make the most out of her time, money, and creativity.
Most importantly, she worked with vendors and family members to ensure she stayed under budget, avoiding unnecessary debt or making an outrageous purchase just to, as she puts it, "look good in photos." (That being said, Kaley's wedding gallery is incredible! Check out Evergreen and Palm and Café Y Estilo Photography for more.)
We love every last detail of what Kaley and Noah put together. Read on for more from their lakeside wedding featuring DIY details, rustic florals, and shimmery styling!
Kaley's Wedding Dress and Bridal Cape
First up from Kaley's dreamy wedding inspo: her super flattering and romantic bridal gown. Elaine by Maggie Sottero features exquisite Art Deco beading layered over illusion in a luxe and formfitting silhouette. Kaley said this was actually one of the first bridal gowns her fiancé had found and loved online, so she was thrilled it ended up being "the one!"
This vintage-inspired wedding gown is a gorgeous choice for vintage weddings, of course, but it also styles beautifully for a boho soiree, ballroom dance party, or glitzy fairytale celebration. And if you're feeling especially bold and fabulous, check out the black colorway—a stunning choice for brides looking to break with traditional white.
Kaley also personalized her wedding gown with a bridal cape, a piece originally designed to go around the shoulders and décolletage but styled as a detachable back piece for Kaley's unique vision. This is a gorgeous alternative to a traditional bridal veil, with plenty of drama and romance for your ceremony walk and bridal portraits.
This particular Maggie Sottero bridal cape is discontinued, but we have plenty of other cape, train, and veil options to explore on our Trends page. Find these personalized gown and accessory variations at an Authorized Retailer near you!
Bridal HAMU and Jewelry for a Chic and Modern Wedding
We are loving Kaley's glam but versatile hair and makeup vibe. It looks divine in photos but still feels so chic and natural for an outdoor setting. This hairstyle is also a lovely choice for a relaxed boho wedding—sleek and polished along the crown yet long at romantic at the ends.
Jewelry-wise, Kaley chose to highlight her hair and makeup with a gorgeous pair of rhinestone earrings—a lovely echo of the beaded Art Deco motifs on her wedding gown. Kaley then kept the rest of her jewelry and flourishes luxe but minimal (a gorgeous bracelet and classic French manicure) for head-to-toe sophistication.
DIY Lakeside Wedding Inspo for Bridal Bouquet and Florals 
Kaley's florals are proof that you can make all kinds of chic work for your budget. This stunning and ultra-professional-looking bouquet is actually homemade! If you're planning a lowkey and intimate wedding vibe, don't be afraid to try making your own designs; it just might be easier than you think.
This homemade bouquet is made of roses, pampas grass, and feathers, all easily sourced from your local florist (or grocer) and craft store. This DIY ceremony arch features palm fronds, pampas grass, bay leaves, and roses on a rustic wood frame. It's a lovely and affordable option for an easy outdoor aesthetic.
Groom's Look for a Modern Lakeside Wedding
For an easy look to match their lakeside wedding location, Kaley's groom, Noah, opted for a lightweight tan suit in classic but relaxed construction. He also chose brown shoes and skipped the tie for a subtle nod to resort wear. Kaley's shimmery bridal gown is the perfect complement to this elegant and laidback vibe!
Chic Lakeside Wedding Party Looks
We are loving this lineup of groomsmen and bridesmaid outfits! The men look happy and relaxed in their white shirts and suspenders, while the women are so chic in their mismatched sheaths and handmade bouquets.
The MOB stands out in a midnight blue jumpsuit, a stylish but laidback choice that any mother would love to wear.
Looking for bridesmaid dress ideas and groom suit inspo? Follow the links for styles inspired by our real weddings!
DIY Wedding Décor for a Chic and Rustic Aesthetic
Along with the DIY florals, Kaley also crowdsourced her wedding setup, signage, centerpieces, and location. Their friend generously offered their backyard as venue (a fab way to cut costs if you have some lucky connections!). And, Kaley's friends and family all chipped in to make every detail a beautiful success.  
Modern Wedding Banquet with Gluten- and Dairy-Free Options
Kaley and Noah put together a gorgeous dinner and dessert selection with the help of caterers, friends, and family—cutting costs where they could with homemade items while still offering up gorgeous treats from vendors and specialists. The main course was catered BBQ (a super classic, versatile, and affordable option for feeding a party!
It's definitely worth looking into your local spots for banquet-style deals.), special-ordered to accommodate their guests' food allergies and dietary restrictions.
Drink-wise, the couple filled a boat with ice, beers, and wine for guests to self-serve—and for dessert, a giant wedding cake with a spread of healthy dessert options made by members of the wedding party. Kaley and Noah are gluten- and dairy-free, so they also had a small cake made for just the two of them.
Outdoor Lakeside Wedding Venue Inspo
Love this setting for a chic and natural wedding vibe? A DIY wedding aesthetic is all about using optimizing your built-in décor and scenery, be it lake harbor, greenery, sunset vista, or all of the above.
This couple lucked out having a friend loan the use of their property for the event—something to consider as an affordable wedding venue option if you've got some connections!
More Modern Wedding Inspiration
Whatever you're picturing for a laidback and romantic celebration, remember you can make it all happen and still make your budget! As Kaley and Noah's lovely lakeside wedding demonstrates, it's totally possible to cross off a big-ticket item like a venue (think backyards, free National Parks, or church gardens), crowdsource your food and drink (with a little help from family and friends), and DIY your florals and centerpieces with some popular yet distinctive blooms. All the affordable details come together to look like a million bucks!
Check out more modern wedding inspiration set in a lovely indoor-outdoor venue with this mid-century modern styled shoot, a gorgeous gallery of minimalist palettes, chic architectural details, and lush florals and greenery set in sunny Palm Springs, California.
A huge thanks to Kaley D and her photographers for sharing this exceptional wedding gallery! We're honored to have been part of this beautiful and intimate celebration, not to mention thrilled to share this DIY and affordable wedding inspo with our brides-to-be.
(And by the way, if you love this influencer feature, check out the gorgeous getaway event we hosted with LoveStories TV at Governor's Island in NYC. It's brimming with beauty and wedding dress inspo.)
Vendors for Kaley's lakeside wedding are listed below. Happy planning!
Table Linens and Napkins: CV Linens
Noah's Tux: The Black Tux
Groom's Outfits: The Black Tux
Bridesmaids Dresses: Birdy Grey
Photographers: @evergreenandpalm and @cafeyestilophotography
Bracelet and Reception Veil: Happily Ever Borrowed
Hair Extensions: Aqua Hair Extensions
DJ: The Polk Bros
Catering: Mission BBQ


[ad_2]

Source link