[ad_1]

DressesTips and Trends | July 6, 2020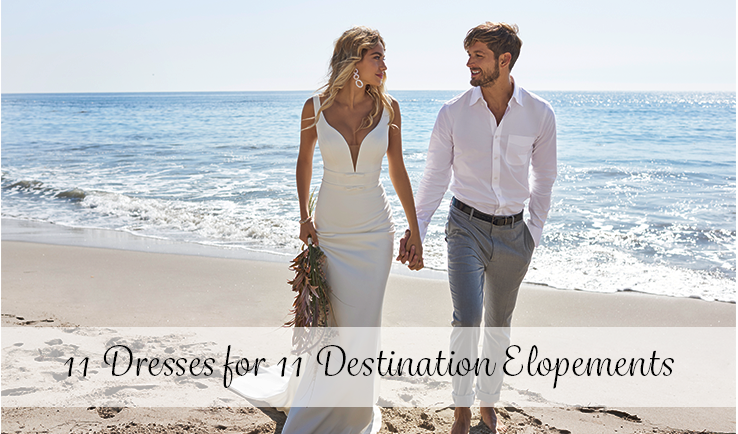 Here's how to pull off an unforgettable wedding celebration: make it a romantic, fabulous, and elegant mini-holiday for all! Whether you're flying local or international, a destination elopement with your nearest and dearest is sure to set off your happily-ever-after in style. We've compiled 11 wedding dresses for 11 destination elopements to get the magic and inspiration rolling. Find your perfect pairing below!
You're inspired by all things romantic, boho, and other-worldly. So it's only fitting you're drawn to the rugged yet enchanting beauty of Scotland's northern coast. Seriously, where else can you find wildlife, sea cliffs, castles, archaeological sites, dinosaur fossils, and sheep farms on one enchanting island?
The only thing missing is a romantic sleeved wedding dress in floral and eyelet lace, á la Finley by Sottero and Midgley.
You're headed for one of the Renaissance's command posts. So it's best to bring a gown worthy of all its art, culture, and enchantment! A crepe wedding dress like Nikki by Maggie Sottero packs easily, flatters perfectly, and feels like a dream to wear for your destination elopement celebration!
Pair this puff-sleeve wedding dress with a pearl crown or golden halo, and you might as well be crowned Queen of the Venetian Lagoon.
Cannon Beach, Oregon with Minimalist Wedding Gown: Danica by Rebecca Ingram
Captivated by the northwest seaside? National Geographic couldn't agree more. Named one of the world's "100 Most Beautiful Places" by the magazine in 2013, Cannon Beach and its surrounding coastlines are the perfect destination for a cozy wedding ceremony with unforgettable backdrops.
Head to Haystack Rock for iconic wedding photos, visit Hug Point for sea cave exploration, then host your reception dinner at any of the town's bistros, seafood restaurants, or breweries.
Our choice of wedding dress for your intimate seaside destination elopement? Simple yet stunning Danica by Rebecca Ingram—affordable, timeless, and utterly romantic!
Take the romance and drama down under with Mitchell by Maggie Sottero—a luxe and stylish wedding dress for an exciting getaway to Australia's Emerald City! Located along the Pacific oceanfront, Sydney is a fabulous HQ for beach lovers, foodies, and outback enthusiasts.
The city is also considered to be one of the most visually stunning cities in the world. So it's only fair that this uniquely gorgeous wedding dress matches the destination's beauty, architecture, and pristine surroundings!   
Saint-Émilion in Bordeaux, France with Princess Wedding Gown: Troy by Sottero and Midgley
There's wine, there's cheese, and there's architecture. What's not to love about a destination elopement in Bordeaux? Head to the medieval village of Saint-Émilion for a chic and picturesque celebration surrounded by historic vineyards, world heritage sites, French countryside, and nearby water activities.
Pack a princess wedding dress like Troy by Sottero and Midgley to complement this chic setting. Your guests will leave your destination elopement feeling inspired, refreshed, and totally in love!
When it comes to tropical destination elopements, the garden island of Kauai should be top of your list! The vivid colors, sheer cliffs and breathtaking views of the ocean make its dramatic coastline a must-see. Hike it, kayak along the coast, take a helicopter tour―you really can't go wrong whichever way you choose to see the Na Pali Coast.
Dress up for soft sand and gorgeous sunsets with Stevie by Maggie Sottero—a bloom-inspired A-line wedding dress featuring cold-shoulder sleeves that can be attached and detached according to your beachy weather conditions or style preference. We promise you'll feel like absolute heaven in this lightweight and feminine style.
If you've got a taste for adventure, Iceland could be your kind of magic! Find moody vistas and rugged beauty in Grundarfjorour. This secluded destination elopement scene features rocky cliffs, riverways, waterfalls, volcanic rifts, and unique archaeological sites, including Mt. Kirkjufell (pictured above). It's the perfect place to take some chic and totally gorgeous bridal portraits!
And the loveliest gown for cold-weather eloping? Narissa Leigh by Sottero and Midgley features full-coverage sleeves and an allover lace motif to complement your romantic wedding vision.  
For couples keen on skiing and other winter recreation, head to Banff, Canada. This cozy, luxurious, and fun-filled mountain getaway has all the sights, including Instagram-famous Lake Louise, just 30 miles away!
A sweet yet sexy wedding dress like Joanne by Rebecca Ingram is a stunning (and affordable!) choice for your Canadian destination elopement.
Go all out with the glitz and glam for a destination elopement in Singapore's Marina Bay. This dazzling arena features casinos, restaurants, hotels, gorgeous Gardens by the Bay, and the iconic "Infinity Pool" overlooking the city. (Love the movie Crazy Rich Asians? This place might look familiar!)
To match this setting's high-end aesthetic, we suggest an over-the-top couture wedding dress like Cruz by Sottero and Midgley!
Looking for something a bit off the beaten track? Book your flights to Buenos Aires, the art and luxury capitol of Argentina and a stunning location for your destination elopement! As one of the most diverse cities in Latin America, Buenos Aires features everything you love about a destination elopement abroad, from fabulous dining and art events to botanical gardens and landmark tourism.
Complete your love story in Elizabetta by Rebecca Ingram. This breezy, sexy, bohemian wedding dress suits perfectly for a southern hemisphere summer.
And lastly, we present the Bay of Islands for your destination elopement. This far-off destination offers a gorgeous ecosystem of ocean, cliffs, fishing and snorkeling spots, volcanic formations, picturesque towns, and cultural sites along the northeast coast of New Zealand.
A sultry wedding dress like Bracken by Sottero and Midgley is a divine choice for your one-of-a-kind destination elopement in the Pacific!
Searching for more travel inspiration? Check out these budget-friendly destinations for a royal honeymoon, as well as these destination elopements and weddings inspired by our real brides on our blog!
Also be sure to check out our elopement wedding dresses on Pinterest. And don't forget to tag us @maggiesotterodesigns in your upcoming adventures! 


[ad_2]

Source link